Sister Donard Collins, BVM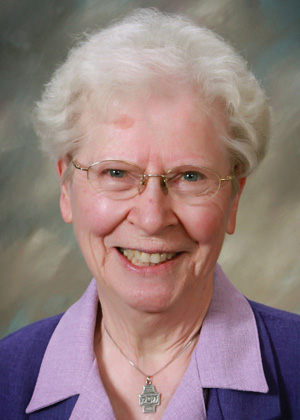 Donard Collins, BVM died at Marian Hall in Dubuque, Iowa, Monday, March 23, 2020.
A Funeral Rite of Committal was held Wednesday, March 25, 2020, at 1:30 p.m. in the Marian Hall Chapel. Burial is in the Mount Carmel Cemetery. Events may be viewed at https://portal.stretchinternet.com/bvmsisters/
Sister Donard was born on Sept. 23, 1931, in Marcus, Iowa, to William and Anna Ryan Collins. She entered the BVM congregation Sept. 8, 1949, from Holy Name Parish, Marcus, Iowa. She professed first vows on March 19, 1952, and final vows on July 16, 1957.
Sister Donard ministered as a nurse at Marian Hall, Dubuque, and in Sioux City, Iowa. She also served the congregation as a member of the Motherhouse administrative team and as a Regional. She was an elementary teacher in Sioux City; Chicago; Memphis, Tenn.; Clarksdale, Miss.; and Seattle.
She was preceded in death by her parents; brothers Leonard, Donald, and James Collins; sisters Eileen Berger-Flanagan, Mary Barrett, Lillian Horacek, Viola Waggoner, and Lorraine West. She is survived by sisters Betty Seggerman and LaVonne Means; nieces and nephews; and the Sisters of Charity, BVM, with whom she shared life for 70 years.
Memorials may be given to Sisters of Charity, BVM Support Fund, 1100 Carmel Drive, Dubuque, IA 52003 or online at https://www.bvmsisters.org/support_donate.cfm.
Donard Collins eulogy
Sharing of Memories for Donard Collins BVM