Sister Dolores Marie McHugh, BVM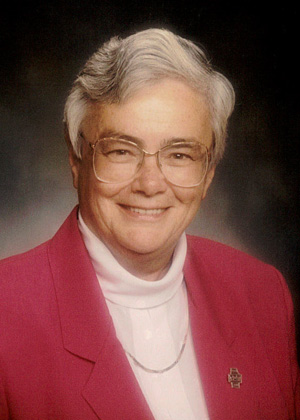 Sister Dolores Marie McHugh, BVM died Friday, April 24, 2020, at Caritas Center in Dubuque, Iowa.
Virtual Visitation and Funeral Rite of Committal were Thursday, April 30, 2020, in the Marian Hall Chapel. Burial is in Mount Carmel Cemetery.
From 1984-2000, Sister Dolores Marie served on the BVM congregation's leadership team, first as vice president and then eight years as president. She ministered as pastoral care coordinator at Mount Carmel in Dubuque, Iowa. She served as superintendent of schools and educational coordinator and consultant for the Diocese of Des Moines.
In earlier ministries, she was an elementary teacher at Presentation in Chicago; Incarnation and Holy Family in Glendale, Calif.; and St. Catherine in Kansas City, Mo., where she also was principal.  Sister Dolores served on the Board of Directors for Dubuque Bank & Trust and Clarke University.  She received multiple awards in recognition of her excellence and leadership in the field of education.
Sister Dolores Marie was born on April 24, 1933, in Ambridge, Pa., to Michael Patrick and Mary Catherine Abbey McHugh. She entered the BVM congregation Sept. 8, 1949, from St. Matthew Parish, Phoenix. She professed first vows on March 19, 1952, and final vows on July 16, 1957.
She was preceded in death by her parents; sisters Patricia McClure, Margaret Huffman, and Eileen Navins; and brothers John and Frank McHugh. She is survived by a sister Dolores Falconer, Plainfield, Ill.; nieces and nephews; and the Sisters of Charity, BVM, with whom she shared life for 70 years.
Memorials may be given to Sisters of Charity, BVM Support Fund, 1100 Carmel Drive, Dubuque, IA 52003 or online at https://www.bvmsisters.org/support_donate.cfm.
Eulogy for Dolores Marie McHugh
Sharing of Memories for Dolores Marie McHugh BVM