Sister Anita (Felicity) Montavon, BVM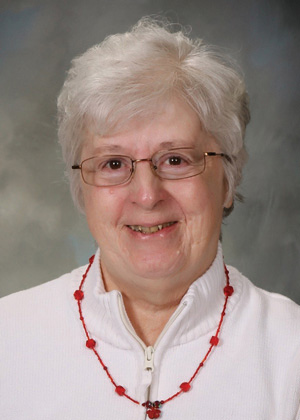 Sister Anita (Felicity) Montavon, BVM died Dec. 2, 2020, at MercyOne Dubuque, Iowa, Medical Center. She was 82.
Funeral services, Sharing of Memories, and Virtual Visitation were held Thursday, Dec. 10, 2020. Burial is in the Mount Carmel Cemetery.
She was born on Jan. 16, 1938, in DeKalb, Ill., to Paul Augustine and Marie (Pitzen) Montavon. She entered the Sisters of Charity of the Blessed Virgin Mary congregation Sept. 8, 1956, from St. Mary Parish, DeKalb, Ill. She professed first vows on Feb 3, 1959, and final vows on July 16, 1964.
Sister Anita was an elementary and/or junior high teacher in Chicago, East Moline, and Rock Island, Ill.; Boulder, Colo.; Butte and Missoula, Mont.; and Seattle. She served as director of religious education in Gillette, Wyo.; pastoral minister, librarian, library associate, and office manager in Chicago; and library staff member in River Forest, Ill.
She was preceded in death by her parents; brothers Jerry, Paul Thomas, and Leonard Montavon; and brothers-in-law Lars Bleivik and Jim Byrne. She is survived by her twin sister Miriam (Mimi) Montavon, River Forest, Ill.; sisters Jane Bleivik, Staten Island, N.Y.; Ruth (Jake) Graves, Ames, Iowa; and Terese Byrne, Hanson, Mass.; sister-in-law Carolyn Montavon, Malta, Ill.; nieces; nephews; and the Sisters of Charity, BVM, with whom she shared life for 64 years.
Memorials may be given to Sisters of Charity, BVM Support Fund, 1100 Carmel Drive, Dubuque, IA 52003 or make an online gift.
Watch Memorial Mass and Sharing of Memories
Download Eulogy
Download Sharing of Memories