Sharon Rezmer, BVM: Answering the Call by Seeing the Open Door and Taking the Next Step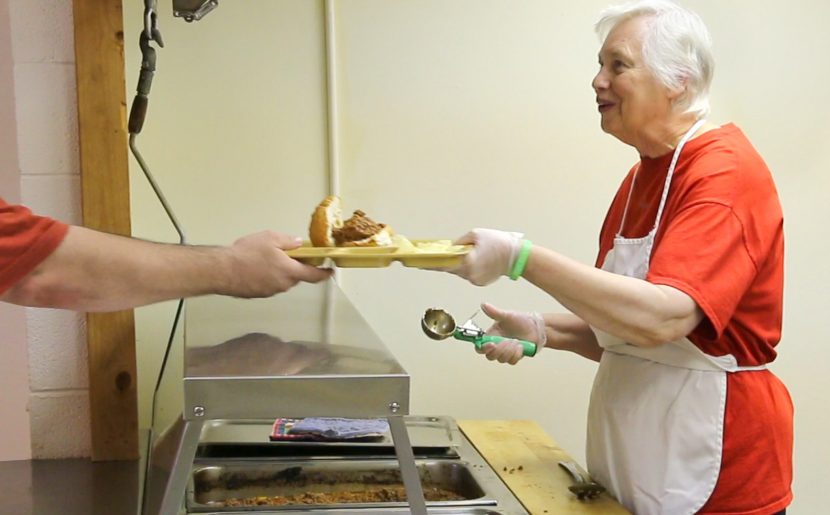 Sharon Rezmer, BVM serves a meal at St. Patrick Parish in Dubuque, Iowa, where she is a parish visitor. 
Sharon Rezmer stood on the threshold of a life-changing decision. And the door kept beckoning.
While visiting the Art Institute of Chicago, she saw a huge painting of a door by Ivan Albright. She came back three times. It was called "That which I should have done, I did not do."
Religious life had been calling her for most of her life, but Sharon wanted to discern if it was a true calling from God and the Sisters of Charity of the Blessed Virgin Mary or only what she wanted.
"I thought even if it doesn't work out, I think I need to do this."
Once she decided, no one seemed surprised.
During the year as a candidate when she met and prayed with the Edmund Street BVM community in Chicago, Ruth (Lyle) Evermann, BVM gave a presentation called, "I am your open door, inviting you to step out into another."
Sharon lived the first year of novitiate with BVMs Margaret "Peggy" (St. Cabrini) Geraghty and Diane (Joanella) O'Donnell. The first day they gathered for prayer, Diane had prepared a meditation on doors, unaware of how significant this was for Sharon.
Those signs, along with prayer, confirmed Sharon's discernment.
"I just thought if they're willing to take me, and they're willing to open their arms to me, I'm going to step across that doorstep," she says.
Her perpetual vow ceremony had been scheduled for May, but due to COVID-19, it has been postponed until sometime next year.
Sharon works at St. Raphael Cathedral and St. Patrick Parish in Dubuque, Iowa, as a parish visitor, visiting the sick and elderly, bringing Communion, and praying with people. She also helps plan receptions for ordinations and other celebrations.
BVMs first impressed her when she met them at St. Ferdinand Elementary School in Chicago.
"I remember coming home on the first day of school and fourth grade and saying to my mom, 'These sisters smile and laugh,'" Sharon says. "It opened up a whole new way of looking at God for me—that God was not a judgmental, strict God, but a God of love and joy and peace. Even in fourth grade, I noticed that."
Years later, she worked as associate administrator at Wright Hall, a BVM residence in Chicago. "There were 60 sisters living there and sisters coming in for meetings. One thing I noticed was that they enjoyed being with each other. They were having fun. That was huge for me," she says.
She worked in hospital laboratories throughout high school and college.
She joined a religious community and stayed four years. "One of the things that was important to me was to be with the people I felt our order was not going in that direction.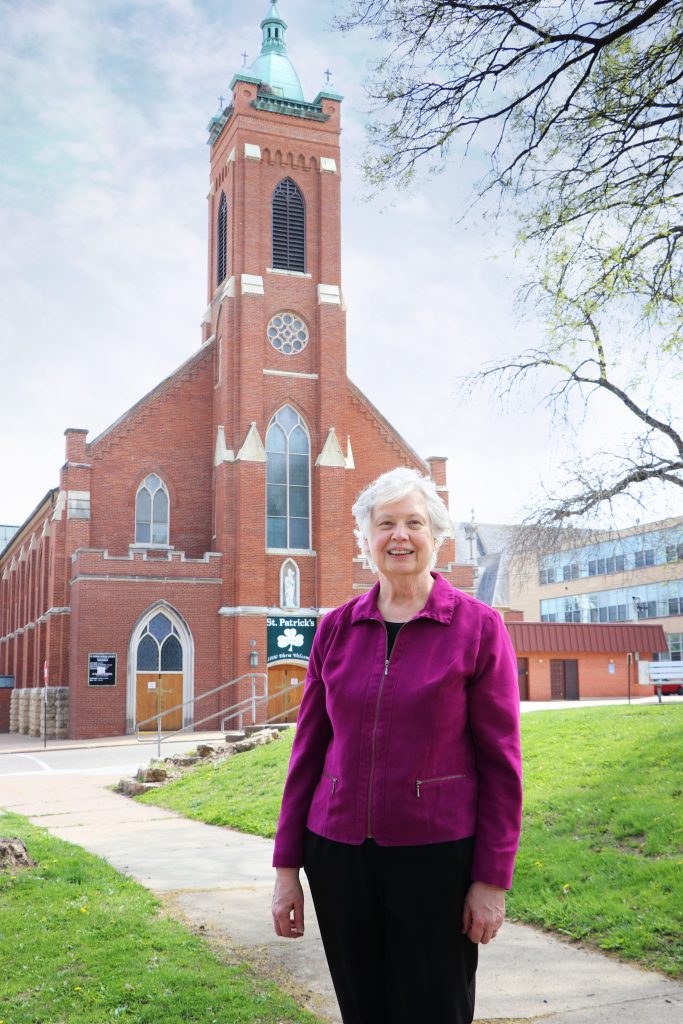 "I just started living my life. I graduated from the University of Illinois with a degree in medical technology. I worked in laboratories all those years, 34 years in the last one. That was kind of a ministry for me."
And she started a prayer group, volunteered as a Eucharistic minister, catechism teacher, and soup kitchen server.
"After all those years in the hospital, I felt like I wanted to do something different," and she found the job at Wright Hall, "which I absolutely loved, and I think it was mutual. At that point, I wasn't even thinking about religious life at all."
In training to become a spiritual director, she had to write a reflection on what she longed for in life.
"My longing was for religious life," Sharon says.
About that time, she was working on a project with Kathleen (Richard Marie) Conway, BVM, who asked, "Sharon, did you ever think about religious life?"
After a silence, she stunned herself by saying yes. "But it doesn't matter now, because I'm too old anyway."
And Kathleen said, "Maybe not. I'll find out."
The doors opened.
"It's like everything I have done in my life has all lead up to this time," Sharon says.
---
This story was featured in: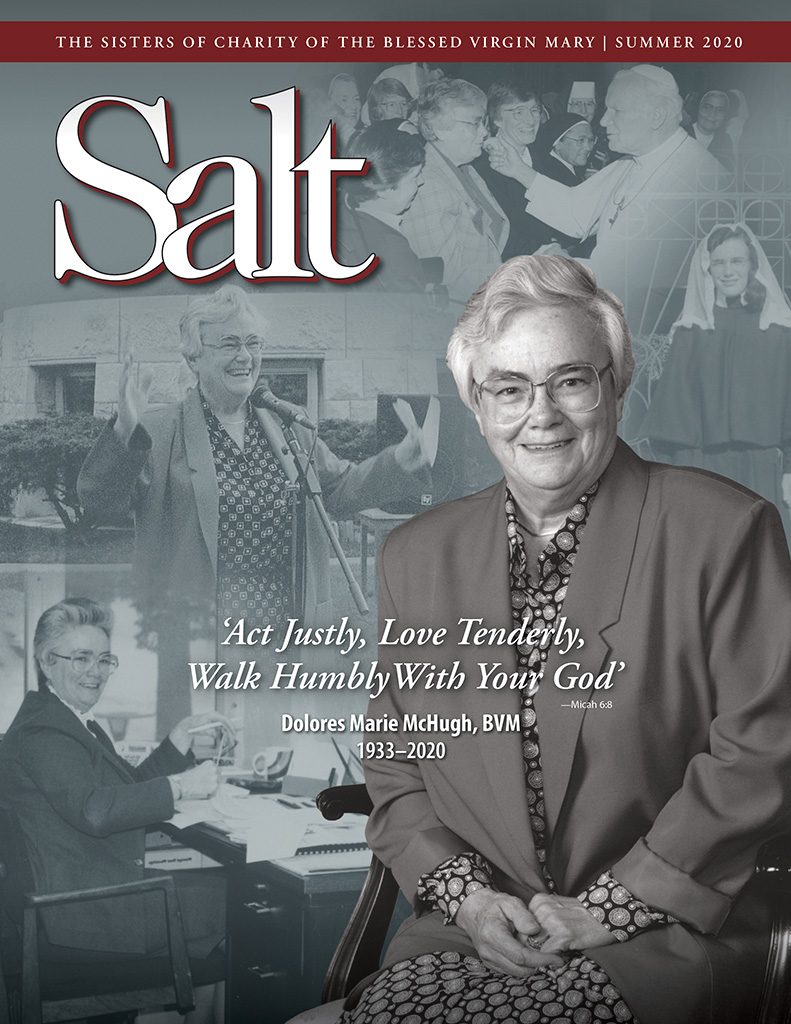 Summer Salt 2020: Opening Doors With Love
In this issue of Salt, we rejoice in the life of former President Dolores Marie McHugh, BVM. See how BVMs continue "to act justly, love tenderly, and walk humbly with your God," (Micah 6:8) as they build relationships with students at Clarke University in Dubuque, Iowa, connect with the Earth and each other, and pray through the pandemic. Explore how doors opened to give women the right to vote and increase women's rights in the United States and around the world.
If you would like to receive Salt, contact the Office of Development for a complimentary subscription at development@bvmsisters.org or 563-585-2864.