Climate Change: Voices of Hope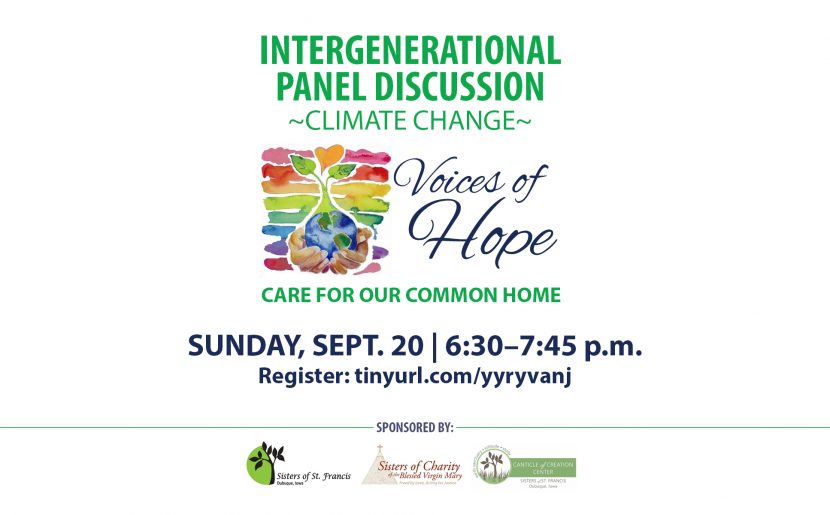 A virtual intergenerational panel discussion on climate change was held on Sept. 20, 2020. Discussion included ways communities can address urgent needs of climate justice. Organizers scheduled the discussion during the Season of Creation that runs through Oct. 4, to celebrate the 50th anniversary of Earth Day, and mark the 5th anniversary of Pope Francis' encyclical, Laudato Si': On Care of our Common Home.
---
Meet the Panelists:
"Voices of Hope: Care for Our Common Home"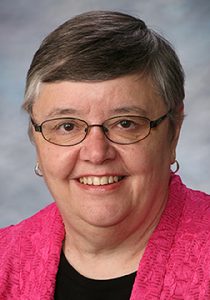 Marie Cigrand, OSF
Sisters of St. Francis
Growing up on an Iowa farm with a father who was very conscious of caring for creation, I have a love for all creation in my bones. As a member of the Sisters of St. Francis, I have been a part of many endeavors that demonstrate care for our common home. We established a natural burial site on our property; put 68 acres of our land into the Conservation Reserve Program; signed a conservation easement for 55 acres of the prairie and 13 acres of wood; use geothermal and solar energy; cut back on our weekly mowing; compost; and grow some of our own vegetables and fruit. I am a member of the Green Team on our campus, the Mother Earth Sister Water Commitment Area, and the Earth Community Opportunity group.
---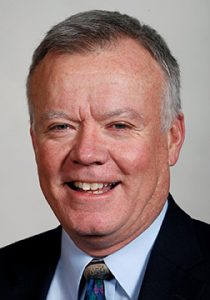 Chuck Isenhart
Representative of House District 100, Dubuque
Chuck Isenhart was born in Dubuque, Iowa. He attended Wahlert High School and graduated from Loras College with a degree in political science and mass communication, and a master's degree in journalism from Marquette University. Chuck owns Common Good Services, which offers communications, public relations, training and education, strategic planning, and other organizational services.

Chuck is the ranking member on the Agriculture and Natural Resources Appropriations Subcommittee and serves on the Natural Resources, Transportation, Agriculture and Ways and Means Committee. In the Dubuque community, Chuck has been a member of the Housing Commission, Community Development Commission, Mental Health/Developmental Disabilities Stakeholders Committee, Housing Coalition (chair), Healthy Dubuque 2000, Crescent Community Health Center Planning Committee, and Downtown Neighborhood Council. He has been on the board of directors for Habitat for Humanity, Project Concern, and Dubuque Food Pantry. Chuck is active in numerous soccer organizations.
---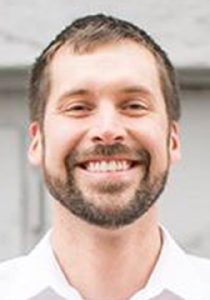 Jared McGovern
Curator of Conservation Programs at National Mississippi River Museum & Aquarium
Jared is a Peosta, Iowa, native, Iowa State and Clarke University alumnus, RAGBRAI rider, husband and father, and is proud to call himself a river steward. Jared's passions and career align around conservation and outdoor education. He is a firm believer in the power people have to make great positive change in the world. As an Iowa boy he loves to putter in his yard (a super diverse yard managed for wildlife) and play in the woods and on the water. As the curator of conservation programs at the National Mississippi River Museum & Aquarium, it is his mission to inspire stewardship by creating robust and fun educational, advocacy, and engagement experiences especially for those who call the tri-state area of Iowa, Wisconsin, and Illinois their home.

---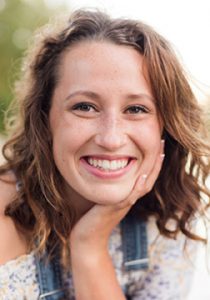 Sadie Richter
Senior High School Student
Sadie participated in Central Elkader School's Green Team club for two years until she moved to the Dubuque area. In 2019 she founded a Green Team at Dubuque Senior and is currently the president, working with others on taking environmentally oriented actions for the school and Dubuque. This past summer Sadie worked as a Green Iowa Sustainable Schools AmeriCorps member, helping local organizations and schools in various ways. After her graduation in 2021, Sadie plans on going to the University of Iowa to earn a degree in environmental science.
---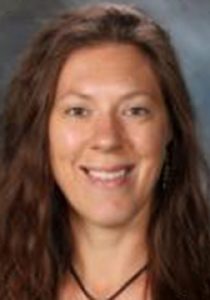 Korrin Shriver
Wahlert Catholic High School Teacher
Korrin teaches a variety of science classes at Wahlert Catholic High School in Dubuque, where she explores the connection between students' actions and the health of the planet. She tries to give students learning opportunities that help them understand why their actions can negatively or positively impact the ecosystem, and how the health of the ecosystem impacts others. She also oversees the Leaders of Environmental Action and Protection (LEAP) club that strives to both educate and improve the local environment.
---
For more information, contact: Lori Apel at apell@osfdbq.org.