Welcome and congratulations to seven new associates for asking for and receiving the gift of association!
Four new associates from California celebrated their commitment ceremony on July 10.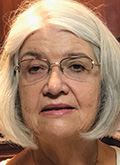 Dolores R. Bromberek
Dolores R. Bromberek, and her husband, John, live in La Crescenta, Calif. She was born in Los Angeles.
Dolores retired from work as an information technology director three years ago. Now she fills her time with St. Vincent de Paul ministry work as the conference president at Holy Redeemer/St. James Churches in Montrose, Calif.
Dolores has been companioned by Associate Cheryl Hannah and Vicki Smurlo, BVM.
She is quite grateful for the chance to learn more about Mary Frances Clarke and the BVM history as she journeyed through discernment. She especially appreciated reading Creating Community with the sisters and associates in Montrose.
Dolores looks forward to deepening "caring relationships between the sisters and associates with prayer, reflection, and working together on activities that support the BVM core values."
Cheryl Hannah states that Dolores, "lives the core values and has a strong devotion to God."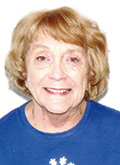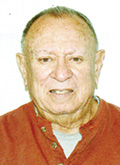 Shirley Katherine Federico and Gilbert (Gil) Doyle Federico
Shirley and Gilbert Federico live in Roseville, Calif. They have three sons and five grandchildren.
She was born in Ontario, Canada. As a child, Shirley moved to California and attended Saint John Baptist de la Salle Church in Granada Hills.
She married Gil there. He was born in Los Angeles and his sister was former BVM Maria Miguel. He is a retired real estate appraiser and Shirley is a retired accounting clerk.
Gil has appreciated the BVMs ever since attending Bellarmine Jefferson High School in Burbank, Calif.
"The BVM charism is to share/promote God's love through education and helping the poor," Gil says. He lives that philosophy through his work with Brother's Helpers at Holy Redeemer Church in Montrose and preparing and serving meals for the less fortunate.
Their discernment took place through meetings prior to the monthly Montrose Cluster in person and via Zoom. Zoom sessions enabled them to continue discernment despite moving to Roseville in northern California.
"I respect and admire the friendship of the BVMs and would be grateful to join them in their works as a layperson . . . Jesus Christ's call to service fulfills my daily need to help those who are less fortunate," Shirley says.
BVM Vicki Smurlo companioned the couple.
"Shirley brings a strong faith connection to putting faith into action. She desires to help others, as is evidenced by her participation in helping feed people who are homeless and BVM Cluster activities," Vicki says. "I appreciate Gil's enthusiasm and commitment to the discernment process, his values . . . Gil brings a willingness to be supportive and acknowledge the needs of others and address these in ways consistent with our core values."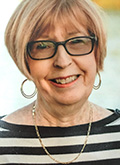 Faith Dale Holland
Faith Dale Holland lives in La Crescenta, Calif., and was born in Methuen, Mass. Faith is retired from work as a dental office manager and volunteers with the St. Vincent de Paul Society as spiritual advisor.
She journeyed through discernment with three others. She very much enjoys the sense of community she has found by attending the cluster meetings at Montrose.
"I believe that becoming a BVM Associate will help me to become closer to God, to be part of the BVM ministry and mission," Faith says.
She has admired the BVMs ever since attending St. Robert Bellarmine Catholic Elementary School in Burbank, Calif.
Faith was companioned by Associate Francine Lee and BVM Vicki Smurlo.
Francine shared that Faith, "is a very friendly person. I recommend her highly to become an associate." Francine and Faith have been friends since high school.
Faith looks forward to "offering hands-on assistance for the sister's various projects" as a way of integrating the BVM charism and core values more deeply into her life.
Three new associates from Ecuador, who journeyed through discernment together, are planning a ceremony in September. Ann Credidio, BVM companioned them.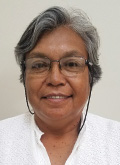 Fanny Isabel Bolaños Súarezas 
Fanny Isabel Bolaños Súarezas lives in Durán, Ecuador, and was born in Loja, Ecuador. She attended university in both Ecuador and Rome.
Fanny is a natural medicine physician and runs a medical center that serves the poor of the community. In her leisure time, she enjoys music, gardening, and painting.
"I have always wanted to share dreams and hopes of service to the poorest with people who have these same ideals, and the Sisters of the BVM Congregation respond to my wishes to serve those most in need," Fanny says.
Ann says, "Fanny exemplifies our BVM service and mission and truly lives out the core values through her desire to accompany the poor in her daily life. She brings enthusiasm and passion for life to our BVM Association."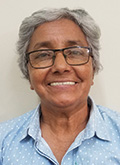 Gladys Abigail Robles Montesdeoca
Gladys Abigail Robles Montesdeoca lives in Durán, Ecuador, and was born in Cuenca, Ecuador. She attended university in both Ecuador and Rome.
Gladys is a full-time volunteer coordinator for a sewing cooperative and a women's group. In her leisure time, Gladys likes to garden, read, and take care of her pets.
She shares that she is especially called to the core value of freedom. "The value of freedom is fundamental in my life experience, because love without freedom is not love. Freedom allows me to be myself and respond responsibly to God's call," Gladys says.
Ann says, "I fully support Gladys in her desire to become a BVM Associate. The words freedom, charity, education, justice are so much a part of her work and an integral part of our BVM mission and ministry."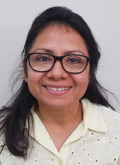 Germania Moran Calle
Germania Moran Calle and her husband, Nathan Shaw, live in Durán, Ecuador. She was born in Guayaquil, Ecuador.
Germania is an administrator for La Fundación Padre Damián. She met BVMs when she visited her aunt, a resident at Damian House. Germania received a Mary Frances Clarke scholarship that helped her to graduate from the University of Guayaquil.
"The community of the Sisters of Charity of the Blessed Virgin Mary helped me on the path of my studies. I learned that education changes your life, and you change the world of one and others," Germania says.
"Her incredible sense of mission even as a young woman was something that always drew me to working with her," Ann says. "Germania incorporates the BVM charism and core values of freedom, education, charity, and justice through her conviction of working with the most rejected in society, those affected with Hansen's Disease."