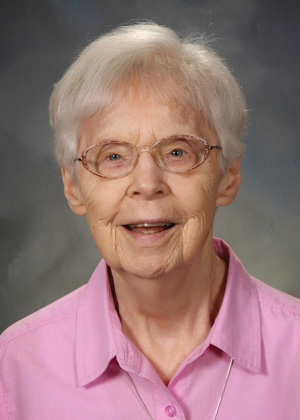 Rose André Koehler, BVM died Tuesday, May 8, 2018, at Marian Hall in Dubuque, Iowa.
Visitation will be from 9–10:15 a.m. on Monday, May 14, 2018, in the Marian Hall Chapel, followed immediately by a Sharing of Memories and Mass of Christian Burial. Burial is in the Mount Carmel cemetery.
She was born in Boone, Iowa, on Oct. 13, 1925, to Andrew and Christina Gossman Koehler. She entered the BVM congregation Sept. 8, 1943, from Sacred Heart Parish, Boone. She professed first vows on March 19, 1946, and final vows on Aug. 15, 1951.
Sister Rose André taught elementary school and/or was principal in Dubuque, Des Moines, and Davenport, Iowa; Chicago; Butte, Mont.; Lincoln, Neb.; and Stockton, Calif. She was teacher aide/tutor in Montgomery, Ala.
She was preceded in death by her parents; brother Firmin Arthur; and sisters: Genevieve Kiddie, Roberta Finch, Mary Anderson, and Rosellen Koehler, BVM (Jean Christine). She is survived by nieces and nephews, and the Sisters of Charity, BVM, with whom she shared life for 74 years.
Make a donation in Sister's honor.
Download Eulogy
Download Wake Stories