National Gun Violence Awareness Day: Are We Becoming More Violent?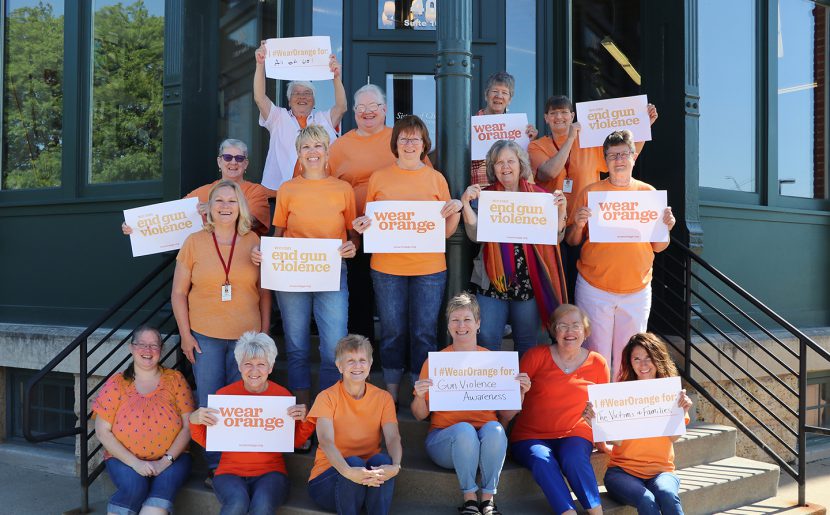 Sisters of Charity of the Blessed Virgin Mary will join others in wearing orange Saturday, National Gun Violence Awareness Day, in memory of those killed in shootings.
In the United States in 2020, guns killed 44,000 people; nearly 20,000 were murders and 24,000 were suicides, according to the Gun Violence Archive.
Mass shootings—defined as a shooting in which four or more people die—occurred 610 times, more than one a day last year. So far in 2021, the number stands at 233.
Elizabeth Avalos, BVM lives near one of the most recent mass shooting in San Jose, Calif.
"Even though I did not personally know those killed, their death has an impact because they were shot near the Diocesan Offices, a place I used to frequent. Also the maintenance yard is a block from the county offices, another place where I have gone for vigils, demonstrations, council meetings," Elizabeth says.
"All which makes me ponder: Is my turn coming or is someone I know going to be next? The closeness of the shooting adds a certain level of trauma," she says. "The sadness for death gives way to frustration at the lack of movement to change legislation and becomes a feeling of hopelessness. One almost wants to give up."
But we can't give up, Elizabeth says. We must work to change laws so guns are not so readily available and mental health resources are accessible to all.
"Until we make gun control a personal issue, nothing changes," says Associate Lori Ritz. "We have the power and position to speak out and act. How many deaths does it take to change the law? Does it have to be someone close to you before you act? When will you act?"
Call or write your legislators and let them know your stands on gun laws. But maybe the problem goes beyond laws to why people feel the need to have guns and use them.
"When looking at the tragic loss of life and limb from gun violence, we need to look more at the causes of the violence more than the number of guns everywhere," says BVM Judith (Eugene Mary) Callahan. "Are we becoming more violent in our core being?"
She says study is needed to determine if fights over parking spaces, bargains in stores, and wearing masks show that we put our individual rights over the rights and needs of others.
"Teaching skills to negotiate and listen to people, even those they disagree with, could save lives," says OSF Nancy Miller, social justice coordinator for the BVMs.
As a congregation, BVMs have taken stances against violence and the death penalty.
"'Violence begets violence' is the reason we espouse in working for the abolition of the death penalty. It could also be the message against the possession of guns," says BVM Karen Pollard. "If you have a gun, I must have one to protect myself from you. Statistics about the number of guns owned by families is frightening. Sadly, the weapon a parent purchased for protection often has become the cause of death. Little children are finding these guns, killing themselves, other children, even a parent.
"Working to change laws regarding the possession of a gun is vital, but that alone will not end gun violence," Karen says. "Somehow we need to teach respect for all persons at home and in our schools. Such respect would enable us to live in peace in our families, our neighborhoods, our world. We need to live the words of the hymn, 'Let there be peace on earth and let it begin with me.'"
---
Resources:
Wear Orange: https://wearorange.org/
Gun Violence Archives: https://www.gunviolencearchive.org/
Contact your legislator: House of Representatives: https://www.house.gov/representatives/find-your-representative