Giving the Gift of Life, Affirming Life in Ministries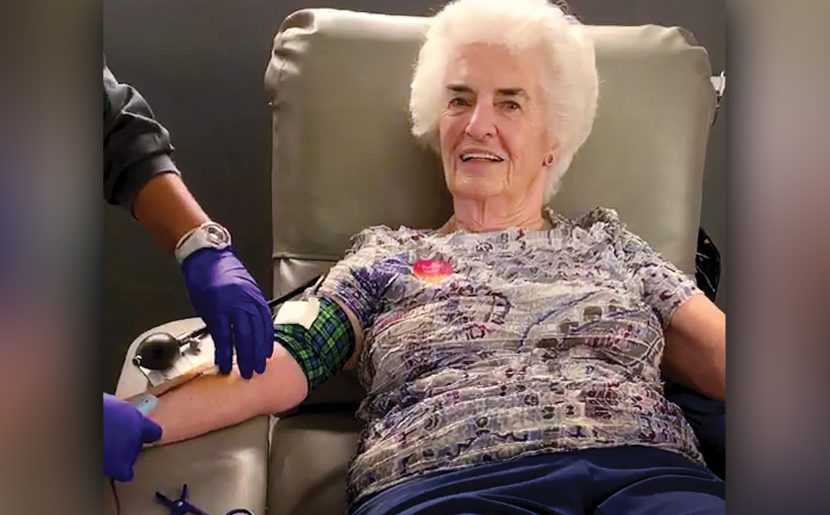 Marie Greaney, BVM has given blood since she was in the novitiate at Mount Carmel in Dubuque, Iowa.
Featured in the Winter 2020 issue of Salt
by Margaret "Peggy" Geraghty, BVM
Marie (David Therese) Greaney, BVM celebrated her 87th birthday by donating blood, something she has done often over the past 67 years.
Giving blood is a family tradition. Her father, a universal blood donor who was often called in the middle of the night to give blood at Children's Memorial Hospital in Chicago, gave blood regularly throughout his lifetime.
As children, "we thought he saved every baby in the hospital," Marie says.
Her three brothers have also given blood regularly since their Navy days.
Marie first gave blood when she was in the novitiate at Mount Carmel in Dubuque, Iowa, when an emergency call went out to area residents for blood donors.
Now she is among the most veteran donors at Versiti, formerly Heartland Blood Center, in Tinley Park, Ill., where they have calculated that she's given eight gallons of blood since her first donation there in 1987.
Working in hospitals, she has seen how important blood donations are.
I just love being able to do that. I know it saves lives. It doesn't hurt, and you can help people," Marie says.
A medical scenario has been a familiar one for Marie, who has devoted much of her life to pastoral care at Palos Community Hospital in Palos Heights, Ill.
She always felt that she received more than she could ever give. "People share so much. You feel so gifted by the trust that people place in you. It's been a gift to do something that means so much to people in happy and sad times in their lives," she says.
Pastoral care ministry began in Illinois
Marie began this ministry of pastoral care in the 1980s with a residency at Lutheran General Hospital in Des Plaines, Ill.
In 1982 she began her pastoral work at Palos Community Hospital in Palos Park, Ill., where she continued to minister for 21 years. In her role, she worked as chaplain in various areas of patient care.
For 11 years Marie was the director of pastoral services at Palos Community, the first woman to serve in that position. As director, her ministry expanded as she was instrumental in opening the hospital's first hospice center and establishing cancer support groups, as well as support groups for people dealing with infant death and miscarriage.
Early in her retirement years she also served as health care coordinator for the BVM congregation. This gave her an overview of health care needs in the BVM community and an opportunity to share her pastoral skills in another unique way.
Marie grew up in Chicago and after entering the BVMs, spent her early teaching years in primary education in Colorado, Iowa, Montana, and Chicago.
She had an early experience of working with the elderly and learning about aging on her first mission at St. Joseph Academy in Des Moines, Iowa, where she had the opportunity to work with the older sisters. She feels like her early success and joy in this experience prepared her for the ministry of pastoral care that she embraced so wholeheartedly later in her ministry.
Keeping connected
Marie is a member of the Sisters Development Network, which connects BVMs with benefactors.
It is a wonderful way to get to know donors, she says.
"They've shared many wonderful experiences. They let us into parts of their private lives that they wouldn't share with anyone else," Marie says. "I think when I talk to people, the fact that I am a BVM makes them very comfortable because they have such respect and love for BVMs."
She continues to make other connections, too.
Now in retirement she has chosen to live in a Housing and Urban Development building where she often visits sick residents and drives people to appointments.
Marie is very conscious of ministering to people as they travel their journey with dignity to Eternal Life, as she says "helping the sick and their families to treasure their memories, telling their stories for many generations to also treasure and share."
She shares that her frequent prayer is "asking God to continue to bless me as I travel my journey and to give me the strength I need to help others as they travel their journey."
About the author: Margaret "Peggy" (St. Cabrini) Geraghty, BVM lives in Chicago. She is currently chair of the board of Bethany House of Hospitality, a residence for young immigrant women in Hyde Park.
---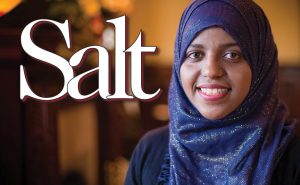 This story was featured in:
WINTER 2020: Forming Relationships by Touching Hearts
In this issue of Salt, read how BVMs leave their legacy on hearts, not tombstones, to paraphrase Shannon L. Alder as quoted in "Seasoning." Writers explore how BVMs continue to educate, as seen through the eyes of Gannon Scholars; how they touch others' lives by giving blood; how they help preserve and share the history of women leaders; how they inspire others to experience another culture; and how they prepare to share their home through Mount Carmel Bluffs.
If you would like to receive Salt, contact the Office of Development for a complimentary subscription at development@bvmsisters.org or 563-585-2864.