Muriel (Baptist) McCarthy, BVM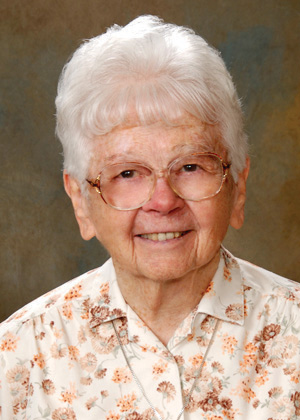 Sister Muriel (Baptist) McCarthy, BVM died Friday, Nov. 2, 2018, at Marian Hall in Dubuque, Iowa.
Visitation will be from 9–10:15 a.m. on Tuesday, Nov. 6, 2018, in the Marian Hall Chapel. Sharing of Memories will be at 10:15 a.m., followed immediately by the Mass of Christian Burial. Burial is in the Mount Carmel Cemetery.
She was born on Jan. 5, 1921, in San Francisco, to Michael Joseph and Mary Dolores Campbell McCarthy. She entered the BVM congregation on Sept. 8, 1939, from St. Anne Parish, San Francisco. She professed first vows on March 19, 1942, and final vows on Aug. 15, 1947.
Sister ministered as an elementary teacher at St. Francis Xavier in Kansas City, Mo.; Our Lady of Angels in Chicago; St. Bernard and Assumption in Los Angeles; Our Lady of Lourdes in Tujunga, Calif.; St. Anne in Santa Ana, Calif.; and St. Paul and St. Thomas More in San Francisco. She served as principal at Assumption in Los Angeles and Our Lady of Lourdes in San Francisco and secondary teacher at St. Vincent in Petaluma, Calif. She also was a parish minister, office assistant and teacher aide at St. Thomas More, in San Francisco and worked for Catholic Charities in Santa Rosa.
"The examples I have witnessed in the lives of those I have served . . . have given me a greater appreciation of the blessings I have received. I spend more time in thinking, praying, and giving thanks for my life, for the BVM community and the communities in which I have been privileged to have lived and worked." (Eulogy)
She was preceded in death by her parents; a sister, Dolores Kelly; and a brother Francis. She is survived by nieces, nephews and the Sisters of Charity, BVM, with whom she shared life for 79 years.
Memorials may be given to Sisters of Charity, BVM Support Fund, 1100 Carmel Drive, Dubuque, IA 52003 or make an online gift.
Download Eulogy
Download Wake Stories