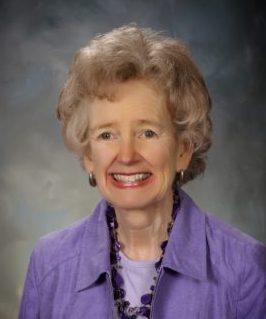 Sister Mary Ellen McDonagh, BVM died Saturday, Nov. 3, 2018 at Caritas Center in Dubuque, Iowa.
Visitation, Sharing of Memories and Mass of Christian Burial were on Friday, Nov. 9, 2018, in the Marian Hall Chapel. Burial is in the Mount Carmel Cemetery.
She was born on Nov. 17, 1950, in St. Louis, to John and Rosemary Burke McDonagh. She entered the BVM congregation Jan. 14, 1973, from Our Lady of Loretto Parish, St. Louis. She professed first vows on Oct. 4, 1975, and final vows on May 29, 1982.
Sister Mary Ellen was an English teacher at Regis-O'Hara HS in Kansas City, Mo.; The Immaculata in Chicago; Xavier HS in Phoenix; and Assumption HS in Davenport, Iowa. She was editor of the Diocese of Kansas City – St. Joseph newspaper, staff member of the Holy Family Catholic Worker, communications coordinator at the Interfaith Peace Alliance and assistant administrator and program coordinator at St. John's Center, all in Kansas City, Mo. She worked as an advocate for social justice at the 8th Day Center for Justice in Chicago.
"[My] favorite translation [of the Beatitudes reads]: Blessed are those who have lived their belief out loud. That is my hope . . . I long to live my belief out loud, to have those still stony parts of my heart turned to flesh . . . Overall, I've become more connected to the poor, to the earth, to a loving God . . . . And I'm looking forward . . . knowing that at the end of my exploring, I will arrive where I started and know the place for the first time.'" (Eulogy)
She was preceded in death by her parents; brother, John F, Jr.; stepbrother, Justin (Patricia) Hessel; and step-brother-in law, H. David Stoops. She is survived by stepsisters Maryann Stoops and Catherine (Richard) Graham, both of St. Louis; nieces; nephews; cousins and the Sisters of Charity, BVM, with whom she shared life for 45 years.
Memorials may be given to Sisters of Charity, BVM Support Fund, 1100 Carmel Drive, Dubuque, IA 52003 or make an online gift.
Download Eulogy
Download Wake Stories