Sister Mary Lou Anglin, BVM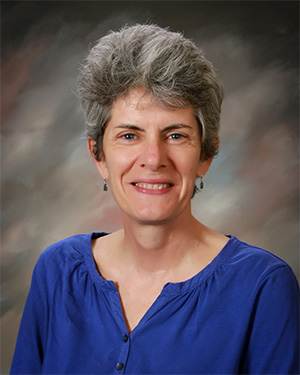 Sister Mary Lou Anglin, BVM, 61, of Mount Carmel Bluffs, 1160 Carmel Dr., Dubuque, Iowa, died Sunday, May 29, 2022.
Visitation, the Sharing of Memories and Mass of Christian Burial were on Friday, June 3, 2022. Burial was in the Mount Carmel cemetery.
Sister Lou was born Dec. 4, 1960, in Dubuque, Iowa, to John "Jack" and Laverne (Mahoney) Anglin. She entered the BVM congregation July 16, 1985, from St. Patrick Parish, Epworth, Iowa. She professed first vows on July 16, 1988, and final vows on July 16, 1994.
Sister Lou served the BVM congregation as formation director and vice-president. She ministered as a religion teacher and campus minister at Nerinx High School in St. Louis. She was as an elementary teacher at DePorres Consolidated School and St. Bartholomew Elementary School in St. Louis, and at St. Elizabeth of Hungary in Crestwood, Mo. She was a junior high teacher at St. Joseph School in New Hampton, Iowa before entering the congregation.
"Lou was a quiet, sincere, and compassionate woman: a beautiful spirit with a sense of responsibility and accountability. . . She possessed a gift of deep sensitivity. . . She connected social justice with everyday life; at the same time, she had an active concern for a world in need of healing. . . Lou was generous in sharing her time, understanding, and wisdom. Being introverted, she quietly held her personal feelings close. If the issue was a matter of justice and respect, she did not hesitate to offer an honest and loving response. . . [S]he 'valued relationships, people came first.' . . . Her personality made Lou a comfortable person to be around. She possessed an inner strength to handle life peacefully. She entered into deep friendships with others – friends, staff and sisters. Lou had a wonderful capacity to enjoy life and leisure." (Eulogy).
She was preceded in death by her father and a brother Patrick Anglin.  She is survived by her mother; a brother Robert "Bob" Anglin, Madison, Wis.; a sister Diane Forner, Gilbert, Ariz.; nieces; nephews; and the Sisters of Charity, BVM, with whom she shared life for 36 years.
Memorials may be given to Sisters of Charity, BVM Support Fund, 1100 Carmel Drive, Dubuque, IA 52003 or online at https://www.bvmsisters.org/support_donate.cfm.
Watch Memorial Mass and Sharing of Memories
Download Eulogy
Download Sharing of Memories