Mary Adele Henneberry, BVM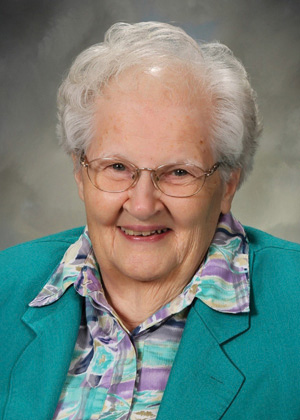 Sister Mary Adele Henneberry, BVM, 92, died Thursday, Nov. 7, 2019, at Marian Hall, Dubuque, Iowa.
Visitation, Sharing of Memories, and Mass of Christian burial were Tuesday, Nov. 12, 2019, in the Marian Hall Chapel. Burial was in the Mount Carmel cemetery.
Sister Mary Adele was born on Aug. 21, 1927, in Chicago to John Joseph and Catherine Duffy Henneberry. She entered the BVM congregation Sept. 8, 1945, from St. Ita Parish, Chicago. She professed first vows on March 19, 1948, and final vows on Aug. 15, 1953.
Sister Mary Adele served as congregational vice president, Motherhouse administrator, and liturgical music minister at Mount Carmel in Dubuque. She was a music and/or elementary teacher at Corpus Christi, Fort Dodge, Iowa; Sacred Heart, Boone, Iowa; St. Callistus and The Immaculata HS, Chicago; St. Gilbert, Grayslake, Ill.; and Our Lady of Loretto, Hempstead, N.Y. She ministered as executive director of an elderly interfaith program in Milwaukee and assistant manager at a senior living complex in Santa Rosa, Calif.
She was preceded in death by her parents; brothers Patrick and John Henneberry; and brother-in-law V. Robert Payant. She is survived by a sister, Virginia Payant, Milwaukee; a sister-in-law, Nancy Henneberry, Normal, Ill.; nieces and nephews; and the Sisters of Charity, BVM, with whom she shared life for 74 years.
Download Eulogy