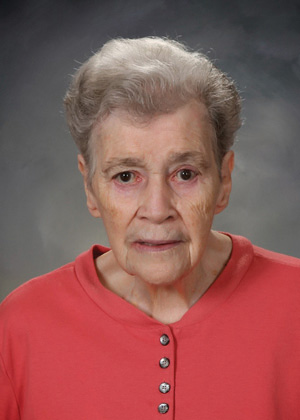 Sister Geneve Moran, BVM, 93, of 1050 Carmel Drive, Dubuque, Iowa, died Saturday, Oct. 5, 2019, at Marian Hall.
Visitation, Sharing of Memories, and Mass of Christian Burial were on Friday, Oct. 11, 2019. Burial was in the Mount Carmel Cemetery.
She was born on Nov. 30, 1925, in Chicago to Robert James and Genevieve McMahon Moran. She entered the BVM congregation Sept. 8, 1943, from St. Andrew Parish, Chicago. She professed first vows on March 19, 1946, and final vows on Aug. 15, 1951.
Geneve was an elementary teacher at Sacred Heart in Fort Dodge, Iowa; St. Callistus, St. Ferdinand, St. Dorothy and St Jerome in Chicago; St. Anthony in Casper, Wyo.; and St. Thomas the Apostle in West Hempstead, N.Y.  She was a secondary teacher at Cathedral HS in Chicago and Regina Dominican HS in Wilmette, Ill., where she also served as assistant librarian. In addition, she ministered as a school secretary at St. Jerome in Chicago, an ESL teacher for the Chicago Migratory Council and a GED preparation tutor at the Chicago Central YMCA.
"While teaching at Regina, Geneve moved into an apartment with her mother who could no longer live alone. For many years, Geneve cared for her with gentleness, patience, and love. It was during this time that Geneve met her good friend, Karen Malca, whose influence turned Geneve into a world traveler. She journeyed throughout Europe and Mexico, sometimes on educational tours with students or other teachers and sometimes just for fun. Her family, being quiet, at-home people, were amazed as her adventurous side emerged, while Geneve was deeply grateful to all who cared for her mother when she was away." (Eulogy)
She was preceded in death by her parents and a brother Robert. She is survived by a sister-in-law Annabelle Moran, Arlington Heights, Ill.; nieces; nephews; many cousins; and the Sisters of Charity, BVM, with whom she shared life for 76 years.
Download Eulogy
Download Sharing of Memories