Gifts From the Heart Keep Traditions Alive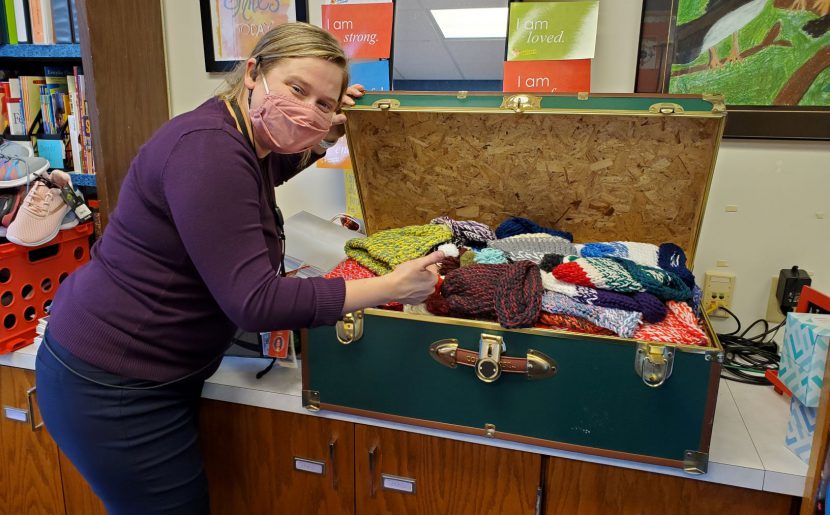 Warm heads, warm hearts: Hats made by Sisters of Charity of the Blessed Virgin Mary were gladly accepted by Sarah Sears, instructional coach, student and teacher services at Fulton Elementary School in Dubuque, Iowa.
The ways of giving might have had to change this Christmas, but the spirit of giving did not.
Sisters of Charity of the Blessed Virgin Mary, BVM Associates, and congregational and Mount Carmel Bluffs employees donated to food pantries, added gift cards to baskets, and sent handmade gifts where they were needed most.
Food Donations 'Mean the World to Us'
A van load full of food that arrived Nov. 23 at St. Stephen's Food Bank in Dubuque, Iowa, was very welcomed. "The donation means the world to us right now," says Kathy Hutton, food bank site director. "Our programing is up 65 percent in distribution due to the pandemic."
The collection at Mount Carmel Bluffs and BVM Center ran Nov. 16-20, and the food, which goes to people in Dubuque County.
The drive near Thanksgiving is a tradition instituted by the Working Unitedly Team. The name comes from a quote from BVM Foundress Mary Frances Clarke, who said, "Leave the future to God. I have no fears as long as you are working unitedly."
Where There's a Will . . . 
Some traditions had to change due to COVID-19. In past years, sisters collected donations, purchased and delivered hams and chickens to add to the Dubuque Food Pantry Christmas Basket Give Away. This year, a cash donation was made to the Dubuque Food Pantry.
. . . There's a Virtual Way
Last year, BVMs reconnected to a long-time tradition of putting together gift baskets for families in Des Moines, Iowa.
Giving baskets stems from the days of St. Joseph Academy (SJA), founded by BVMs in 1885 as a school for girls. In 1972, it merged with a boys' school, and became Dowling Catholic High School.
"Every homeroom had a family, and you gave to that family," says Associate Lori Ritz, director of the Office of BVM Life and Mission and an SJA alumnae, class of 1969. "That tradition is still continuing."
Last year, Lori helped rekindle the connection, and several BVMs accompanied students to deliver the baskets and participate in a candlelight service, also a legacy of the BVMs.
This year, the candlelight service was virtual, and although BVMs could not help deliver baskets to 80 families, they sent Hy-Vee gift cards to be included.
Hats, Dolls, and Scarves Made With Love
For many years, sisters have made hats, dolls, and other items to spread comfort and joy.
The only thing that's different during COVID-19 is the amount they have created.
"The sisters have knitted four trunks full of hats while in quarantine," says Julie Wessels, life enrichment director at Mount Carmel Bluffs.
In Dubuque, 700 hats went to schools, the Retired and Service Volunteer Program for children in need, the Rescue Mission, and Resources Unite.
Three hundred hats and 100 scarves went to schools in Cedar Rapids, Iowa.
Ninety stuffed animals and 64 dolls with extra clothes went to the Salvation Army.
Earlier, sisters made 500 diapers for Lutheran World Relief and 50 bibs for Mary's Inn Maternity Home.
Still left to find homes are 44 pocket-sized fabric dolls, after Associate Suzie Wright promised 35 to a Dubuque school.
"I've been on a mission to find places that would take them," Suzie says. "We want to give them to people who need and appreciate them. The multiethnic dolls are perfect for pre-kindergartners; it's a doll that fits in their hands."