BVMs Journey with Our Lady of Guadalupe to a New Home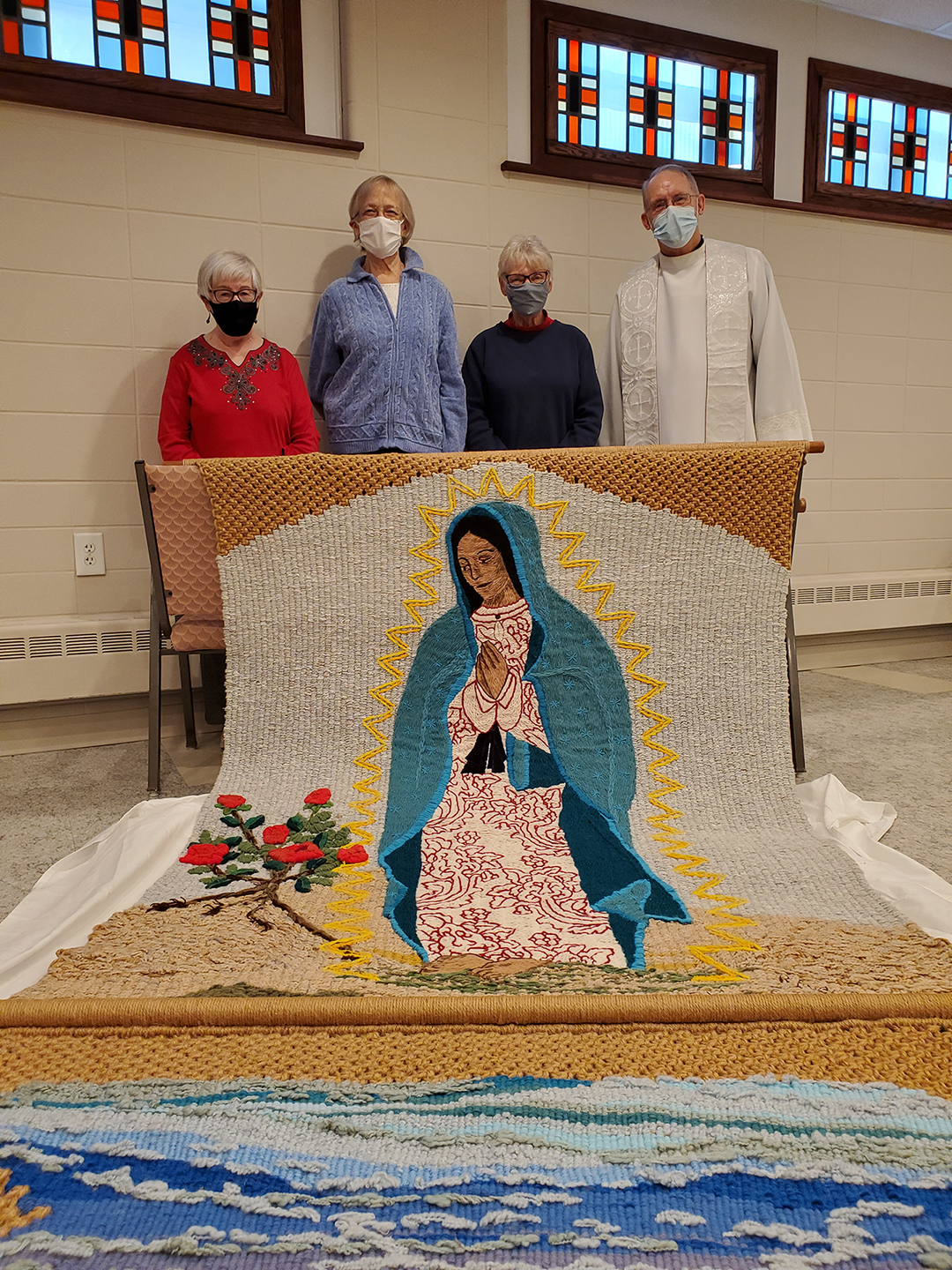 On this feast day of Our Lady of Guadalupe, a much-loved tapestry of Our Lady made by Ruth (Lyle) Evermann, BVM has a new home.
Ruth, Mary Gene (Antonilla) Kinney, and Colleen (Rose Maureen) McGinnity delivered the tapestry to Divine Word College in Epworth, Iowa, where it now graces the Reina de las Americas Chapel.
Ruth says she felt a sacred presence at Divine Word. "The ease of this transition was a real gift," she says. "It was hard to make the decision to have her go to another place."
But Divine Word is the right place, she says, because of its universality of its students. And those students will carry the essence of Our Lady of Guadalupe wherever their missions take them.
A frame will mean it can be displayed in other parts of the Epworth campus. Its eye-level installation means it can be touched.
Ruth made the tapestry in 1999 for the Mount Carmel Motherhouse Chapel at the request of Mary McCauley, BVM, which Ruth says "was an affirmation to me personally and as an artist.
"I still don't know where she (the tapestry) came from. She just seemed to flow, going on pure gift," Ruth says.
Even though she had never done anything quite like the macramé weaving before, she could work on it for hours without tiring.
"People say she's stunning. It still takes my breath away," Ruth says.
On the delivery day as the tapestry was unrolled, Father Tom Ascheman, SVD, president of Divine Word College, said, "Oh my, I'd forgotten how beautiful she is."
"It was a precious thing to hear that," Ruth says. "He just seemed thrilled having her. It was such a gift to be able to give her to him."
My thought is she needs to be seen by the whole world. At Divine Word, you have all of these students from all over the world."—Ruth Evermann, BVM
Tom also says, "We celebrated Mass in the chapel and had a great (socially distanced) visit. I told them it isn't often that three queens from the east (Chicago) come bearing another queen (Guadalupe) as a gift. We laughed, and we took a photo. It was a blessed moment and I give thanks for all our Sisters,"
Before the Mass, Tom talked about Juan Diego, to whom Mary appeared. Ruth related to Juan Diego's journey, which for her, translated into taking the tapestry to its new home.
But no matter where the tapestry is, Ruth will feel connected.
"She's interwoven into my soul. There's no way she's ever going to be gone," Ruth says.
---