BVM Scholarships Continue Legacy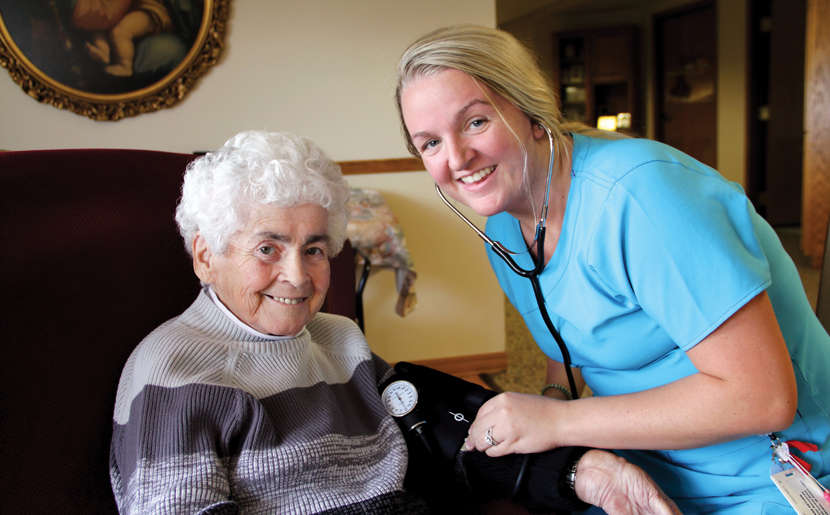 With faith, determination and a dream to fulfill a mission of education, five young Irishwomen set sail for America nearly 185 years ago. Mary Frances Clarke and her companions set in motion a legacy that continues today through the dedication and support of those taught by the Sisters of Charity of the Blessed Virgin Mary.
With fewer sisters in teaching ministries, the BVM community adjusts to the changing times by seeking ways to foster the core value of education. If they could no longer teach, then sisters would create scholarships to support Catholic education!
Changing Times Create New Opportunities
And so—the BVM Endowed Scholarship Fund was born—made possible through the support of over 1,000 donors, many of them former students of the sisters. Results of the 2016 Annual Appeal enabled the congregation to award scholarships at schools founded or primarily staffed by BVMs. Students at Carmel Catholic HS in Mundelein, Ill.; Loyola University Chicago; and Wahlert HS and Clarke University, both in Dubuque, Iowa, have received scholarships; six more will be offered to students across the country.
BVM President Teri Hadro shares, "We turn to our friends and supporters in gratitude for what you have accomplished. Your generous spirit puts smiles on sisters' faces as they realize their legacy will live on forever in communities where they ministered."
Wahlert HS student Rebecca Schmerbach shares, "I was excited to learn I was the recipient of the 2017 BVM Endowment Scholarship and that the sisters would be helping me throughout my high school years. It's great, in addition to the financial support, to know the sisters are encouraging me on my journey through high school. I am excited to challenge myself with honors and advanced placement classes I plan to take."
Holy Family Catholic Schools Chief Administrator Carol Trueg says, "We appreciate the BVM support of our K-12 educational system and in helping students continue to access Catholic education. These scholarships sustain the impact of the many sisters who taught in and helped to shape Dubuque's proud tradition of Catholic education."
As a graduate of Clarke University who was taught by BVMs, Carol shares, "These intelligent, interesting and dedicated women inspired not only my passion for learning but also my decision to follow in their footsteps and pursue education as a career."
The BVMs offer a Mary Frances Clarke (MFC) Scholarship to women in need of financial assistance to achieve their educational goals. A BVM sister or associate must recommend a potential candidate.
BVM Staff Pursues Educational Goals
Health care staff member Danielle McIntyre shares, "After working at Mount Carmel for two years, I realized that I truly enjoyed caring for 'my sisters.' At the end of my workday, I always felt uplifted because I had provided care, love and compassion for them. I wanted to continue in my profession and pursue a degree in nursing. I enrolled at Northeast Iowa Community College (NICC) to become a Certified Nursing Aide (CNA), and went on to earn my Certified Medical Aide (CMA). I immediately signed up for classes to work toward a nursing degree."
Like Katie, Danielle received BVM tuition assistance to obtain her certifications. She was awarded the MFC Scholarship twice to help pay for her classes toward nursing school.
Danielle begins the nursing program at NICC in January. "I have learned so much and received many opportunities," she says. "I am grateful to the sisters at Mount Carmel who have provided financial, spiritual and emotional support for my education. On the BVM public website, the sisters describe their congregation as follows: 'We are a community of Catholic women called to live the mission of Jesus through our core values of freedom, charity, education, and justice.' I thank the sisters for sharing these values with me the past seven years."
Like a self-fulfilling prophecy, the cycle of teaching, learning and sharing continues to inspire those who join in furthering the BVM mission of education.