BVM Network on Women's Issues Explores Universe Story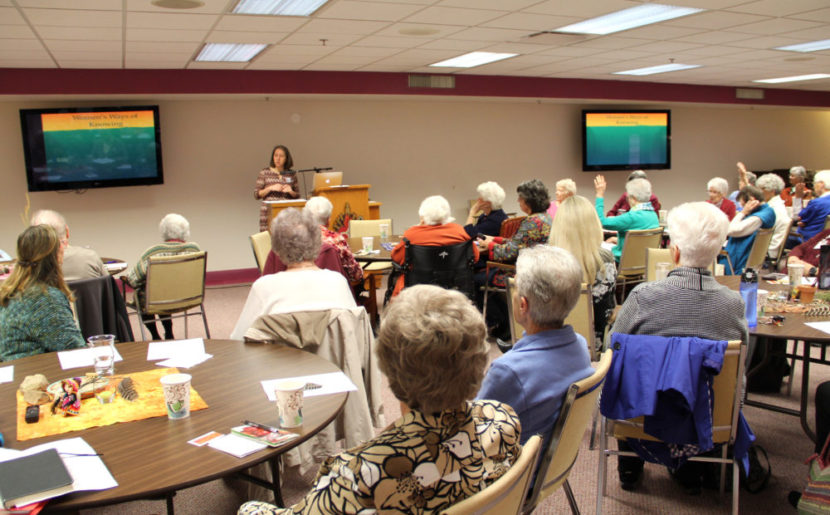 Last weekend was my first BVM Network on Women's Issues meeting and it was such a blessing. At the Felician Motherhouse in Chicago we explored the universe story first by sharing a bit about "What difference has my emerging understanding of the universe story made in my life?"
The concept of the universe story is relatively new to me so I described it a bit like an almost inaudible hum transforming to faint music. Imagine the scratchy sound of an out-of-tune radio that all-the-sudden has clear reception.
We sat in a circle and at our feet was a visual representation of the universe story, borrowed from the Well Spirituality Center. There was a very long rope that spiraled across the floor. At certain points along the rope were images representing the great beats in universal transformation—the big bang, the advent of planetary flora, the time of the dinosaurs, the beginning of humanity, and the many milestones of human achievement. It was humbling to see our story set in that context, to know that each life was less than a flicker of the candles.
Our presenter, CTU professor, Dr. Christina Zakar did a smashing job of winding us through many of the touchstone elements of our collective stories. The full spectrum of understanding of the universe story was present with the roughly 50 BVM associates, sisters and friends. So many wise and wonderful women with insights to share. It was powerful to hear the shared stories, see the surprised expressions when discoveries took place, and to bear witness to the sustaining love for each other.
It was electrifying to see our two guests (one the niece of a BVM sister and the other a discerner seeking possible association) find their voices and powerfully share with the many other strong women present.
We examined a brief history of the network, looked at the current functions of the network, and set a course of action for next year's efforts on exploring women's issues. We then spent time deciding which current topics the network would address through direct action, advocacy, and correspondence.
One of the things I treasure about BVMs is that, as strong women, they enable, value, and encourage strength in others.
---
The BVM Network on Women's Issues is a grassroots movement within the Sisters of Charity of the Blessed Virgin Mary, (BVM) that seeks to raise awareness of women's issues.