Associate Shirley Molumby Eckholm July 29, 1933 – March 14, 2022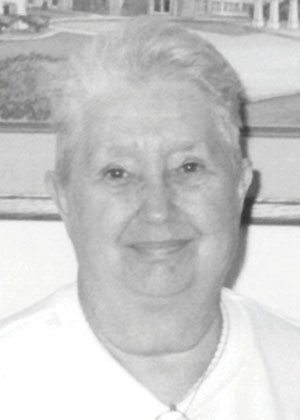 Associate Shirley D. Eckholm died on March 14, 2022, in Fairmont, Minnesota, at the age of 88. Shirley was the daughter of Walter and Genevieve (Hulderson) Molumby and was born on July 29, 1933, in Dickens, Iowa.
Shirley grew up in Emmetsburg, Iowa and in 1952, graduated from Immaculate Conception Academy in Davenport, Iowa. She received a Post Graduate Certificate in Nursing from LaSalle University. In 1968 Shirley moved to Shakopee, Minnesota, and married Lyle Eckholm in September 1970. She became a Correctional Counselor at the Minnesota Correctional Institute for Women in Shakopee in 1972 and retired from there 25 years later. Shirley and Lyle then moved south to Foley, Alabama, where she lived until shortly before her death.
Shirley became acquainted with the BVM Community in grade school. She made her commitment as a BVM Associate on September 26, 2006. She was accompanied in her discernment process by BVMs Joan Opatts and Rose Koehler.
In her recommendation letter, BVM Joan Opatts wrote, "Shirley desires to share prayer with BVMs and continue learning from them social action, BVM history, core values and helping others enjoy freedom in God's love."
Shirley is survived by her son Scott (Vicki) Turner of Kindred, North Dakota; daughter Marlene Turner of Murfreesboro, Tennessee, five grandchildren and three great-grandchildren. She was preceded in death by her husband Lyle, her parents, half-brother B.J. Molumby and half-sister Kathryn (Messerli) Brothers.
A memorial service will be at 11:00 a.m. on June 2, 2022, at St. Mary's Catholic Church in Armstrong, Iowa. Interment will be at St. Joseph's Cemetery, Wadena, Iowa.
Condolences may be sent to her son:
Dr. Scott Turner
16921 50th Street SE
Kindred, ND 58051