2016 St. Mary's (Los Gatos, CA) Ecuador Immersion Trip
Every spring for the last 9 years there has been a cross country delegation of BVM Associates, BVMs, and parishioners from St. Mary's Parish in Los Gatos participating in an immersion experience to our BVM missions in Ecuador. Most years they join with the BVM delegation that visits Quito. Unfortunately this year the calendars of the groups did not coincide.
The group's itinerary includes spending a day or two in Guayaquil visiting Damien House and Nuevo Mundo. The rest of their time they experience the BVM mission in Quito, the Center for Working Families (C4WF)/Working Boys Center(WBC). While in Quito they are introduced to the culture and engage in some volunteer work.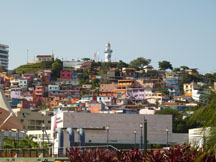 Their trip includes a visit to Otavalo, a market for Ecuadoran crafts.  Blankets, scarves, ponchos, backpacks, purses, jackets and other items are purchased and brought back to the states to be sold at St. Mary's Annual Soup Supper. The proceeds are donated to C4WF and Damien House.
The parishioners at St. Mary's began this ministry by accepting an invitation to immerse themselves in another culture. Little did they know that ten years later, this immersion experience would grow into an annual spring immersion experience for adults and a summer trip with parents, grandparents, and their children and grandchildren.
Tomorrow we will post a bio of the travelers who will be departing on March 30th for Guayaquil. They travel to Quito on April 1st for an 8-day experience there. Every day they will submit a blog entry.  We invite you to join us to read about their adventures and to pray for their safe travels.