DIAMOND JUBILARIANS
The following Diamond Jubilarians are celebrating 70 years in religious life with the Sisters of Charity of the Blessed Virgin Mary.
They entered the BVM congregation in February 1950. They professed first vows on Aug. 15, 1952, and final vows on Aug. 15, 1957.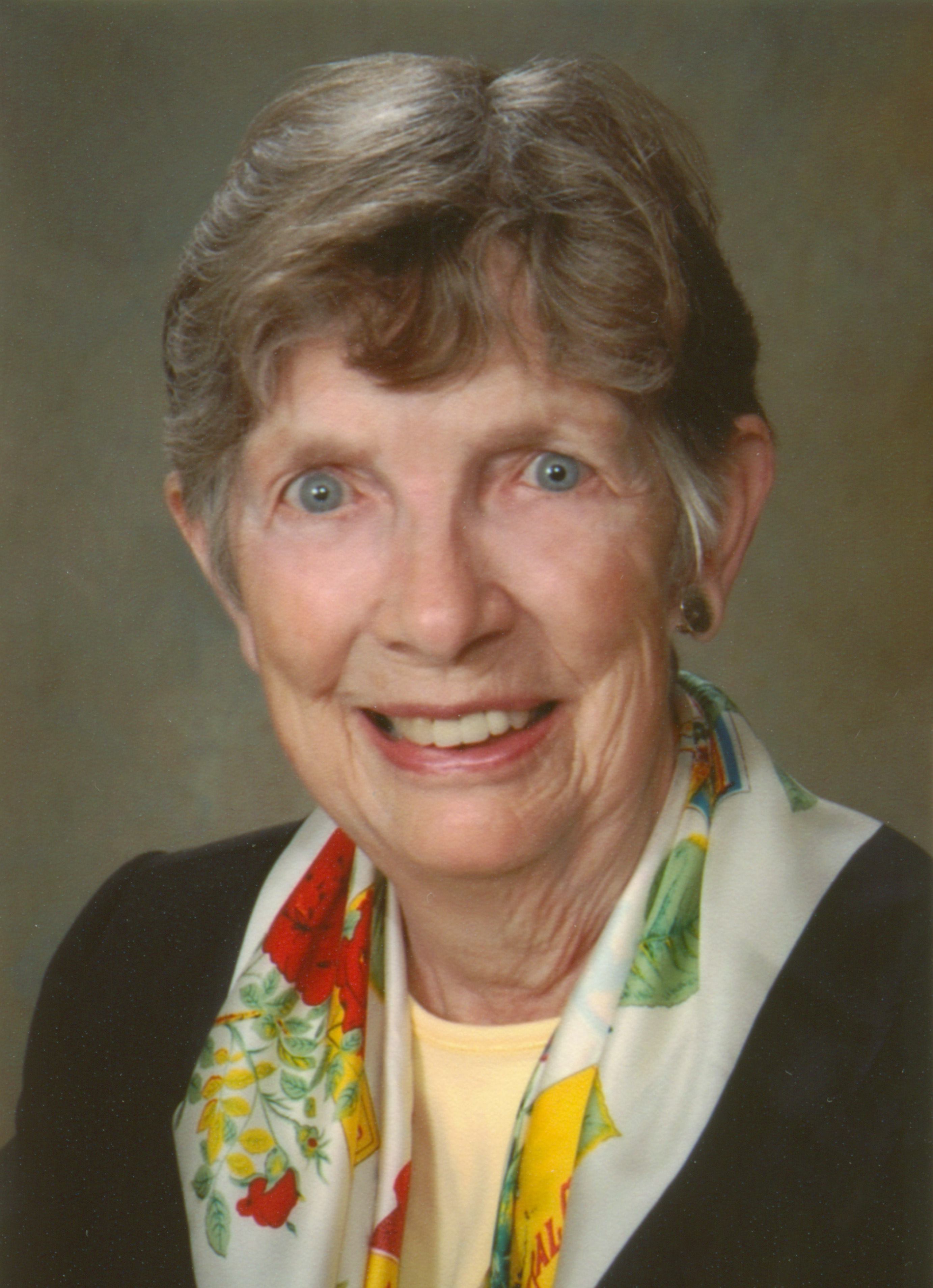 Sister Patricia (Marjorie) Donahoe, BVM
Read Her Biography
The encouragement of a BVM teacher made Pat (Marjorie) Donahoe consider becoming a sister herself.
During high school at St. Joseph's Academy in Des Moines, Iowa, a BVM was very supportive when Pat was working on a project she was worried about.
"I remember saying to myself, 'I wish I could be that kind,'" and a voice said "Couldn't you?"
"I could never be a nun," she told herself. And the voice asked, Why not?
And that's how 70 years ago on Feb. 2, Pat boarded a train in Des Moines during an ice storm and headed for Mount Carmel in Dubuque, Iowa.
Along the way, she called her mother, but her dad wasn't home and she promised she'd call back to talk to him.
"My parents dropped me off at the station. I'd never seen him cry, so that didn't help me. After supper, I sat down in the third floor hallway crying, saying 'I didn't get to call my father,'" and she was allowed to call home.
As painful as it was to leave home, Pat knew she was going toward her calling.
"It's where God wants me to be. I've always felt that," she said. "This is where I belong."
Pat started out teaching, first through fourth grades, in Kansas, Illinois, Missouri, and after her father died and her mother needed her, back home in Des Moines.
She taught at a public school near her mother's home, so she could stay with her and walk to work. Her students walked home with her, a help to those whose way home was fraught with bullies.
"The interaction with the children was great. I'd say to them, 'Do you want me to be fair?'" and they'd say yes.
After her mother died, Pat returned to school and earned her master's in library science. She had begun studying guidance and counseling, but found the library science courses very appealing.
A self-described introvert, she volunteers at the Mount Carmel Motherhouse library still.
She has learned that even in a tough spot when you wonder how things can work out, "God is with you all the way.
"What surprises me my whole life is that I was taking a stand on things that were wrong, and I said so, even though my stomach was churning," she says.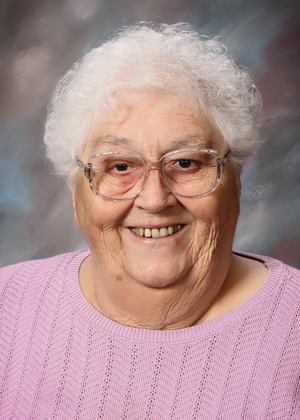 Sister Theresa (Grace Michele) McNerney, BVM
Read Her Biography
You don't have to ask Theresa (Grace Michele) McNerney, BVM, twice how she feels about her congregation.
"I love being a BVM," she says animatedly. "I love it because we love each other, even though we might disagree with each other. I love our spirit. I love my community. I love everything about it. I feel so grateful."
As she celebrates 70 years as a BVM, someone described her as a mover and a shaker, "and I was," she says. "I had a few run-ins with the law for demonstrating.
"I spent my whole life working for justice. I will continue to do it as long as there are injustices going on and people can't talk for themselves," Theresa says. "I think it's a miracle that they didn't kick me out when I did all these justice things. What I did, they all do now."
While she is grateful and joyful about her choice to become a BVM, you could say that it had a rocky start.
"I had no idea what I was getting into. My mother died when I was 4, so I was used to taking over and I was used to running things. That wasn't how it works here."
She often—sometimes it seemed like daily—had her name on report. "When I left a pin in my apron, when I left my boots in the wrong place, when I left a drawer open so far, so I had to report every day. Somebody always reported me for talking.
"I didn't know I had to keep silent. I didn't think there was anything wrong with talking then and I don't now," she says.
Theresa became the infirmary sacristan. "There was nobody there, just me, nobody to talk to. We (postulants and novices) were not supposed to talk to professed (sisters). So I went to visit them all every day," which the sisters enjoyed.
She still enjoys talking to the sisters. "My goal is to make them laugh. I'm loud and I try to be funny. I never sit at the same dining table. I sit at a different table" every meal at the Caritas Center where she now resides.
She first met BVMs in her hometown of Seattle, where she lived across the street from school. The sisters had been good to her mother, and after she died suddenly, helped her father and the children.
He was a captain with the Seattle Fire Department, but couldn't keep that job with children to raise on his own. So he became custodian at the school.
Theresa decided to join the community she had come to know.
She had to finish one credit for her high school diploma, and had to take a class with senior novices who were taking the same class for credentials.
She started teaching in 1952. "I was 19 and I was teaching sixth grade," she remembers.
The grade she taught changed often. "One year, I taught a double class: first grade in the morning and fourth grade in the afternoon. That was hard."
She continued her education every summer, earning her bachelor's and master's degrees. "I went to school my whole life" because she loves to learn.
For 10 years, she taught in Los Angeles. "It was a very difficult school in east LA, probably the poorest school there, and Hispanic. I loved it, loved it, loved it,"
She's been an ombudsman for the elderly, delivered Meals on Wheels, and always stood up for people on the margins.
"I have a wonderful life. I'm very happy. I've had great people supporting me, and I love it."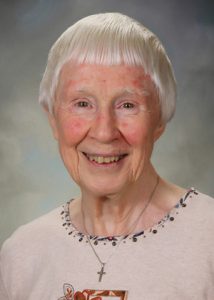 Sister Mary Janine Wolff, BVM
Read Her Biography
"I didn't have the slightest idea" what being a BVM would be like, says Mary Janine Wolff, BVM.
But she knew she wanted to be a sister.
That was not unusual. "In the first grade, Father came in and said 'Who wants to be a sister?' All the girls and half the boys raised their hand," she says.
But the calling stayed with Janine. When she told her mother on high school graduation day, her mother advised her to wait.
"She said, 'You don't know what you want. You've gone to an all-girls Catholic high school for four years. I want you to promise that you'll go out and work for a year, meet boys and date. Then you can do what you want. '"
So Janine did as her mother asked, working, bowling, joining the Young People's Club, singing in the church choir, and babysitting. After the year was up, her mother gave her blessing, and asked "Have you told your dad?"
When she did, he said, "Go ahead, it's your life." As he took her to the train, he said, "Remember, where your mother and I are is always your home."
But she found that she felt at home at Mount Carmel right away.
She visited aunts and uncles the week before she entered the BVM congregation. "Every place I went they gave me my favorite food, which was applesauce. On Feb. 2, 1950 (the day she entered the BVM Congregation), we had applesauce for dessert, and I knew I was home."
She taught for almost 30 years, mostly grades one through four, averaging 50 children each year, sometimes over two and three grades. Then she served in parish ministry.
BVMs taught Janine for 12 years—eight in grade school and four in high school—in her hometown of Maywood, Ill. When she told her dad she wanted to go to a Catholic high school, he said, "I wasn't able to send the others," her brothers and sisters.
When Janine said, "I will pay my own way," he answered, "Go right ahead."
Starting in seventh grade, she had a job at a florist shop that not only paid her tuition but her own dress and hat for her sister's wedding.
She is grateful that she grew up in a loving family and learned that with rights come responsibilities. And she learned to accept things as they come, including going to new teaching assignments because that's where she was needed.
Now in retirement, she makes photo cards, asks for donations, and sends the proceeds to the BVM Hunger Fund.
"I have learned that I am in God's hands and my Creator isn't finished with me yet," she says.
The following Diamond Jubilarians are celebrating 70 years in religious life with the Sisters of Charity of the Blessed Virgin Mary.
They entered the BVM congregation on Sept. 8, 1950. They professed first vows on March 19, 1953, and final vows July 16, 1958.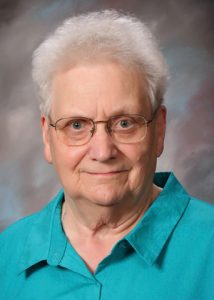 Sister Rosemunda Besch, BVM
Read Her Biography
Rosemunda Besch, BVM
Diamond Jubilarian
September 8, 1950
Rosemunda Besch, BVM sensed her calling early, and was advised to say three Hail Marys every day so that she would find her right vocation. She did.
A native of Sioux City, Iowa, Rosemunda met BVMs at Cathedral Elementary School in kindergarten, and they continued to be her teachers through 11th grade.
Her parents set a strong example of faith, and her mother was particularly proud when she became a BVM.
Unlike others in her set, she was the only one from her hometown to arrive in September 1950.
"Everything was so new to me," Rosemunda says. "I think I was walking around in a daze."
But even though a little shy and homesick, she never considered leaving. Sisters were kind at Mount Carmel and at the missions she served.
In 1953, she went to her first assignment, to teach first graders at St. Catherine in Hickory Hills, Mo. It was a school out in the country with no houses in sight. Her first thought was, "What do I do with these little kids?"
Mentors and meetings helped hone her teaching skills. So did experience; her career spanned 48 years.
"I had every grade but third," and she liked teaching fourth, fifth, and sixth grades best.
In her second assignment, she was off to Los Angeles to teach second graders, and then to two Chicago schools where she taught fourth and sixth graders.
At St. Vincent in Chicago, she began a 50-year friendship with Clarenita Froehlich, BVM. Maybe it was because they were "sort of opposites," as Rosemunda describes them, that they became so close.
"My family adopted her," she says. The large Besch clan embraced Clarenita, an only child, into their fold.
"My niece introduced us as, 'This is my Aunt Clarenita, and this is my Aunt Rosemunda.'"
Clarenita and Rosemunda served together in Boone and Sioux City, Iowa; Omaha, Neb.; and Melrose, Minn. Clarenita was principal and Rosemunda was a teacher. Rosemunda jokes that was a good thing the roles weren't reversed because she didn't have the patience Clarenita did.
They ministered mostly in urban areas until going to a school of fewer than 100 students in Melrose for 12 years. People were wonderful at all the missions, but the years in Minnesota "we felt were our golden years," Rosemunda says.
They moved to Sioux City, where they stayed for 28 years, to be closer to Rosemunda's family. Rosemunda and Clarenita were the last BVMs in the Diocese of Sioux City when they moved to Mount Carmel in 2018.
The Besches all grieved when Clarenita died in April.
When Rosemunda first came to Mount Carmel just three months after graduating high school and turning 18, she couldn't envision her Diamond Jubilee.
But now it is here.
"It's been wonderful. I keep thanking God I belong to the BVM Congregation," she says. "There are so many wonderful sisters, and all the good we do as a community" is a blessing.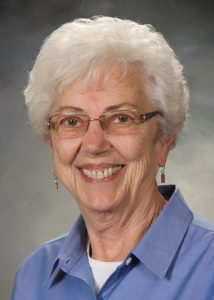 Read Her Biography
Jean Beste, BVM
Diamond Jubilarian
September 8, 1950
For Jean Beste, BVM being a Sister of Charity of the Blessed Virgin Mary has been 70 years of on-the-job training.
"I am so happy I had the opportunity to do all these things, which I never would have had I not become a BVM," she says. "I am so grateful to have chosen the BVMs."
You would expect she would learn how to be a teacher and principal, and she did, including for a school of more than 1,000 students.
She grew into each role, although when first told she would become a superior in Kansas City, Mo., she cried. But she arrived to find "a wonderful group of sisters."
Jean stayed 40 years in Kansas City, where she also became a property manager, community organizer, and director of personnel and planning for a large diocese.
After 24 years in education, "I was really burned out. It was an inner city school. We had a very forward-looking pastor. We did lots of innovative things in education. But I got really burned out. I thought 'I just can't do that anymore.'"
A friend wrote a grant to the BVM community so "you can stay here and work for the neighborhood."
So she hung out a sign that said, "I don't know what you need, but you can call me. The calls came in right away."
Jean dealt with city hall and taught people in the neighborhood how to navigate bureaucracy.
When conditions in a Housing and Urban Development complex were poor, they said, "if you think you can do better, you go ahead."
She did. She became a property manager of 120 rental units and hired maintenance staff. She earned her real estate license and supervised a crew that rehabbed houses.
Jean was ready for another change, and it came when the bishop asked her to step in at the Diocese of Kansas City-St. Joseph office of personnel and planning.
"They were just about ready to close a lot of parishes, and I really focused on planning," she said.
Then a new bishop arrived, and asked her to become vice chancellor of the diocese.
"I was in on everything. I had 15 wonderful years at the diocese," Jean says. "Then it was a perfect time for me to move to Dubuque."
Although she didn't live at Mount Carmel, she visited every day, and was elected to a two-year term as regional representative.
A few years later, she became a life facilitator at Mount Carmel "because I still have the energy and the interest."
It was wonderful, but "I've retired three times so I'm not going to get another job," she says.
Her biological family is proud of her accomplishments and supported her decision to join the community.
Jean loved the novitiate and postulancy. Her set are "wonderful people. I was very timid. I was a real introvert. I still am. But we grew in friendship with the people that we entered with," Jean says.
Several set members are at Mount Carmel. She pops in to see how her set-mates are doing, chat, and see if they need anything.
"It's a real family and I love being around them and helping them in any way that I can. BVMs are my family."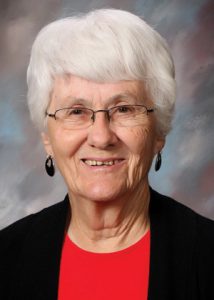 Sister Carol (Conrad Ann) Cook, BVM
Read Her Biography
Carol (Conrad Ann) Cook, BVM
Diamond Jubilarian
September 8, 1950
At Holy Angels Academy in her native Milwaukee, Carol (Conrad Ann) Cook, BVM took a sociology class that changed how she looked at the world.
"For the first time, I began to understand how different people's lives were. I learned a little about poverty," Carol says.
Her neighborhood growing up was largely German American, like herself, with a few Irish and Polish people.
Despite that homogeneous background, Carol says, "I've always been fascinated with differences, whether its religious differences" or cultural differences.
Then, a volunteer opportunity arose to work with the African American community, and "the world opened."
She found her place in the world with the Sisters of Charity of the Blessed Virgin Mary, and spent 25 years teaching in African American schools.
"For me, the biggest gift I received was my first mission" to teach kindergarten at Holy Cross, an inner city school on the south side of Chicago, Carol says. "I couldn't figure out how God had chosen me for that."
Later she learned that some didn't want the assignment. But Carol says, "I wouldn't be in the community or as close as I am to the church without that experience."
The people were open and shared their lives. It was challenging teaching 60 kindergarten students in the morning and another 60 in the afternoon.
But that ministry was a foundational experience, Carol says, and showed her "what it meant to come together to stand for justice."
Later, she taught high school science, including at Immaculate Conception in Clarksdale, Miss.
Those ministries instilled a passion to march in demonstrations seeking justice, "to be with people willing to make change and do it publicly. It was powerful."
Now she does not attend as many demonstrations, which she describes as "one of the biggest" things she has had to let go of.
But she can—and does—still speak out by calling and writing legislators to let them know her stands.
And she has never felt alone in working for justice. Within the BVMs, there was always someone to collaborate with, even if sisters had different styles.
"I've had so many opportunities within the community," Carol says. "Everyone is working together to try to accomplish something."
Through her ministries, she advocated for homeless women, farm workers, and a world of peace and justice.
Ten young women from Holy Angels, eight from her graduating class, arrived at Mount Carmel on Sept. 8, 1950. Some took a plane from Milwaukee to Chicago "because we were sure we would never have a chance for a plane ride" once they entered the convent. (It turned out there would be many opportunities to travel as BVMs.)
Carol found companionship among the sisters.
"I love that value of freedom. I love how we make decisions collectively. I like the idea of support for individual decisions, which I think is unique to our community," Carol says. "Through the congregation, I found the opportunity to see how wonderful people are."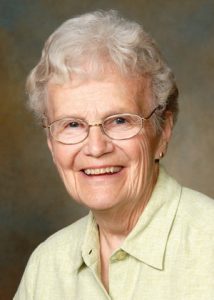 Sister Suzanne "Sue" (Frances Carol) Effinger, BVM
Read Her Biography
Suzanne "Sue" (Frances Carol) Effinger, BVM
Diamond Jubilarian
September 8, 1950
Suzanne "Sue" (Frances Carol) Effinger, BVM loved the look of wonder that first graders had when they first learned to read.
Later, she saw that same look on the faces of adults she taught to read.
That was sort of a surprise, because Sue never really intended to be a teacher.
"I never even gave it a thought that I was going to teach. I was just entering religious life because I wanted to be sure I got into heaven," when she joined the Sisters of Charity of the Blessed Virgin Mary 70 years ago, she remembers now with a laugh.
"It never occurred to me I would have to teach. Then I got into it. I got to be pretty good at first grade. They learn so much. They are so open and in wonder about school. Everything is new for them. Teaching first grade was very satisfying," Sue says.
She first met BVMs when they taught her in first grade at Holy Rosary Elementary School in her hometown of Milwaukee, and continued the relationship at Holy Angels Academy.
"I realized what a great group the BVMs were. I could tell they were happy and they were fun. That just appealed to me. I didn't even consider any other congregation," Sue says.
The sisters who joined the same day she did bonded together right away.
"I can still see us sitting around" on the Mount Carmel Motherhouse grounds after they arrived. "We spent a lot of time outside just getting acquainted. We were close from the start and we kept that up through the years."
She was surprised that her first mission was in faraway California. She also ministered in Wisconsin, Missouri, and Illinois.
After being a teacher and a principal, Sue sought her next mission. She attended a BVM gathering called "Dreamers' Workshop" that explored transformation ministry.
"You go into a place where there aren't any sisters, find out what they want or need, and try to meet those needs," she explains. "A group of BVMs would come together, live together, and minister together. That appealed to me at that time, because I needed more community. I came together with two other BVM sisters who had taken the same workshop, so we were all on the same page."
Her teaching skills transferred easily to becoming an adult literacy instructor in Milwaukee. She taught people who had little chance for education earlier in life. While the content was different than teaching first graders to read, the concepts were the same.
"I learned from them and they learned from us," Sue says. She also trained tutors.
Her decision to become a BVM in 1950 gave meaning to her life, and she appreciates "what I've learned from the BVMs and what I have tried to give back.
"I'm very grateful for what I have and what we have," Sue says. "It's my family. BVMs are my life."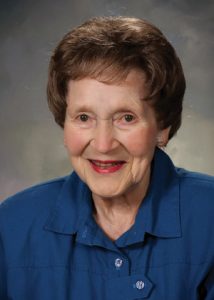 Sister Rosalie (Victor Ann) Glanz, BVM
Read Her Biography
Rosalie (Victor Ann) Glanz, BVM
Diamond Jubilarian
September 8, 1950
Rosalie (Victor Ann) Glanz, BVM is celebrating 70 years as a Sister of Charity of the Blessed Virgin Mary.
"When I realized that I had a religious vocation, I chose the BVMs. They were a teaching order and I had decided in fourth grade that I was going to be a teacher," says the Milwaukee native.
"I taught in three BVM high schools and two diocesan high schools. The most surprising and interesting was helping to open Archbishop O'Hara High School in Kansas City, Mo., along with four more BVMs and three De La Salle Christian brothers.
"When my mother became ill, we had live-in care with her for about two years. At that time, I decided my teaching career was over and so I asked permission of the community to allow me to live with her and care for her. I was graciously given that permission. That, I would say, was my biggest challenge.
"After Mother died, I did volunteer work at SET Ministry [in Milwaukee], tutored at an adult learning center, and continued in the parish adult choir and the adult bell choir and cantored.
"I am very grateful to God and my community for it all."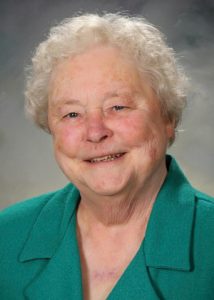 Sister Audrey (Raymond Ann) Juergens, BVM
Read Her Biography
Audrey (Raymond Ann) Juergens, BVM
Diamond Jubilarian
September 8, 1950
Audrey (Raymond Ann) Juergens' motto could be "have trunk, will travel."
During 70 years as a Sister of Charity of the Blessed Virgin Mary, she willingly went where she was needed, and accepted the changes that came in the church and congregation just as readily.
"I thought all the changes that came were the right changes. Changes were easy for me," Audrey says.
That was true from the very beginning, when she first came to Mount Carmel.
"To me, there were no big surprises" about being a postulant and novice. "I thought this is what it takes. If I want to stay here, I'll do it."
She taught first grade in Phoenix on her first mission, which was her favorite.
At Incarnation in Glendale, Calif., she taught third and sixth grade to help out in a pin ch and avoid doubling other classes. It was difficult, but only for one year. "I was proud that my superior asked me out of all the teachers," Audrey says.
Sometimes she surprised herself "that I could do what they asked, and it seemed to be working," she says.
She returned to Mount Carmel to be assistant postulant and novice mistress, and then worked with Scholastics at Wright Hall in Chicago.
Audrey earned her master's degree in educational media and began setting up learning centers, where students could use earphones and participate in activities tailored to their needs.
"I loved working in the learning center. Dealing with a smaller group, it seemed like I could do more. All of the classes I taught were jam-packed. With the learning center, you could experiment: if something didn't work, you could try something else tomorrow," she says.
She worked in elderly care for a year, and then became associate administrator at Marian Hall at Mount Carmel. "That was totally different for me, but I loved it very much."
In her hometown of St. Louis, Audrey scheduled actors, storytellers, and singers for Young Audience, which brought performing artists to schools.
She worked in outreach for St. Joseph Catholic Community Services in St. Louis, helping people on the margins with food and utility bills. That was a visible ministry, she says: "You could see their eyes light up when they received a box of food."
In retirement, she chairs the BVM Hunger Fund Committee, which helps organizations that work toward providing basic human needs in countries other than the United States.
"I have two great loves in my life: my family and my community. I do love them dearly and I can't imagine life without them."
She first met BVMs as her high school teachers, and after 70 years "immersed in the community, it is my life, my love, my everything."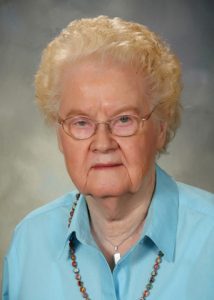 Sister Therese (Jeremy) Mackin, BVM
Read Her Biography
Therese (Jeremy) Mackin, BVM
Diamond Jubilarian
September 8, 1950
Therese (Jeremy) Mackin, BVM says the Sisters of Charity of the Blessed Virgin Mother has been "my whole life."
That is not an exaggeration. She is celebrating 70 years as a BVM, and BVMs were part of her daily life before that as a student at St. Joseph Academy in Des Moines and then Clarke University in Dubuque, Iowa.
She spent nearly 50 years at Clarke, where she taught speech and drama, served as dean of students, director of planned giving, development coordinator, vice president of institutional advancement, and executive vice president.
Her work at Clarke brought professional and personal enrichment. The students, faculty, administration, and staff at Clarke were like family, she says.
And she and students brought a little bit of home to men serving in the military by taking USO touring shows to bases in the United States and overseas.
In 1964, Clarke was one of seven schools invited to tour European bases with its Clarke Coffee House Theatre. Over eight weeks, the troupe put on 75 performances.
Therese and Xavier Coens, BVM, who wrote a book called G.I. Nun about the USO tours, flew aboard a military air transport service plane.
The sisters and performers met the servicemen and the German people, but the best part "was just the experience of working with the students doing the show," Therese says.
In 1965, she wore a parka over her habit when she went with a variety troupe to Greenland, Newfoundland, and Iceland. The group entertained more than 7,600 servicemen in the Arctic Circle with songs, dances, and skits.
Therese explained her decision to become a BVM in a December 1974 homily at an all-school liturgy at Clarke.
"It wasn't a dramatic sort of thing, like the jolt of lightening that threw Paul to the ground. It was simply a persistent sort of thinking inside of me which urged this course of action. I chose the religious life because, for me, it was the single best way to use my talents and abilities to become the best Christian I could become. And idealistic though it may sound, that was my goal then, as it is now," Therese says.
But now it is here.
"It's been wonderful. I keep thanking God I belong to the BVM Congregation," she says. "There are so many wonderful sisters, and all the good we do as a community" is a blessing.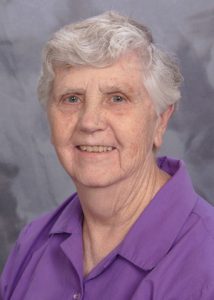 Sister Emelyn Malecki, BVM
Read Her Biography
Emelyn Malecki, BVM
Diamond Jubilarian
September 8, 1950
A lot was riding on Emelyn Malecki, BVM making it through the novitiate to final vows as a Sister of Charity of the Blessed Virgin Mary.
"My brother-in-law said, 'You're never going to stay. You can't keep your mouth shut.' I said, 'I'm going to show you.'"
They bet $25, and he lost. That was 70 years ago, and Emelyn is celebrating her diamond jubilee as a BVM.
As soon as Emelyn arrived at the convent, she felt comfortable. "Coming from a large family, I just kind of think I fell into the structure. Our set bonded together right away."
After the novitiate, Emelyn coordinated reunions for the sisters she entered with and "no matter what we had, everybody was invited and everybody came."
Growing up, she had always been told "Life is not a bowl of cherries," and novice mistress Sister Leo repeated that saying. And Sister Leo also said, "Things are always temporary. They might last ten years, but they are still temporary."
Emelyn met BVMs at Annunciation Elementary School and St. Dominic High School in her hometown of Chicago.
"When I was in sixth grade, we had Sister Vincenzo [McMahon, BVM], only for three months, and she got sick. She and I were strongly bonded. She was just a lovely person to all, not just to me. Since that time, I wanted to be a BVM," Emelyn says.
When at age 16 she first said she wanted to be a sister, her mother advised her to wait. "I was the youngest of 11, and my father would be totally against it. My mother died when I was 16." Emelyn sometimes wonders what course her life would have taken if her mother had lived longer.
Even though the BVMs she met were teachers, "I never honestly thought I would be a teacher."
But she was for 27 years. Then she was principal for 19 years at three different schools. "I never thought I would be principal, but I liked being principal better because I could help teachers and students," Emelyn says.
Much changed over 70 years in religious life. Sisters can voice their own opinions and make their own choices.
But core values remained the same.
"I always had a great devotion to Blessed Mother," Emelyn says, but through retreats and studying theology, she grew in love and devotion to God and Jesus while sustaining her devotion to Mary.
"My retirement for me is having time for a deeper prayer life," Emelyn says. "Being a BVM has given me a great second family that cares for each other with much love. The bond is there. To me it has brought me closer to spiritual life and to God."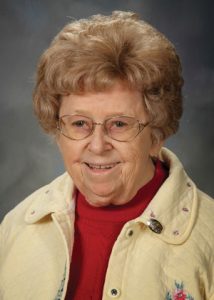 Sister Mary M. (Bertille) O'Connor, BVM
Read Her Biography
Mary (Bertille) O'Connor, BVM
Diamond Jubilarian
September 8, 1950
Mary (Bertille) O'Connor, BVM has had a rich life filled with "the little ones" she taught, the sisters she mentored and who mentored her, and music.
"I loved teaching and had many experiences from Chicago to Seattle to Hawaii and a return to be close to my parents, who had moved to Cedar Rapids, Iowa. I was with my mother when she died and for this I will forever be grateful," Mary says in a written reflection.
She taught second, third, and sixth grade, with classes of 60 students.
"As I look back, all of these experiences helped me to grow up and appreciate the small things in life," she wrote. "There was something favorite about each mission."
Mary became a pastoral associate and director of religious education, and continued that ministry for 25 years. She earned her master's degree in religious education.
"I was very happy ministering to people in need, whether spiritual, physical, or emotional. I love the ministry of bring Eucharist to others," she wrote.
She visited hospitals and nursing homes, ran Bible study, and worked in grief support.
Mary met the Sisters of Charity of the Blessed Virgin Mary at St. Joseph Elementary School in New Hampton, Iowa.
"From the time I started to school, I knew I wanted to be a teacher," Mary wrote.
BVM teachers supported her personal and prayer life, and discussed her call to religious life.
"I talked to BVM sisters about entering at Mount Carmel. Fine with Mom, but 'Tell your Dad.' Dad's response was to take us all travelling to show me how wonderful the world is. On the eventual drive to Mount Carmel, Dad stopped at every gas station to ask 'Are you sure?' And I was—and am now—sure it was the right thing to do."
She is very proud of her family. Her father was a civil engineer for Iowa highways, her mother (from whom she took her religious name, Bertille), was a country school teacher. Both brothers served in World War II, and her sister earned her degree in nursing.
Mary took piano lessons as a child and played the flute in her high school orchestra.
For a while, studies and teaching caused her to put the flute aside. "When I began my teaching in Cedar Rapids, I was pleased to belong to a prayer group that realized the need of music with prayers. I was able to get a flute. Playing it for myself and others enriched our worship."
Mary continued playing when she came to Mount Carmel in 2005. "Thank you to all the BVMs and others who have encouraged me to continue making music for God and others, whether in church or on 4th floor Caritas."
Sister Julie O'Neill, BVM
Read Her Biography
Julie O'Neill, BVM
Diamond Jubilarian
September 8, 1950
It always bothered Julie O'Neill, BVM that some people think sisters are different from other people.
"We're just as real as anybody else, with the same hopes and dreams," she says.
Her dream was to be a sister, and she is celebrating her diamond jubilee.
"There were 70 of us that day [when she entered on Sept. 8, 1950]. I cannot believe it's been 70 years. It's just like yesterday. It's been an amazing journey. I've been very blessed," Julie says.
The beginning of the journey was traveling from her home in California to Mount Carmel in Dubuque, Iowa.
Julie first met BVMs at St. Paul Elementary School in San Francisco.
"We had to move when I was going into sixth grade, or I would probably be a Dominican," she says, because they were her teachers at St. Anthony School. "I had never had a lay teacher. I thought if you wanted to teach, you had to be a sister."
At the end of sophomore year of high school, she needed to turn in her list of requested classes signed by a parent. Julie chose the academic offerings over commercial classes, and slid the form to her mother at the breakfast table.
"People just presumed I would be a secretary," she said. With no time for discussion, she told her mother, "Instead of being a secretary, I want to be a sister," and headed off to school.
After absorbing her decision, her family supported her choice.
The four years at St. Paul High School in San Francisco were "amazing. The day after graduation, I went to school to clean out my locker, and I cried all the way home. I could not imagine not being there. It was such a special place.
"I went from that special place to this special place (Mount Carmel) exactly one week before my 18th birthday," Julie says.
She taught and was principal in traditional Catholic schools, mostly in California, from 1953 to 1985, and then came an unexpected change.
"Mom had a stroke and Dad was alone in the house. The opportunity to do parish ministry in their parish just literally dropped in my lap. I could walk not even a mile to get to their house. I could be with Dad part of the day. It was just perfect," Julie says.
In her role as director of religious education, she connected with families, and was able to be with them through good and bad times as they planned weddings and funerals over decades.
"The other blessing of the last 20 years was my becoming aware of the need for classes for special needs children," Julie says.
A mother called and wanted her daughter, who couldn't walk, see, or talk, to receive her First Communion. "Somebody had told her 'her kind'" couldn't receive the sacrament because there was no way of knowing if she could understand its meaning.
"I said it would be great if she wasn't the only one preparing to receive the sacrament. At the end of the week, we had nine people, all challenged. The class was born that day in the spring of 1999 and is still going. It was the greatest blessing of all," Julie says.
She retired to Mount Carmel in 2009 to be able to reconnect and strengthen BVM bonds. The community gives her life meaning, she says.
She keeps an empty white vessel, which is very symbolic and meaningful to her, in her room.
"For a long time, I thought my job was to work hard and do things to keep filling it up, rather than letting it be empty. Unless it's empty, God can't fill it," Julie says.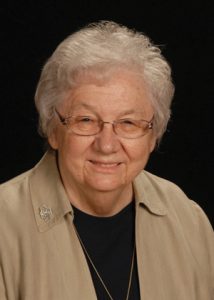 Sister Mary Frances (Paul Adele) Reis, BVM
Read Her Biography
Mary Frances (Paul Adele) Reis, BVM
Diamond Jubilarian
September 8, 1950
If you ask Mary Frances (Paul Adele) Reis, BVM, how she feels about being a diamond jubilarian as a Sister of Charity of the Blessed Virgin Mary, her answer is simple: "One all-encompassing word: gratitude."
Her life and mission over these 70 years has spanned a variety of living situations and ministries.
"I have learned much, been challenged often, but never been bored," Mary Frances says.
"I like to think of religious life as an adventure—a great, unfathomable adventure with God that continues even as I age. My understanding of vocation has grown in sync with my ministry assignments, with their instances of both readiness to do something new and challenging, which often amazed me! That evolution has deepened my faith in God's abiding presence!
"Though my ministries have changed through the years, the basic thrust has continued to be education and working for justice and freedom, all of which are underscored in charity (love), the primary call of religious life, and in a unique way as Sisters of Charity of the Blessed Virgin Mary," Mary Frances says.
When she responded to the call to enter the BVMs, she didn't have a long-term vision of what she might be doing.
"The novitiate years were concentrated on spiritual growth, religious studies, and educational preparations, so suddenly being confronted with 72 little second graders who were not too interested in the Indwelling Presence of God was a challenge, which I must admit, I really enjoyed at that time."
The first 25 years of ministry were focused on elementary education as a teacher in the southwest and principal and area director for schools in the Archdiocese of St. Louis.  After serving the congregation in the Office of Ministry, her service expanded to campus ministry.
Then a call came to serve in home missions in southern Missouri. There her work included programs for single mothers, migrants and the poor, community organizing, diocesan board and retreat work, and hospice and hospital chaplaincy, parish adult education and pastoral care, areas that still use some of her skills in volunteering during retirement.
"During all these years I have had marvelous opportunities of retreats, extended studies, travel, culture immersion, public witnessing, and involvement in civic and church events in the challenging decades of society, government, and church changes," she says.
 Mary Frances met BVMs during high school.
"Although I had relatives and friends in other congregations, it was the BVMs at Xavier High School in St. Louis whose presence touched me," Mary Frances says. "They were gifted teachers, happy, lived in a crowded poverty situation, and had a great sense of community of which I wanted to be a part.
"My Mom cried, my Dad was proud, my brother said I'd be back in 20 minutes, and friends' and relatives' reactions were strewn along the line from incredulous to affirming.
"Much has changed during these seven decades, but the biggest changes through these years of worldwide challenges have been my interior ones: learning the hard way that God is in charge; that 'being' is just as effective as 'doing;' that the greatest gift in my life, next to grace, has been friendships with people I have been privileged to know and love in places where I have lived and served."
That is why she is so grateful.
"I have been probing the meaning of charism for decades by sharing and living this grace in our community of sisters and associates and friends in the spirit of Mary Frances Clarke. There have been so many small and large group experiences that truly illustrate our unique spirit. Perhaps being a part of an ongoing growth in loving kindness within our community and in our outreach to those in need is my best way of defining what it means to be a BVM today," Mary Frances says.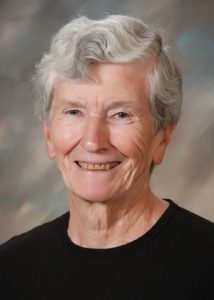 Sister Terese (Ellena) Shinners, BVM
Read Her Biography
Terese (Ellena) Shinners, BVM
Diamond Jubilarian
September 8, 1950
Terese (Ellena) Shinners, BVM reflected on her life as she celebrates her diamond jubilee as a Sister of Charity of the Blessed Virgin Mother.
I can't imagine not being a BVM.  It's been a wonder-full 70-year journey. Although I had a BVM aunt, sisters I met at Holy Angels Academy in Milwaukee—smart, wise, caring, confident women—led me to say "I want to do that, too."
My parents supported all of us in our life choices, but my mother, who was in Marquette's first graduating class of women, especially supported the girls' choices. My novitiate time was precious because it brought into my life women who would be lifelong friends. Although life as part of a crowd wasn't my favorite thing, my appreciation of those years grew over time. Instructions we received and books that were available prepared us to continue to grow as Christians and BVMs.
When I entered, I hadn't thought much about the BVM ministry of education, but I discovered that I really loved being with young people as they grew in "wisdom, age, and (hopefully) grace." I taught grades four to seven and high school history and Latin in schools in Illinois, Wyoming, Kansas, Missouri, and Wisconsin. Some of those "kids" are still in my life and that is part of my hundredfold.
When I had corrected exactly as many history essays as I could stand, I continued my education ministry as a writer/editor for Weekly Reader Publications.  Since I retired, I've had the luxury of time to volunteer with agencies providing senior services, to read, do crossword puzzles, do my exercises, and spend quiet time in prayer.
The prayer, friendship, and example of my BVM sisters has been an inspiration. Their support during my family's troubles was life saving for me as well as for my family members. The breadth of involvements and commitments of our sisters enriches and challenges us all. This continues to educate us and connect us to wider communities than our own.
Although the way we serve changes as we age, our determination to serve persists. We continue to present each other with many service options. Much as current technology terrifies me, I appreciate its value in connecting us to the whole human family. So, as I celebrate our 70th anniversary with my set in the here and the hereafter, I look forward to the mystery that is the future and commit again to the richness that is BVM life.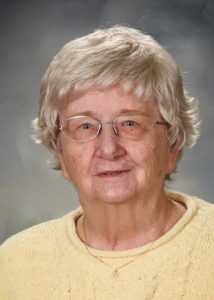 Sister Joanne M. (Joeline) Schneider, BVM
Read Her Biography
Joanne (Joeline) Schneider, BVM
Diamond Jubilarian
September 8, 1950
Joanne (Joeline) Schneider, BVM remembers standing on the steps of Mount Carmel and ringing the bell at age 18, asking for entry and at the same time wondering what she was getting into.
"If I had it to do all over again, I would do the same thing. It is the right place for me," says Joanne, who adds that joining the Sisters of Charity of the Blessed Virgin Mary 70 years ago "was the best decision I ever made in my life."
She loved Mount Carmel from the start, and loved her first assignment to teach in California.
"That was a wonderful place to go. I called my dad to tell him where I was going and he said, 'Good for you! We'll be out to visit.' I had wonderful support from my family."
That first assignment to Tujunga, Calif., was also where she first discovered that she could do much more than she ever thought.
"I was sent out to be a music teacher. About a week before school started, they said I would be transferred to Montrose, Calif., and would teach 66 children in sixth grade. I had absolutely no preparation for that. But they told you what to do, and you did it."
Throughout her teaching career, she taught all eight grades.
"Whenever a grade was available, I asked if I could teach that grade. I wanted to know where kids had been and where they were going" over their school years.
Joanne never did exclusively teach music, although she did teach it in her classroom and sometimes exchanged an hour with another teacher, trading teaching music for math.
"I surprised myself by finding out that I could do things I never dreamed I could do. I found out I had other talents I didn't know anything about," she says. "All I knew I could do was teach."
After teaching more than 40 years, she used the same skills in prison ministry, helping people learn in "very rewarding" work.
She interviewed senior citizens and helped them create memoirs. "I learned to play guitar and taught it for a while," Joanne says.
Seventy years has gone by swiftly.
In 1984, she went to care for her mother in her native Milwaukee, where she first met BVMs at Holy Angels Academy.
It was the "joy the nuns exuded all the time" that first made Joanne consider becoming a BVM. "They were always such a happy bunch of people, friendly and helpful. They would come and play basketball with us. I think God must have just tapped me on the shoulder and said, 'Look it over.'"
She is so grateful that she did.
"It is a privilege to be a BVM. I've always appreciated that. I've been very fortunate," Joanne says. "Life has been very good."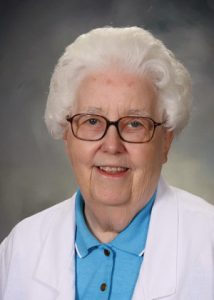 Sister Catherina Walsh, BVM
Read Her Biography
Catherina Walsh, BVM
Diamond Jubilarian
September 8, 1950
On a hot summer day when she was a novice, Catherina Walsh, BVM and three professed sisters indulged in an ice cream cone after a visit to the dentist.
Their driver bought the cones after one sister said it sure would taste good, and they went into an alley so they wouldn't be seen eating them.
"I thought I'd be sent home" for the indiscretion, Catherina says, but she reported it to her superior nonetheless. With a straight face, the novice director said "Next time bring me one."
Times have changed in the 70 years she's been a BVM. Sisters no longer need to have a companion on any trip away from the convent, and they don't wear a habit.
But the sense of community that first attracted Catherina remains.
A Dubuque, Iowa, native, she first met BVMs at Clarke University, after being taught by Visitation Sisters in elementary and high school.
"I went two years at Clarke and met the sisters there. I was very impressed with them. I had a great love for Visitation Sisters and am very grateful for my early education. I always wanted to be a sister. Growing up, I thought sisters were wonderful. They just seemed so nice, so good, that I wanted to be like them," she says.
When she first entered, she thought becoming a sister was as simple as putting on the habit. It wasn't that easy, but becoming a BVM was the right choice for her.
"It's been wonderful, the whole spirit that we have. You are made to feel like you are sisters. You feel like you've known them," she says. "I've always been grateful to my own set and the sisters."
Accepting changes in assignments and in dress was easier because "you always had the support of the sisters, and God, of course."
One huge change was deciding which job to take instead of being assigned. After the changes with Vatican II "we could make our own decisions. We were allowed to make them with prayer, reflection, and consultation."
Catherina began teaching first and second grades.
"I taught about all my life. I loved that very much. I taught the lower grades and then junior high. I think I related to junior high students," and she taught history and religion. She became junior high principal in a consolidated school.
In retirement, she volunteered to visit the homebound.
Being a BVM means "living in community. It means doing not exactly what you want to do but what God wants you to do, through a superior or decision making."
At each new assignment, the sisters welcomed her, and set a wonderful example of acceptance.
"It wasn't always a bed of roses, but I wouldn't change it for anything. I never thought of not staying. I've been very fortunate and I've been very happy," Catherina says.
Live Videostream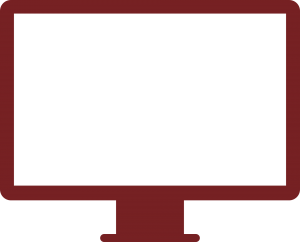 During these unprecedented times, visitor restrictions at Mount Carmel Bluffs remain in place. Since we are unable to allow guest attendance at the Diamond Jubilee, we invite you to celebrate with us virtually.
The Eucharistic Liturgy
will be videostreamed live
Sunday, September 13, 2020, at 10:30 a.m.
A link will be available here closer to the date.
Send an email congratulatory message to a sister on her jubilee
As our Diamond Jubilarians celebrate 70 years, "We, your sisters and friends, say thank you; we bless you, and we love you."
Contact Us
For more information contact:
Angie Connolly, Director of Communications
aconnolly@bvmsisters.org
563.588.2351 x5536
Past Jubilarians