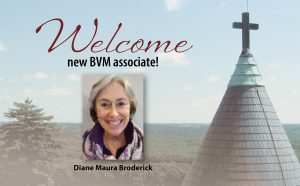 Diane Maura Broderick, from Poulsbo, Wash., completed the candidate process and was accepted as a BVM associate on Oct. 10.
She was born in Des Moines, Iowa, and raised as part of large farm family. Carola Broderick, BVM (deceased) was Diane's aunt.
Diane is a retired teacher and an active seeker of social justice. Sher married James Russell 36 years ago.
According to Diane, "From birth, I treasured the BVM family of women in which I was raised. Our family lived for church, community, and connection with the larger world."
BVM Sisters Kathy Carr, Nancy McCarthy, and Mira Mosle, and associate Lori Ritz, were her discernment companions. Lori shares, "To Diane, the charism is the 'heart and soul' of Mary Frances Clarke and those sisters and associates who followed her."
Diane enjoys water sports, hiking, walking, cycling, and traveling.