Understanding the Iowa Proposed Gun Amendment Virtual Panel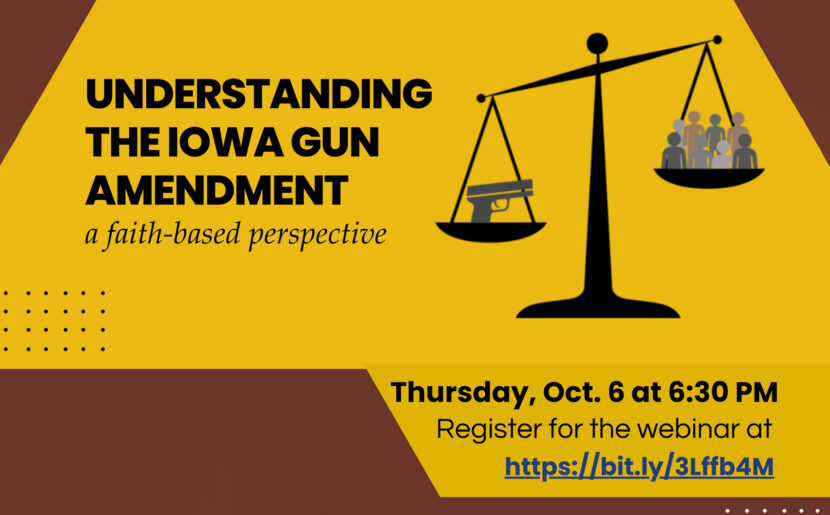 Iowa Catholic Sisters and Divine Word College are offering a virtual panel via Zoom titled, "Understanding the Iowa Proposed Gun Amendment" at 6:30 p.m., Thursday, October 6, to learn more about the proposed constitutional amendment that is on the Iowa ballot this fall.
In November, Iowan voters will be asked to vote on "Public Measure 1." If passed, this amendment could prohibit safety protocols such as universal background checks, gun safety training, and requiring a license to carry guns in public.
The virtual panel, which is offered from a faith perspective and a nonpartisan stance,
will feature three guest speakers to discuss the proposed amendment: Art Roche, Acting Chair, Iowans for Gun Safety; Tom Chapman, Executive Director of the Iowa Catholic Conference; and Dr. Tom Brezenski, PhD Political Science and Public Policy. Registration is available online at https://bit.ly/3Lffb4M.
"'Public Measure 1' does not clearly state the purpose of the amendment, and many Iowans will not realize what they are voting for on November 8," said Sister Nancy Miller, OSF, Social Justice Coordinator for the Sisters of Charity of the Blessed Virgin Mary and Sisters of St. Francis, Dubuque. "This virtual panel is to help educate Iowa voters about the purpose of the proposed amendment and the adverse implications it may have."
This event is sponsored by the Sisters of St. Francis, and Discalced Carmelite Nuns in Clinton, Iowa; Sisters of Charity of the Blessed Virgin Mary, Sisters of St. Francis, and Sisters of the Presentation of the Blessed Virgin Mary in Dubuque, Iowa; Congregation of the Humility of Mary, Davenport, Iowa; Divine Word College in Epworth, Iowa; and Sisters of Mercy of the Americas Justice Team
---
For more information, contact: Sister Nancy Miller, OSF
Social Justice Coordinator
Sisters of Charity of the Blessed Virgin Mary and Sisters of St. Francis, Dubuque
justice@bvmsisters.org
(563) 583-9786