To Haiti and Back: Grants Build Global Friendships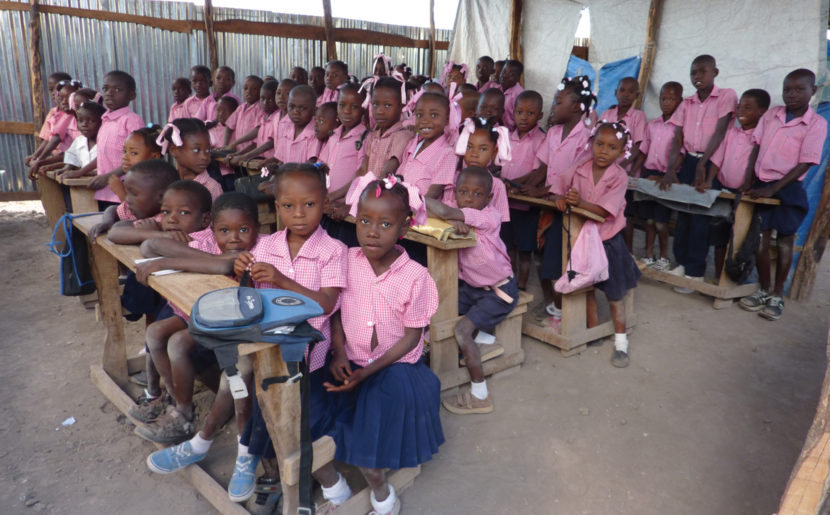 Six-year-old Jen-Noelle walks barefoot and alone for as long as two hours from her village to get to school.
She has shoes, but the long walk through the mountains would ruin her only pair. Around her, there are no cars or roads. There is no running water, sewage or trash disposal. She walks on through the heat because for her, missing school may mean she loses the most significant or only meal of the day, so she walks on.
Not long ago, this journey wasn't even possible for the more than 3,000 children like Jen-Noelle living in St. Joseph Parish of Medor located in the mountains of central Haiti. Because people joined together to develop small chapel schools, education is now within reach.
Anything you do to the least of my brethren, you do to me." —Mattew 25:31–46
Bernadette (Lucinus) McManigal, BVM first learned about St. Joseph when she was a member of Our Lady Queen of Peace (OLQP) parish in Arlington, Va. In 1997, the church started a partnership with St. Joseph as part of the Parish Twinning Program of the Americas, a nonprofit that connects parishes in the U.S. with those in need.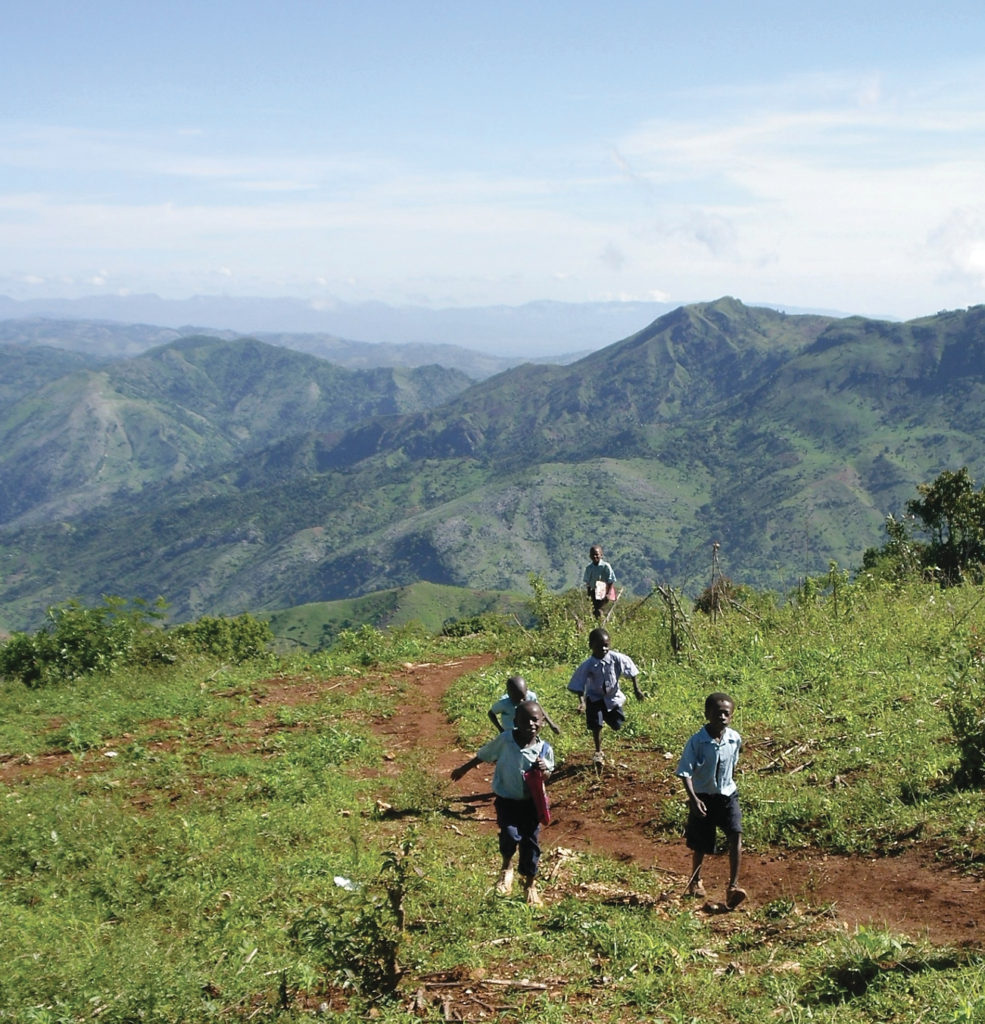 The program aligned with OLQP's mission inspired by Matthew 25:31–46: "Anything you do to the least of my brethren, you do to me." Since then, OLQP has helped St. Joseph build and maintain chapel schools to reach students in remote areas, access clean water and sanitation, rebuild forests, and provide free medical and vision clinics.
"It's a whole different way of life," reflects OLQP parishioner Dr. Sue Carlson. An ophthalmologist, Sue has made several trips to Haiti to visit local clinics to conduct eye exams. Sue says, "Things are a lot better than they were. With the schools able to provide lunch, it's an incentive for parents to send their children to school instead of keeping them home to do work or collect water."
But OLQP couldn't do it themselves. They needed help. Due to lack of funds, the schools were on the verge of closure. Bernadette knew it was something the BVMs had to support. "These children have no other opportunity for education," she says. "As BVMs we came to provide basic education for those who didn't have any source for that."
With Bernadette's encouragement, the BVMs have provided financial resources through BVM Hunger Fund and Ministry Partnership Grants that support remote schools children like Jen-Noelle depend on. Though BVMs are not able to be present in as many missions as in the past, these grants help fund ministries that share in the BVM mission of "helping others enjoy freedom in God's steadfast love."
After hearing of the impact from Bernadette, Mary (Patricia Mary) Nolan, BVM also endorsed the project. To her it just made sense. "Why would we not help someone who is working with the poorest of the poor?" she says. "Education is the key to everything."
A Cultural Exchange
Lori Ritz, director of BVM life and mission believes it's essential that students impacted by the BVM Legacy of Love in different parts of the world connect with other schools. After learning about the efforts in Haiti, Lori reached out to Sue to see how she could make that happen.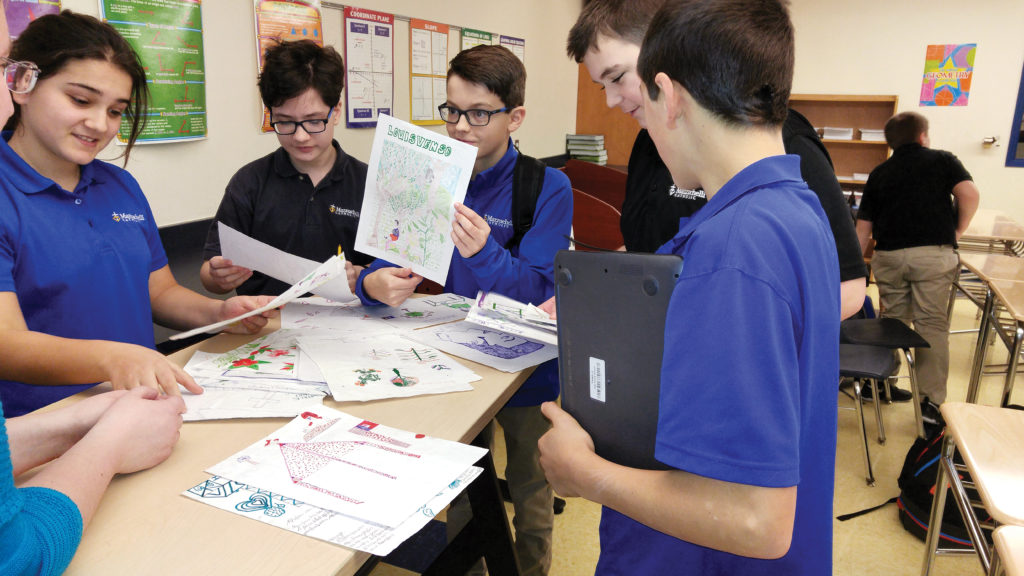 After talking with Sue, Lori contacted area educators to see if their students would like to form a partnership with St. Joseph students. Emily Schmidt, a math teacher at Mazzuchelli Middle School in Dubuque, Iowa, thought it was an excellent opportunity for her students.
"Sharing cultures or just exposing students to other cultures is so important," she says. "It's so easy to get wrapped up in what's going on in our world, and we don't understand how other people live as much."
At the time, Emily's students were learning how to make scale drawings. They decided to draw scenes from Dubuque to share a part of their culture with the Haitian students.
Before journeying to Haiti last fall, Sue stopped in Dubuque to meet the Mazzuchelli students to share stories like Jen-Noelle's.
It was an experience that meant a lot to Emily's students. "I don't think my students can imagine what it's like to live in such an isolated area and not know anything about the outside world," says Emily. She adds that hearing the stories of students in Haiti made the project more impactful to the Dubuque students.
Mazzuchelli student Audrey O'Neill wrote about her experience: "Those people walk miles to get water or go to school, use only porta-potties, plant trees to make up the large loss [of timber] and take a bucket to the river, take it back, put it in another bucket and then they get their clean water. . . . How grateful are you?"
While in Haiti, Sue brought the drawings from the Mazzuchelli students as well as donated art supplies. "The students in Medor were delighted that the kids in Dubuque had taken the time to make these drawings for them," says Sue. The children responded with dozens of their own drawings of life in Haiti, sharing images of their homes, washing clothes by the river, and more. Each sent a message of hope, love, and friendship.
Working Unitedly for Good
In a letter to her fellow sisters on Sept. 17, 1885, BVM Foundress Mary Frances Clarke, says, "I have no fears, so long as you are working unitedly . . ."
Guided by Mother Clarke's spirit, BVMs understand that to meet the needs of the world, they must work unitedly, not just as a congregation, but as a global sisterhood of religious communities.
"That's what inspires us to join together," says Mary Nolan. "We're all in it together; we can't do it ourselves."
---
Related Stories:
---
This story was featured in: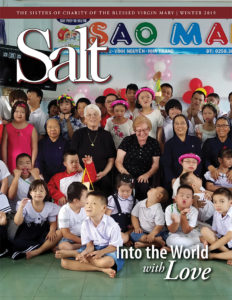 Winter SALT 2019: Into the World with Love
When BVMs Teri Hadro and Kate Hendel visited the Sisters of the Immaculate Heart of Mary in Vietnam, they brought with them 185 years of rich BVM heritage and a message of friendship that echoed the words of BVM Foundress Mary Frances Clarke, "Where one BVM is, all BVMs are." In this issue, discover ways the BVM Legacy of Love continues to grow throughout the world.
If you would like to receive Salt, contact the Office of Development for a complimentary subscription at development@bvmcong.org or 563-585-2864.