The United Nations at 75: More Important Than Ever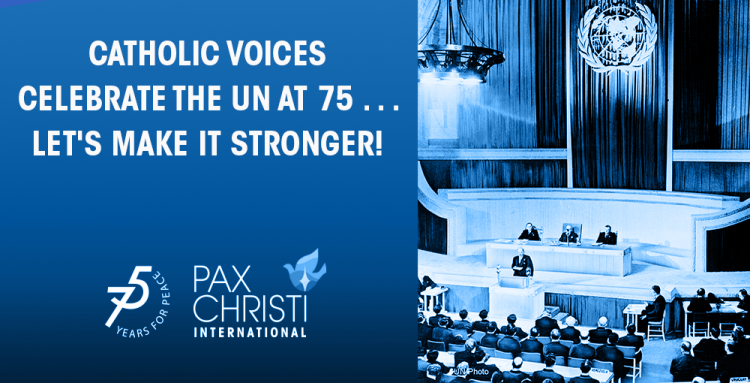 As the United Nations (UN) celebrates its 75th anniversary, Sisters of Charity of the Blessed Virgin Mary say it makes the world more peaceful.
"The United Nations has been a cornerstone of an international effort toward understanding that the inhabitants of Earth are one people—we would say God's creation and God's people," the BVM Council says. "Our desire for peace and appreciation of Earth's diversity are strengthened by the ongoing work of those who share the values of uniting nations. May the efforts to come together to solve the current global challenge contribute to deepening our solidarity."
Pax Christi International calls for strengthening the UN.
BVMs signed on to a statement from the Catholic peace movement that acknowledges the UN's accomplishments in human rights, disarmament, and climate action.
But it says in the COVID-19 era, the institution's importance is heightened.
"While celebrating its achievements and supporting its work, we are deeply worried about the challenges the UN is facing," the statement says. "These concerns are especially pressing in these times when multilateral responses to social, economic, and environmental issues, including to the devastating COVID-19 health crisis, are urgently needed.
"We are particularly concerned with the UN Security Council's recurring inability to act in critical situations, the unwillingness of some member states to step up action in response to the climate crisis, the inadequate responses to urgent needs of migrants and refugees, unaccomplished nuclear disarmament and the lack of engagement with the world's citizens," the statement continues. "Hopefully, this year's anniversary and the unprecedented COVID-19 crisis will create momentum for a long-awaited strengthening of the UN system, for which the support of all member states is urgently needed."
Read the entire Pax Christi International statement here: https://paxchristi.net/2020/10/23/statement-on-the-75th-anniversary-of-the-united-nations/