'The Heart of St. Pauls': Alumnae Give Back to the Sisters Who Believed in Them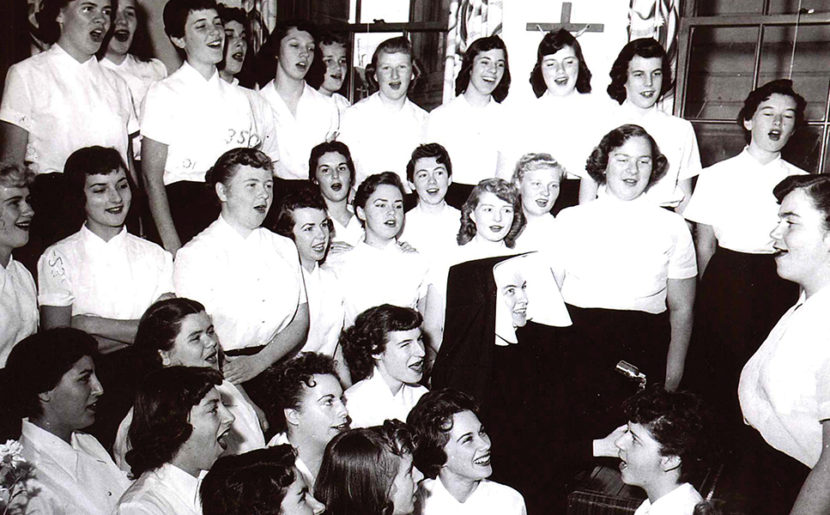 "For you St. Pauls we loudly cheer with loyal hearts today…" are the first words to the St. Paul High School song—words BVM Karen Conover holds deeply in her heart. "I sing it all the time, all the time," she says with a tear in her eye. "There is not a group of former students that will get together that won't sing it. Everybody knows it."
She taught at the school for 14 years until it was closed in 1994. For her, St. Paul was more than just a place it was an experience. One that was greatly shaped by the BVMs.
"I believe every student knew she was very loved," says Karen. "The spirit and the energy and what the alums say about the impact of BVMs and the school is extraordinary. It's not just, 'Oh, yeah, I went to this school.' There's something electrifying."
The BVMs provided the principal and staff throughout St. Paul's 77-year history. Over 100 graduates entered the BVMs, and in 1990, five percent of the living membership was from St. Paul. All from a "tiny school" in San Francisco.
"From a little tiny school, the ripples are great," adds Karen. "The fact that so many young women were inspired to join us [the BVMs] over the years tells you a lot."
Although the small school in San Francisco closed more than two decades ago, the spirit of St. Pauls lives on through its alumnae association and its more than 2,000 active members who still hold on to the experiences, friendships, and sisters that shaped them into who they are today.
"I remember the last day of school senior year," reflects BVM Julie O'Neill (class of 1950). "I lived eight blocks from the school, and I cried the whole way home. There was something magical about St. Pauls." Her experience inspired her to become a BVM after graduation. She later returned to her beloved school in the 1980s to teach remedial studies, a subject she proudly "taught by choice." "St. Paul's prepared me for that," she says with a big smile.
Every April, the alumnae association hosts a fundraiser—giving 20 percent of the proceeds back to the BVMs who continue to impact its alumnae every day.
"We give back because we love them," says Alumnae President and BVM Associate Marilyn Highlander-Pool (class of 1963), "They were good, loving, kind women who taught us how important our faith was, how to be strong, independent women, and how important it was for us to choose between right and wrong. They were the heart of St Paul's. You can't separate St. Paul's from the BVMs."
St. Paul High School was established by St. Paul Parish in San Francisco in 1917. The former baptistery of the church, now the Blessed Virgin Mary Chapel, lists the names of all the BVMs who served in the parish, as well as all the religious and priestly vocations to various dioceses and congregations which come from St. Paul Parish.
Just a Pinch: "Three cheers for you, St. Paul's!"
BVMs (l. to r.) Julie O'Neill, Karen Conover, Mary Louise (James Mary) Caffery, and Kathleen (Johnine) McGrath sing their school song at a bench donated by the St. Paul alumnae association at Mount Carmel in Dubuque, Iowa.
About the author: Jon Aguilar is communications specialist for the Sisters of Charity, BVM in Dubuque, Iowa.
Featured photo caption: Ann Regina Dobel, BVM practices choir with her students.
---
This story was featured in: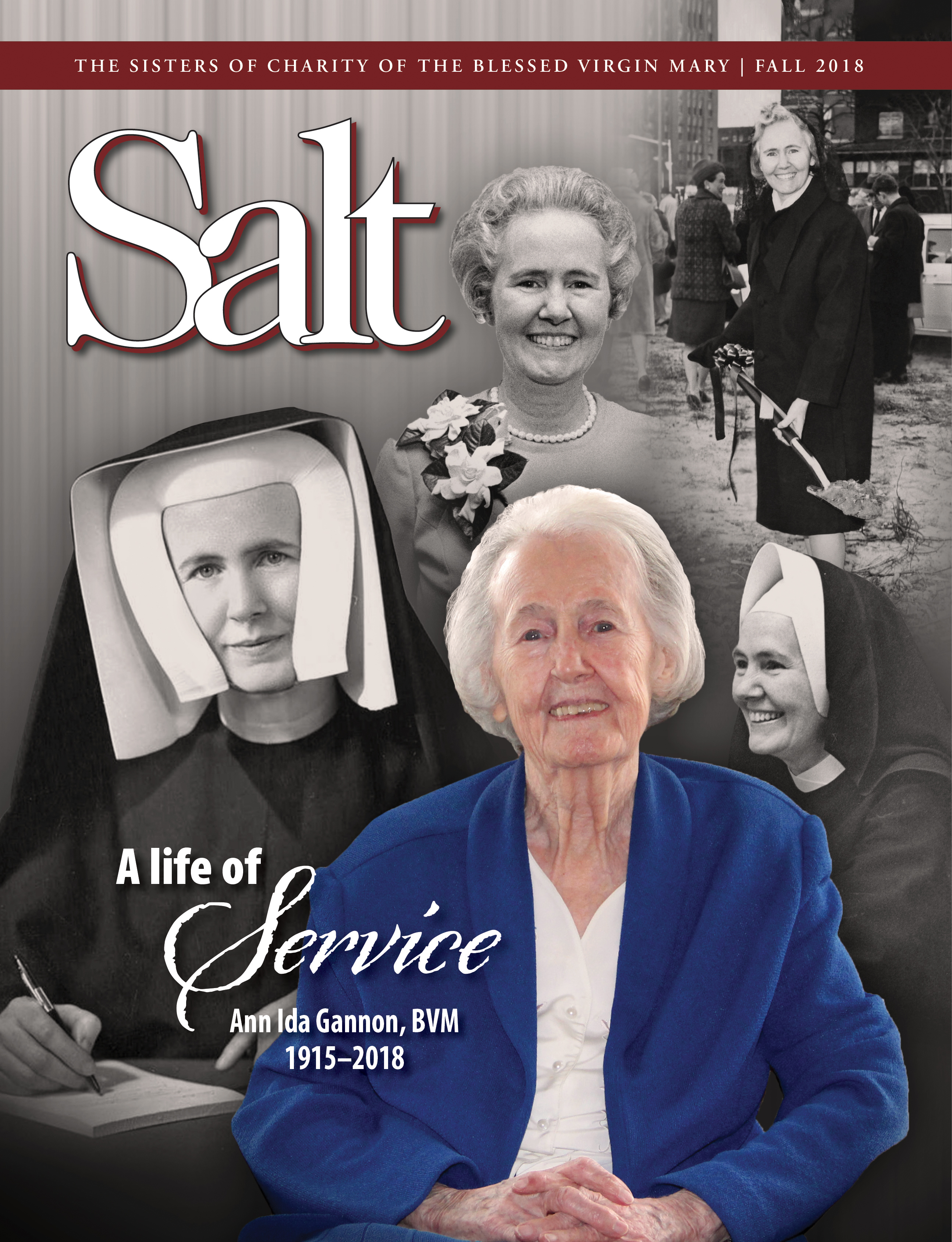 Fall Salt 2018: A Life of Service
Even at the age of 103, Ann Ida Gannon, BVM never forgot the importance of a warm smile, standing up for what was right, or "doing the hard work." Her life, spirit, and love is remembered in this issue by the mission and ministries of her BVM sisters who truly live lives of service. Read more about Ann Ida and the BVM "Legacy of Love."
If you would like to receive Salt, contact the Office of Development for a complimentary subscription at development@bvmcong.org or 563-585-2864.