BVM and Former Mayor of Dubuque Among 14 Honored with Humanitarian Award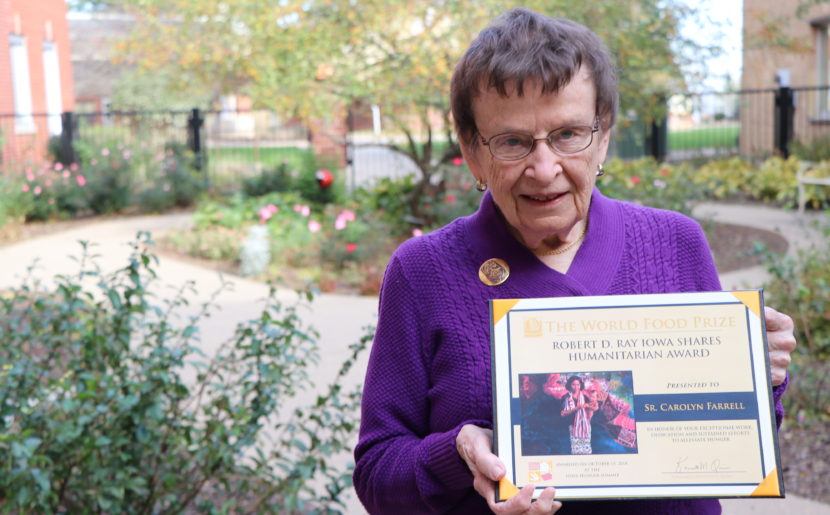 Award Honors Those Who Led the Campaign Saving Thousands of Victims of the Cambodian Genocide
BVM Carolyn Farrell was among 14 individuals and organizations from three commonly separated sectors (religious, government, and the press) honored with the Robert D. Ray Iowa SHARES Humanitarian Award for their role in coming together to help relieve human suffering in Cambodia.
Led by former Governor Robert D. Ray, Iowa SHARES formed a statewide campaign that delivered lifesaving food, medicine and volunteer doctors, and nurses to the Cambodian border of Thailand where thousands of victims of the Khmer Rouge Genocide had escaped.
Carolyn served as a regional advocate in eastern Iowa as a member of the Dubuque City Council. She later became the first female mayor of Dubuque (and of a major city) in 1980. Reflecting on the experience, she shares "The greatest part, was seeing people coming together to serve a great need. They set aside their differences and did what was necessary."
Between Thanksgiving and Christmas of 1979, the campaign raised over $125,000— providing food and medicine to 30,000 refugees the week of Christmas.
To read more:
Des Moines Register: That time Iowa came together across the wounds of war to help a nation 12,000 miles away