Sister Mary Elizabeth Eaton, BVM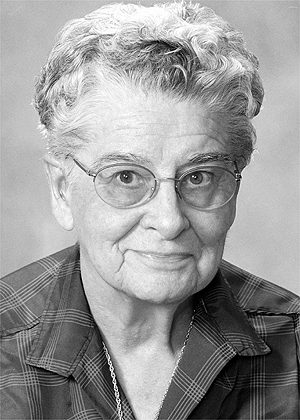 Sister Mary Elizabeth Eaton, BVM, 100, died Nov. 6, 2013, at Marian Hall in Dubuque, Iowa. Visitation will be from 9–11 a.m. on Tuesday, Nov. 12, 2013, in the Marian Hall Chapel followed by a prayer service at 11 a.m. Funeral liturgy will be at 1:30 p.m. Burial is in the Mount Carmel cemetery.
She was born Jan. 30, 1913, to Henry C. and Edith Marshall Eaton. She entered the BVM congregation from St. Theresa Parish, Des Moines, Iowa, on Feb. 2, 1980. She professed first vows on March 29, 1981, and final vows on March 25, 1984.
Sister Mary Elizabeth first entered the BVM congregation in 1938 and was a music teacher in Davenport, Iowa; and Rock Island, Ill., until she withdrew in 1945 to care for her parents. She taught in the Des Moines public school system until 1980, when she re-entered the BVM congregation.
She was preceded in death by her parents. She is survived by cousins and the Sisters of Charity, BVM, with whom she shared life for 40 years.
Sister Mary Elizabeth Eaton,
Funeral Welcome
Marian Hall Chapel, Nov. 12, 2013
Good afternoon and welcome to the celebration of the life of our Sister Mary Elizabeth Eaton.
In his letter to the Ephesians, St. Paul wrote, "In all wisdom and insight, he has made known to us the mystery of his will . . ." God's will for Mary unfolded gradually and led her down many unexpected paths until she finally found her permanent home with the BVMs whom she dearly loved.
Mary Elizabeth Eaton was born on Jan. 30, 1913, in Des Moines, Iowa, the only child of Henry Chamberlain and Edith Marshall Eaton who had emigrated from England. She was baptized in the Episcopal Church but joined the Congregational Church at age 12. The Eaton family lived next door to the bishop of the Des Moines Diocese, Thomas William Drumm, to whom they lovingly referred as "Bish." After attending public schools through sixth grade, Mary transferred to St. Joseph Academy. When her mother expressed concern regarding the recommendation from their non-Catholic pastor, Sister Mary Consuela Martin, who took the registration commented, "Mrs. Eaton, the Bishop's already spoken for Mary."
During her days at the Academy, Mary started asking faith questions and was drawn to Sisters M. Camillus Doyle and St. Celestine Linnan for guidance. Later, Mary reported that, "In the fall of my senior year, I worked up enough courage to ask my folks if I could join the church and the roof nearly came off the house." She decided not to push the issue. Mary went on to graduate from Grinnell College in Grinnell, Iowa, with a bachelor's degree in music. She accepted a position as a nursemaid and governess and on her weekly day off, took instructions to convert to Catholicism. She was received into the church and made her first communion in March 1936 and was confirmed in September 1938.
Mary entered the congregation on Sept. 8, 1938, and received the name Claudia upon her reception on March 19, 1939. On her application she stated that she wished "to dedicate myself to God's service for my own sanctification and to draw others chosen to Him Who so generously gave me the gift of Faith." "It was a time of learning my Catholic faith," Mary commented about the novitiate. "As I was learning to be a BVM, there were many things in Catholicism which I did not understand." She professed first vows on March 19, 1941, and was sent to teach music at Immaculate Conception Academy in Davenport, Iowa. In August 1944, she received a letter from Sister Mary Fidelian Donahue in Des Moines who suggested that she come home to care for her parents. Mary was next sent to teach music at St. Joseph School in Rock Island, Ill., but because of the letter, she decided to return home when her vows expired in March 1945.
For the next 35 years Mary cared for her parents until her father's death in 1971 and her mother's death in 1979. During this time she worked for the Des Moines public school system, first teaching children from professional families and then teaching minorities at an inner-city school. In an interview, she commented, "They were all happy years, blessed with more success that I have a right to expect." She also volunteered as organist at St. Joseph Church and eventually served as choir director. "My mother was active musically in her church in England, and I think that she was pleased that I was playing for church. I know that she was pleased also because I refused to accept payment for playing." In the early 1970s, Mary was contacted by one of her former Academy teachers, Sister Ann Pauline Brasser, who informed her of the possibility of affiliation with the BVMs. In 1973, Mary became the very first BVM affiliate, now known as BVM associates.
After her mother's death, Mary traveled to England to meet her relatives for the first time. While there she met the daughter of one of her cousins who had joined the Catholic Church. "I can never say how moving it was to be kneeling beside one of my own family and receiving communion with her. I never dreamed it would happen."
After returning from England, Mary requested permission to once again join the congregation. Her dream was realized on Feb. 2, 1980. She professed first vows, for the second time, on March 29, 1981, and final vows on March 25, 1984. She spent 24 years volunteering at Mount Carmel, especially playing the organ, and retired to Marian Hall in 2005. Mary was a prodigious reader; her Christmas letters to family and friends included the most recent releases of books on spirituality, fiction and a wide range of other topics. Jigsaw puzzles of 2,000 pieces did not daunt her; and for years, her gifts included tatting and quilted Christmas stockings. She coped matter-of-factly with the amputation of her leg, and was engaged in all aspects of planning for her 100th birthday celebration with family and friends from around the globe.
Mary lived a total of 40 years as a BVM. When asked her most cherished memory, Mary replied, "The first time we made vows in 1941 was always the cherished one, but I think now that the day I made my final vows is the cherished one because it took a long time for me to realize that commitment." Mary's journey to call Mount Carmel her home had many twists and turns, but eventually her deep desire was realized. We recall with gratitude the gift Mary has been to us and rejoice with her as she goes home to her loving God.