Sister Judith (St. Judith) Sheahan, BVM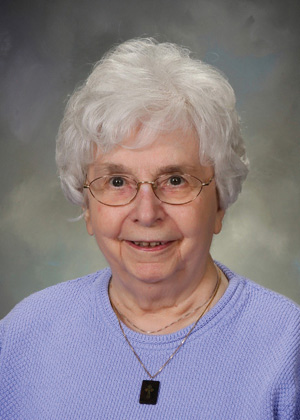 Sister Judith (St. Judith) Sheahan, BVM, 98, died Monday, July 11, 2022, at Mount Carmel Bluffs, 1160 Carmel Drive, Dubuque, Iowa.
Visitation, the Sharing of Memories and Mass of Christian Burial were on Friday, July 15, 2022. Burial was in the Mount Carmel cemetery.
Sister Judith was born on Jan. 31, 1924, in Oak Park, Ill., to John and Beatrice (Stiles) Sheahan. She entered the BVM congregation Sept. 8, 1942, from Our Lady Help of Christians Parish, Chicago. She professed first vows on March 19, 1945, and final vows on Aug. 15, 1950.
Sister Judith taught at Wahlert High School in Dubuque, Iowa. She also ministered in Iowa as the coordinator of schools for the Diocese of Des Moines, and as principal of St. Joseph Academy in Des Moines, curriculum director, vice-principal and administrative assistant of Dowling High School in West Des Moines, and elementary teacher at Sacred Heart and secondary teacher at St. Edmond, both in Fort Dodge. She was an elementary teacher at St. Eulalia in Maywood, Ill., and St. Anthony in Casper, Wyo., and secondary teacher at Our Lady of Peace in St. Paul, Minn., and Bishop Garcia Diego High School in Santa Barbara, Calif. She served the congregation as an administrative assistant to the council.
"[Judith] was known for her service-oriented leadership and her meticulous organizational skills . . .These skills were invaluable when Judith served as the administrative assistant to the BVM Council from 1999 to 2007. . . Sister Peggy Nolan, vice president at the time, wrote, '[Judith] not only does the work effectively but brings such a peaceful and happy presence to the people and events she is part of. She is a great blessing to us.'" (Eulogy).
She was preceded in death by her parents; a sister Helen (Lou) Copeland; brothers John (Mary), William (Patricia), and Gerald Sheahan; and a brother-in-law Frederick Furst. She is survived by a sister Judith Furst, Timonium, Md.; a sister-in-law Cynthia Sheahan, Philadelphia; nieces; nephews; and the Sisters of Charity, BVM, with whom she shared life for 79 years.
Memorials may be given to Sisters of Charity, BVM, 1100 Carmel Drive, Dubuque, IA 52003 or online at https://www.bvmsisters.org/support_donate.cfm.
Watch Memorial Mass and Sharing of Memories
Download Eulogy
Download Sharing of Memories