Sharon Rezmer, BVM: Perpetual Vows Publicly Affirm Heartfelt Commitment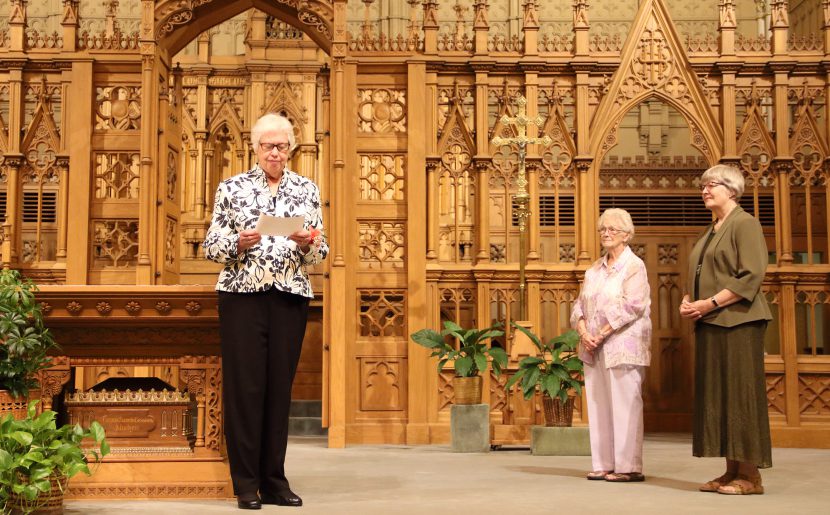 BVMs Carol Marie (Joseph Louis) Baum (center) and LaDonna Manternach witness Sharon Rezmer's (l.) final vows.
Surrounded by love in words and actions, Sharon Rezmer, BVM professed perpetual vows as a Sister of Charity of the Blessed Virgin Mary Oct. 3, at Raphael Cathedral in Dubuque, Iowa.
"This has been a long time coming," said Lou Anglin, BVM, of the leadership council as she welcomed people to the celebration. "All of us, each person sitting here in this church and watching livestream at Mount Carmel, in Chicago, and beyond know the love and generous spirit of Sharon, our sister.
"Love is the reason for Sharon vowing her life to service. Love holds the door wide open," Lou says.
Images of open doors helped Sharon discern her calling. Her whole life led to the joyful, momentous day that she took her perpetual vows of celibacy, poverty, and obedience, she says.
"Religious life has been my desire for a long time," Sharon says. "When I professed my vows, I was aware that myriads of people, living and deceased, were encompassing, praying, and supporting me. It was they who had assisted me in following my vocation.
"I could not and did not come to choose this life alone. I am grateful for those who have formed me into who I am and encouraged me to choose this graced life," she says.
Sharon was blessed with outstanding role models. Her parents, although not overtly religious, taught her a love of God and family, a strong work ethic, honesty, generosity, respect, and hospitality. They worked hard to provide a Catholic education for Sharon and her sister. And she witnessed "quiet, strong practical, and sometimes heroic holiness" among her extended family, particularly the women.
Friends and co-workers supported her spiritual growth, as did "dedicated religious sisters who taught, mentored, befriended, hired, formed, and companioned me in my spiritual life," Sharon says.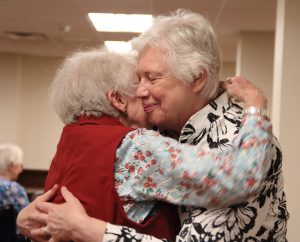 "I am most grateful for sisters and associates of my BVM community but also for members of the Religious of the Cenacle and multiple Franciscan communities who pray and support me," she says.
Sharon is a parish visitor at St. Raphael Cathedral and St. Patrick Parish in Dubuque. She visits the sick, brings communion, prays with people, plans receptions for ordinations and other celebrations, and guides seminarians in how to become pastoral ministers.
"She totally has a minister's heart," said Colleen (Rose Maureen) McGinnity, BVM, who was Sharon's congregational representative for six years. "Her love of the people she serves and her compassion for them always inspired me. This celebration of her perpetual vows only makes public what her heart did long ago."
Ministering is a reciprocal relationship, Sharon says, and those to whom she ministers also minister to her.
More than 10 years ago, BVM Kathleen (Richard Marie) Conway was struck by Sharon's spiritualty while working on a project. "Without thinking about it too much, I opened my mouth and startled myself by asking, 'Have you ever thought about religious life?' She surprised herself by answering, 'Yes.'"
Sharon chose St. Raphael for her perpetual vow ceremony because it is her parish community and because when BVMs first arrived in Dubuque in 1843, they came to St. Raphael.
So the newest BVM is following in the footsteps of the first.
About the author: Mary Glindinning recently retired as a communications specialist for the Sisters of Charity, BVM in Dubuque, Iowa.
Watch the ceremony: