Sandra Rodemyer, BVM Named Dowling Distinguished Alumni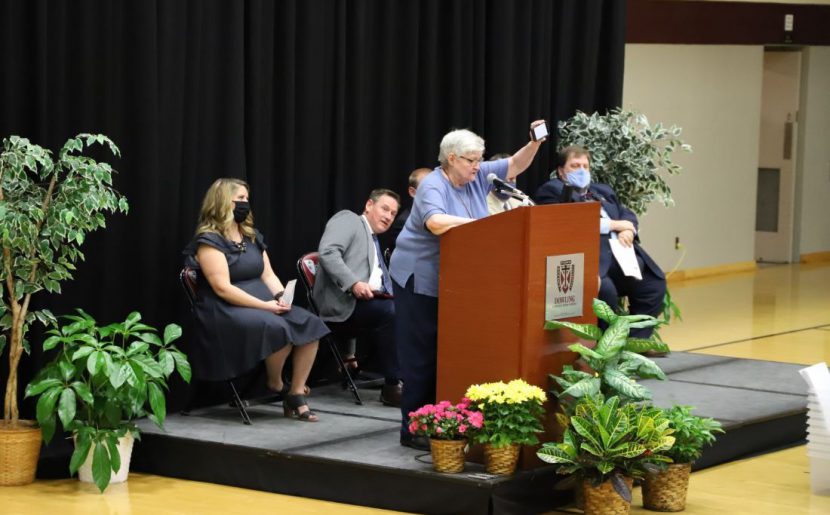 Sandra Rodemyer, BVM accepts a Dowling Distinguished Alumni award in Des Moines, Iowa, on Wednesday. 
Sandra "Sandy" (St. Philip) Rodemyer, BVM is a 2021 Distinguished Alumni at Dowling Catholic High School in West Des Moines, Iowa.
"It was a good thing I was sitting down" when she heard, Sandy says. "Gobsmacked is the word I've been using. I just could not believe my ears. It's an amazing honor."
Other BVMs who were named distinguished Dowling alumni in the past are Carola Broderick, Nan (John William) Ross, and Carolyn (Lester) Farrell.
Sandy graduated from St. Joseph Academy, established by the Sisters of Charity of the Blessed Virgin Mary in 1884. It merged with Dowling High School to create a coeducational Catholic high school in 1972.
Sandy returned to her alma mater in 1974 and taught required classes there for 18 years. She taught in the English, social studies, and theology departments, sometimes teaching in two departments at the same time. She also helped lead Teens Encounter Christ retreats.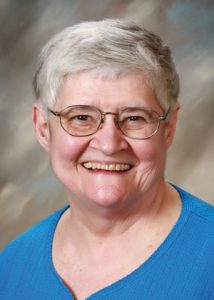 "By informing us with real world examples, Sr. Sandra taught us to be respectful of our differences and to find ways to be engaged," says Kimberly Bowman, an alum who nominated Sandy for the award. "She has kept the BVM sisterhood alive in the hearts and minds of those of us fortunate enough to have had them as our teachers. She has been a lifelong ambassador for social justice for all. Sr. Sandra dedicated her career to Dowling High School and to service. She is so worthy of this honor."
While still teaching, Sandy began a 23-year ministry in a Residents Encounter Christ retreat program at the Iowa Correctional Institution for Women at Mitchellville, Iowa.
"I had them [her students] praying for the women, so in a sense I was taking them with me," Sandy says. "The first time I went out, I thought I was taking Jesus out there. I found him waiting for me."
Meeting the women dispelled any fears or misconceptions. The women had strong faith, Sandy says. During renewal days for the women who had made a retreat, she often showed films.
"I always made sure that these films had spiritual messages," Sandy says. Because of their life experience, the women "laughed at lines other people might not have laughed at."
While prison administrators sometimes required quick changes of plans to meet standards, "they liked having us come because the prison was quieter after we'd been there," Sandy says.
For 12 years, she was director of the Des Moines Area Religious Council Emergency Food Pantry. On a quick grocery store run, she ran into a former student whose father ran the pantry and who had resigned to take a new position. "I heard myself saying, 'What about his job?'"
So she applied and was hired to run the warehouse and oversee volunteers who sorted and repacked food that went to 11 pantry sites.
Sandy describes herself as a "Wisconsin girl who moved to Iowa, doing whatever job that came along."
At an April 28 scholastic achievement assembly for Dowling seniors and their parents, she was introduced as a "servant leader for peace and justice."
"I thank you from the bottom of my heart for this award, and I accept it on behalf of those BVMs who brought me here today," Sandy told the assembly. "They continue to journey with me and support me."