Ruth Evermann, BVM Honored With Retirement Caravan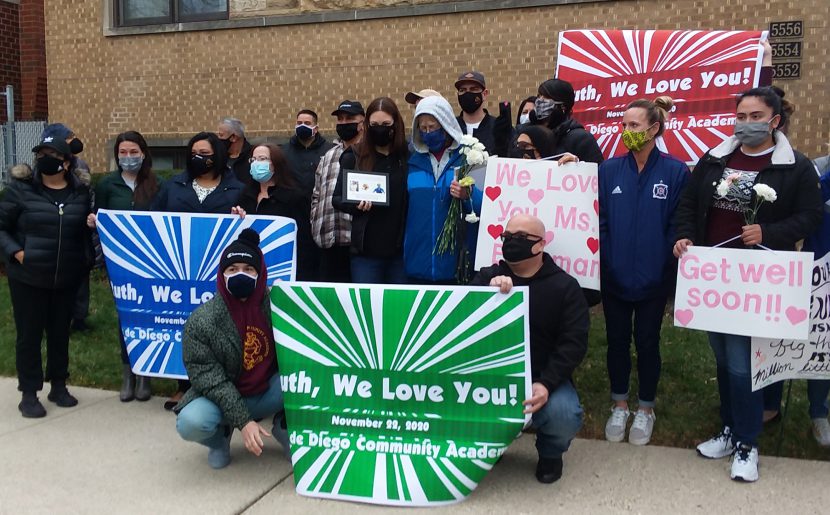 Ruth Evermann, BVM (in blue coat) was surprised with flowers, gratitude, and love as she retired after 40 years teaching in Chicago Public Schools.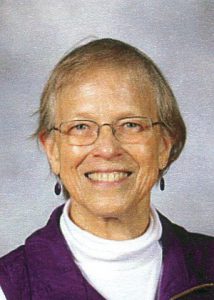 Ruth (Lyle) Evermann, BVM thought she would spend three months teaching in Chicago Public Schools after a cancelled Visa kept her from teaching in South America.
Instead, she stayed almost 40 years, first teaching bilingual special education and then serving as an art therapist in neighborhood schools surrounded by violence.
"You fall in love with the kids. There's something deep that they teach us," says Ruth, who is retiring. "It's all about giving them a different kind of voice that what they were using that was really tearing them apart. Most of them were born in violence, live in violence, and are trying to survive in it."
Murals that Ruth's students created are on every floor of Jose de Diego Community Academy in Chicago, where she taught after eight years at Lafayette Elementary School.
"It is precious to me because the kids did it. I wrote grants for supplies to provide a voice for the children," she says.
Ruth told students that making the murals is a different way to express their intelligence. And after she showed them how to do the work, she watched their joy in discovering that they could do it themselves.
While she loved going to school every day and always felt safe, "I didn't set out to do this. It's not a road I would have taken by choice. In lots of ways, it was taken out of my hands."
But principals and colleagues saw the value in her work, and supported it. Some days, when a student "absolutely leveled you, brought you to the ground with their language," coworkers lifted each other up, she said.
They lifted Ruth up in retirement, too. Teachers and staff at her school came in a 17-car caravan to Ruth's home to celebrate her life's work.
"I did not expect it. It took my breath away. They came, and not only came, but they stopped. They blocked the street. They got out, and they came over to the house and formed this semi-circle," Ruth says.
Wearing masks, "I got hugged again and again and again. And I got flowers put into my hands. I was told by the principal I now have a street named for me on one side of the school," she says.
One staff member said a prayer over Ruth while the rest encircled her.
"Her gentle, quiet, strong presence has been an oasis for many of them and for many a disruptive, hurting child. She will be so missed," says Colleen (Rose Maureen) McGinnity, BVM.
---
Related: