Mount Carmel Bluffs Senior Living Community Welcomes BVM Sisters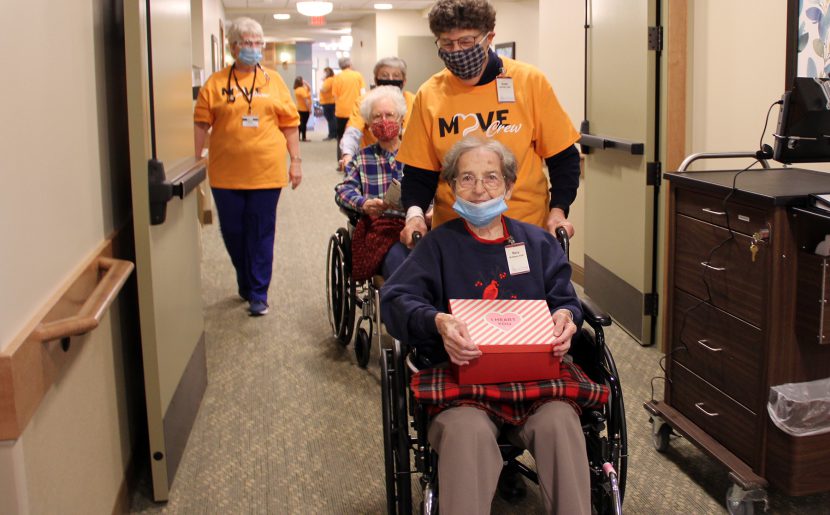 BVM Sisters Mary McElmeel and Rosemary Surby are escorted to their new rooms at Mount Carmel Bluff.
Sisters of Charity of the Blessed Virgin Mary are moving into Mount Carmel Bluffs, a shared mission of the BVM Sisters and Presbyterian Homes & Services (PHS).
Mount Carmel Bluffs, with breathtaking Mississippi River views, will be home to sisters and senior men and women from the Dubuque area.
"Our grateful anticipation of this day has been growing since we first met representatives from PHS in 2015," said BVM President Teri Hadro. "Our partnership in Mount Carmel Bluffs enables us to provide quality healthcare and holistic living for our senior BVMs and for our Dubuqueland neighbors.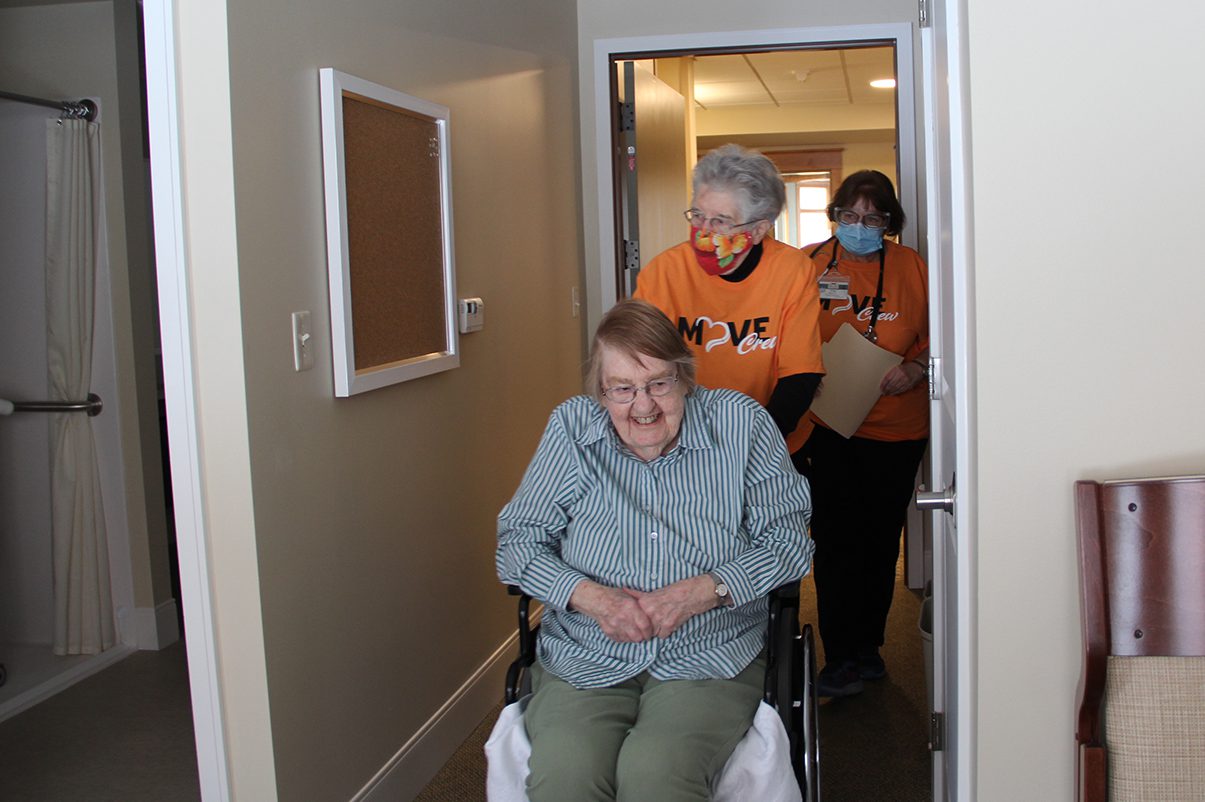 "We look forward to the evolution of a vibrant and relevant senior community at Mount Carmel, our home for nearly 120 years. We value the experience and expertise PHS has brought to this project and are especially grateful for the efforts their personnel are making to ease the transition for our sisters to a new residence and new management system," Hadro said.
South of the BVM Motherhouse are 40 enriched living apartments, 21 memory care apartments and 60 long term care center suites that will primarily be occupied by the sisters currently residing on campus.
Phase 2, anticipated to open in 2023, will begin with the deconstruction of buildings north of the Motherhouse to make way for approximately 115 senior independent living apartments that will complete this beautiful new community.
"We are grateful for the opportunity to collaborate with the BVMs to develop a great community that will meet current and future needs," said PHS President and CEO Dan Lindh.
"It's all about serving others, providing quality care, creating opportunities for sharing values as well as meeting needs," Lindh said. "We are thankful to be part of this journey, grateful for the work that's been done to date, and are excited that we are now opening. We are convinced our new community will provide a lasting impact and extend the legacy of BVM and PHS for generations to come."

Sisters watched the building rise since construction began in May 2019, cheering workers on with signs in windows, and are eager to move into their new home.
"I'm delighted," said Joanne (Joeline) Schneider, BVM. "I've been able to watch it all along. Up until about a month ago, I walked every single day [to see the construction]. Now, one of the apartments I had my eye on is the one I got."
Her apartment is in one of the turrets, and she has been sketching out where to place furniture in a round living space. It is larger than her current room and is everything that was promised.
"It's wonderful. I think we are very, very fortunate people," Joanne said.
The Motherhouse was renovated to include a café and independent dining room, and will remain the hub of Mount Carmel Bluffs. The new construction matches the characteristics of the 1893 Motherhouse.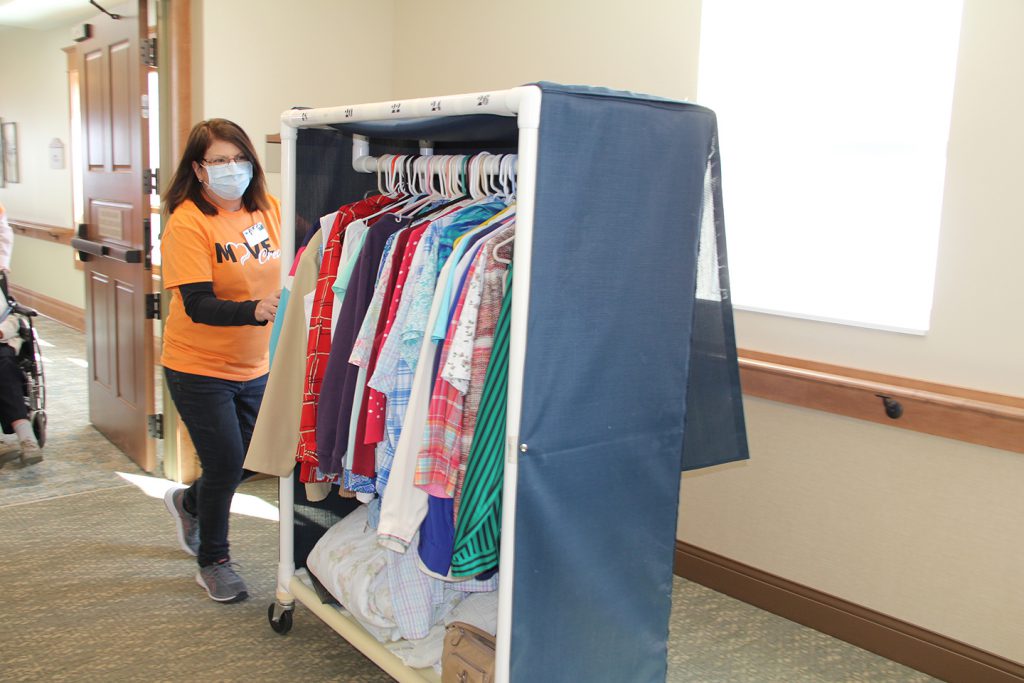 And PHS' mission matches the BVMs, said Mark Hudson, PHS regional director of operations. "I am often reminded of Mount Carmel's guiding principles of the 'resident is central' and how it aligns with PHS practices and philosophy in demonstrating our mission 'to honor God by enriching lives and touching hearts of older adults.' We look forward to continuing to serve the sisters and the community of Dubuque for years to come."
Sisters said their new home is beautiful.
"We will have a very prayerful time. The view is very beautiful and peaceful, overlooking the trees and the river," said Suzanne (Frances Carol) Effinger, BVM.
It is beautiful but also very functional.
"By sheer design alone, the sisters will be able to enjoy amenities and a quality of life the older buildings simply could not provide while still being cared for by the staff they have come to know and trust over the years," said Sarah Rentz, Mount Carmel Bluffs care center administrator.
Staff will be able to be more efficient due to the building layout, she said.
"It looks very homey, very friendly, very life supporting," said Jan Pertle, BVM. "I know I was, as were the people around me, very impressed with the views and the size of the rooms. And the dining area is spectacular."
Senior Housing Partners, based in Roseville, Minn., is the project developer. The new building is designed by Pope Architects, based in St. Paul, Minn. Conlon Construction, based in Dubuque, is the general contractor.