Opening Doors For More than 3,500 Women and Children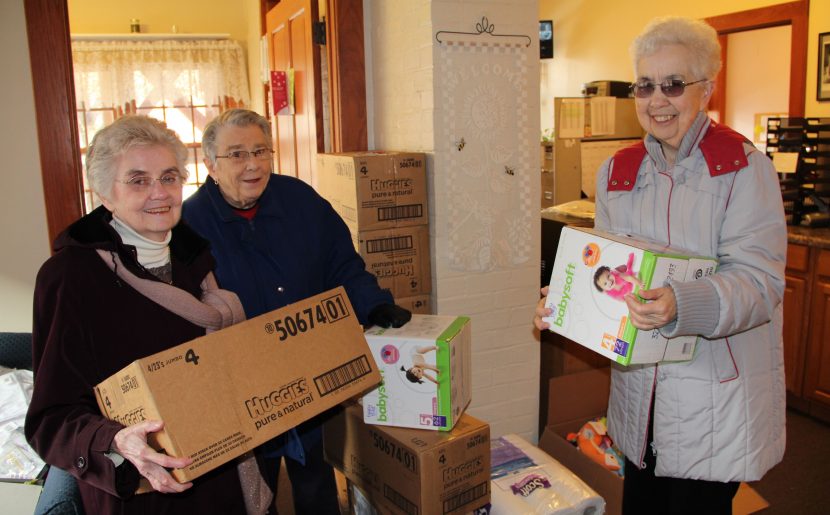 BVMs Mary McCauley, Sue Rink, and Julie O'Neill deliver diapers to Maria House in 2014.
When a woman and her dog were found sleeping on a Dubuque, Iowa park bench in the late 1990s, the dog went to a shelter.
But the woman had nowhere to go.
Ann Michalski, a BVM associate and member of the Dubuque City Council, brought the urgent need for emergency and transitional housing for women and children communities to six area congregations of women religious: Sisters of Charity of the Blessed Virgin Mary, Sinsinawa Dominicans, Sisters of the Presentation, Sisters of Visitation, Dubuque Franciscans, and Sisters of Mercy.
Now, 19 years later, 3,500 women and children have found refuge at Opening Doors in Dubuque.
But the project has grown into much more than providing a safe place to sleep.
"It's a hand up, not a hand-out," says Mira Mosle, BVM, a member of Opening Doors board of directors. "The whole mission of Opening Doors is to offer hospitality, services, and opportunities which will help women develop goal-setting skills and be empowered to reach their full potential. It's a long process. It takes courage for women to enter into that process."
Maria House opened first, in 2000, as transitional housing for women and children.
"After a number of years, it became clear there was really a need for short-term emergency shelter," Mira says. So Teresa Shelter opened in 2006.
"They are coming from situations of poverty, and many of the women have health issues," Mira says. "People come in need of a lot of healing because they are very stressed."
Once women gained a foothold, "if they had one major financial setback, they were back at Maria House. The need for permanent housing with support services became really clear," Mira says.
So Francis Apartments opened in summer of 2017 with affordable rent and support, providing not only a home, but hope.
"The staff is really there to provide support services and to know what the possibilities are," Mira says.
Women face challenges of completing education, and finding transportation and childcare so they can work. Finding day care eased this summer when the Marita Theisen Childcare Center opened nearby.
Civic groups, government entities, businesses, and others are part of a broad coalition that has raised money, provided services, and offered jobs to Opening Doors clients.
The religious congregations provide unfailing support in ways large and small.
BVMs participate each year in the Attitude of Gratitude gala, Opening Doors' largest fund-raiser of the year. And they helped sell raffle tickets for the Nov. 23 event.  https://www.openingdoorsdbq.org/
For BVMs, Mira says Opening Doors touches on all four core values: education, freedom for women and children, justice, and charity.
With all of the strides forward, there is still much to do.
"They keep having to turn women away," Mira says. "A huge concern is what needs to be done next. Opening Doors deals with homelessness when it has happened. What kind of strategy could be put in place to prevent this from happening? What's the need now?"
Click to make a contribution to Opening Doors' Attitude of Gratitude.