Mary Frances McLaughlin, BVM honored for devotion to Christ the King Jesuit College Prep in Chicago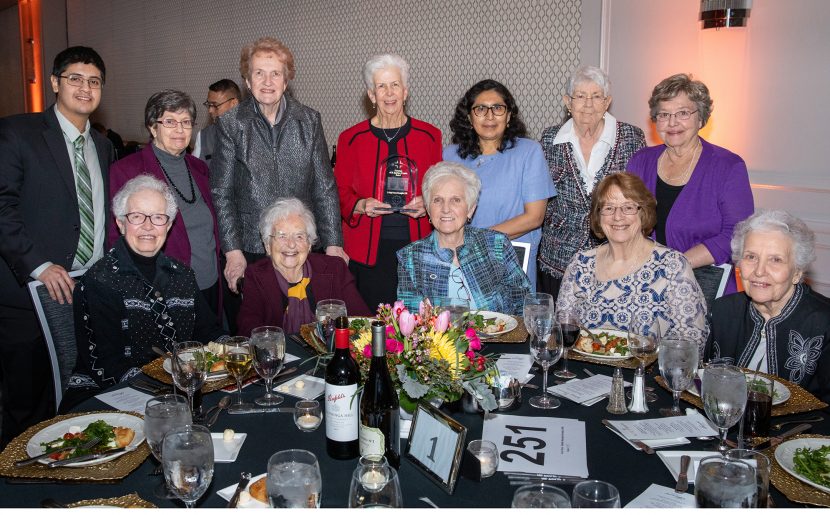 Joining in the festivities in Chicago for the Footsteps of St. Ignatius of Loyola Award are (back row, l. to r.) Daniel Moreno, BVMs Carol (Ann Clara) Spiegel, Margaret "Peggy" (St. Cabrini) Geraghty, Mary Fran (Virginia Mary) McLaughlin, Saskia Alquinga Cahuatijo, Mary Jo (Martin Mary) Keane, and Diane (Joanella) O'Donnell; (front row, l. to r.) : BVMs Joellen McCarthy, Jean Dolores Schmidt, Associate Nancy McCarville, BVMs Marguerite (John) Murphy, and Ann Kathleen McDonnell.
Mary Frances McLaughlin, BVM is the first recipient of the Footsteps of St. Ignatius of Loyola Award at Christ the King Jesuit College Prep (CtK) in Chicago.
She accepted the award Friday at the west side school's annual King of Hearts Gala, and is being honored for her love of and dedication to CtK.
"I enjoyed the evening very much and we raised almost $800,000." Mary Fran says. More than 600 people attended, including her family and BVMs, to celebrate her award and join in the annual fundraiser to support the school.
Her involvement with Christ the King began in 2008 when she signed on as development officer for major gifts. She retired at the end of the 2012 school year, and joined the board of directors in 2014.
Christ the King is in Chicago's Austin neighborhood, where the child poverty rate is 42 percent and the median income for a family of five is $26,861. It is one of the most economically underserved and violent areas in the city.
"I think it would be fair to say most of our students have experienced gun violence in their own families," Mary Fran says.
Enrollment for the current year is 369 students, and the school is 95 percent African American and 5 percent Hispanic. The first class graduated in 2012 and there are now 456 alumni. One hundred percent of CtK graduates have been accepted to college for the eighth year in a row.
"Education is the key to breaking the cycle of poverty and leads people to live productive lives," Mary Fran says. "CtK donors want to give the younger generation the opportunity to live life fully. Our BVM core value supports this. How could our donors not contribute when the need is so great?"
Christ the King is one of 37 Catholic college preparatory schools that make up the Cristo Rey Network, which serves 12,000 students across 24 states. Cristo Rey schools' distinctive integration of a rigorous college preparatory academic curriculum with a four-year Corporate Work Study Program provides an educational environment that equips students to excel in their undergraduate and post-graduate lives.
In her acceptance speech, Mary Fran says, "Imagine yourself at the age of 14 spending an eight-hour day in professional work places like a law firm, bank, hospital, or a local church. We are so grateful for the job partners that we have for our students but always need your help in finding more for our future growth.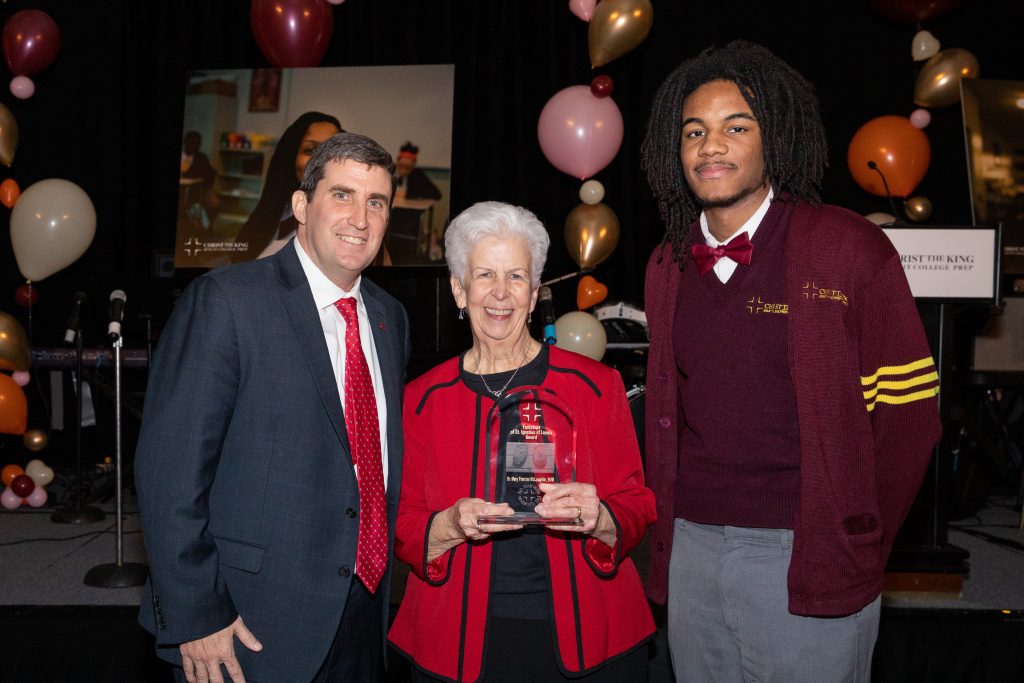 "My favorite event at CtK is the annual College Signing Day in May, when seniors announce where they will attend college, what they plan to study, and what advice they would give to underclassmen. They give advice like 'work hard,' 'don't give up,' 'persevere,' and 'don't skip assignments,'" Mary Fran continues in her speech.
"Our students are extraordinary in overcoming obstacles and setting themselves on pathways to success with a lot of help from the school and Corporate Work Study community. Their parents and families have placed a great deal of trust in Christ the King and hold fast to their hopes and dreams for their children," she says.
At the beginning of each school day, students are called to respond to these words of Ignatius of Loyola concluding morning prayer: "Go forth and set the world on fire."