Lodging Staff Completes Human Trafficking Training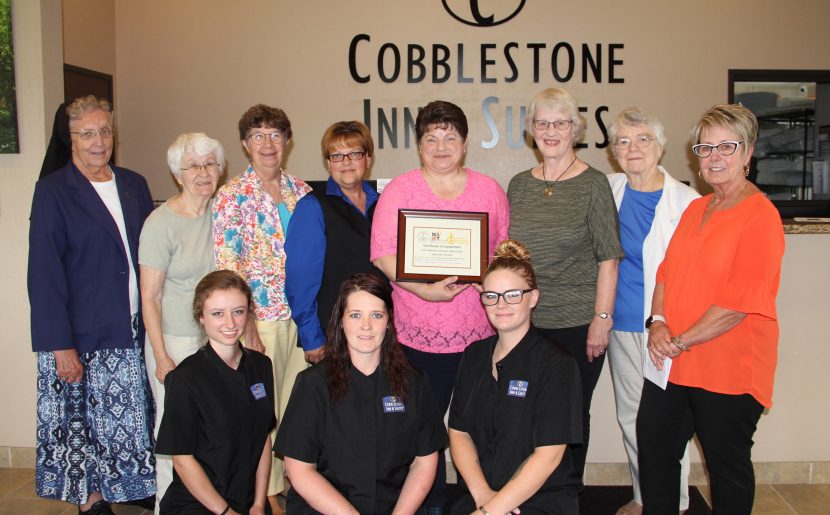 Members of the Tri-State Coalition Against Human Trafficking and Slavery (Iowa, Wisconsin and Illinois) congratulated the manager and staff of Cobblestone Hotel and Suites in Monticello, Iowa, for completing training to realize, recognize, and respond to signs of human trafficking at their facility. The Coalition presented a certificate to manager Jennifer Hewitt and staff on Sept. 18.
"Human trafficking is a $150 billion industry, and is among the top three crimes in the world," said trainers Deb Albert and Eileen Miller, OSF. "In Eastern Iowa alone, a Creighton University study shows that 70 plus persons are at risk of being trafficked each month." Hewitt affirmed the value of the training, and said she is dedicated to making the Cobblestone a trafficking free zone. Coalition members are working to train managers and staff of all hotels and motels in the area.
Materials have been provided by the Iowa Network Against Human Trafficking and the Coalition Against Human Trafficking in Omaha, and were written by retired state and federal law enforcement and legal experts.
The Tri-State Coalition is a collaborative, faith-based network that engages in education and advocacy in an effort to eradicate human trafficking in Dubuque, Iowa, and the surrounding area. The Coalition is comprised of members from local religious communities (including the BVM Sisters) and community leaders who collaborate with other area groups to spread awareness of this modern day slavery.
---
Related News:
Dubuque Area Women Support Human Traffic Coalition
100+ Women Who Care Dubuque has given $18,100 to the Tri-State Coalition Against Human Trafficking and Slavery. Members were overwhelmed with surprise and gratitude when the gift was announced at a presentation on Sept. 18. Coalition member Sister Pat Conlan, RSM, lobbied passionately for the funds. They will be used to create an awareness of human trafficking among junior and senior high school students in the Dubuque Community Schools District and the Holy Family System with presentations to students, teachers, and parents together. The funds will also be used to bring the film "I Am Still Here" to Dubuque theaters to educate and create awareness of the trafficking of children.
100+ Women Who Care Dubuque meet four times a year to raise $10K or more in one hour for a charity with 501(c)3 status located within 15 miles of Dubuque. Since 2016, 100+ Women Who Care Dubuque has raised over $200,000.00 for local non-profits in just 12 hours.