Joanne Lucid, BVM Empowered People to Live With AIDS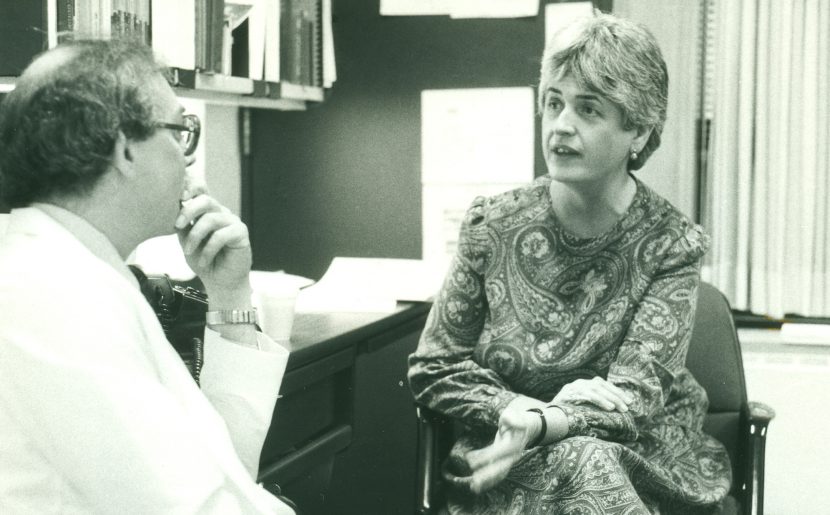 Joanne (Michael Mary) Lucid, BVM directed the Archdiocese of St. Paul and Minneapolis AIDS program. She was also described as "one of the heroes of the early days of Open Arms,"  which ensures that people who are ill have good food to eat. 
From the Fall 1993 issue of Salt
Joanne Lucid, BVM directs the Archdiocesan AIDS Program of Minnesota's Twin Cities. This involves total pastoral ministry in major hospitals, clinics, and some respite care in private homes. Nearly 125 volunteers assist in this effort.
From the Summer 1997 issue of Salt
In March of 1987 when their son told his parents he was diagnosed with AIDS, "my dreams for him were shattered and I was paralyzed with fear," one mother said.
"Our God came to my rescue and held our family in healing peace. One of the main persons who brought Christ's presence to our family was Sister Joanne Lucid.
"My husband and I drove to Riverside Hospital where the AIDS Ministry is housed. I was so ignorant of how a family faces AIDS that I didn't even have questions for Sister Joanne. We sensed almost immediately that we were in Christ's healing presence when we were with Sister Joanne. That day, she gave us a candle inscribed with the words of Micah: 'Love tenderly, seek justice, and walk humbly with your God.'
She also gave us assurance that she would be with us on the walk with God. Joanne asked if she could call our son, and with his permission, they met, and all of our lives took another powerful turn.
"It was Sister Joanne who connected us with resources in Minneapolis that are for those people infected with AIDS. These resources plug into the physical, economic, and spiritual needs of those people living with AIDS. And I say living with AIDS because this is what Sister Joanne empowered our son and us to do. We didn't need to know about dying with AIDS. We were learning to dream new dreams, to not be afraid.
"Sister Joanne, in her wisdom, knows we needed to give as well as receive. When our son was no longer able to work at his place of employment, it was Sister Joanne who arranged for him to volunteer tutoring time at his parish grade school. This tutoring opportunity afforded him pride and dignity in his accomplishments. It was Sister Joanne who arranged for us to volunteer for Open Arms, a service providing meals to those living with AIDS.
"As his physical condition weakened, Sister Joanne gently led us through the process of obtaining hospice home care, of being with us when he received the Sacrament of the Sick, and of presiding at his memorial service.
"And Sister Joanne is still with my husband and me as we continue our walk. She realizes the healing power of telling one's story and has included us in programs she arranged for those infected and affected by HIV/AIDS.
"Sister Joanne has personally taught our family that it is possible to 'Love tenderly, seek justice, and walk humbly with our God.'"