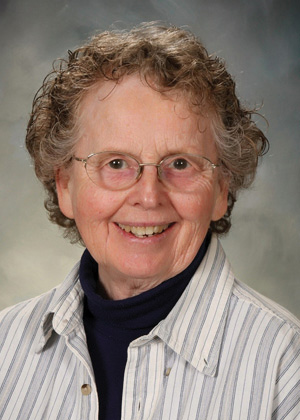 Sister Jeroma Day, BVM died Friday, March 22, 2019, at Caritas Center, Dubuque, Iowa.
Natural burial Rite of Committal was Monday, March 25, 2019, with burial in the Mount Carmel Cemetery. Sharing of Memories and a Memorial Mass was on Thursday, March 28, 2019, in the Marian Hall Chapel.
Sister Jeroma was born on Oct. 12, 1938, in St. Paul, Minn., to John and Veronica Kennelly Day. She entered the BVM congregation Sept. 8, 1956, from St. Michael Parish, Lake Elmo, Minn.
Sister Jeroma was an elementary teacher at St. Agnes, Phoenix, and Incarnation, Glendale, Calif., and librarian/media center coordinator at Our Lady of Angles, Chicago, Red Cloud Indian School, Pine Ridge, S.D. ; St. Vincent, Petaluma, Calif. In Iowa, she was a librarian and resource assistant at Clarke University, Dubuque, and a pastoral minister at St. Mary in Guttenberg, Mother Cabrini in Richland, St Joseph in Pleasant Plain, and South Center Catholic Common in Chariton. She also was a pastoral minister in Wyoming at St. Anthony in Casper and St James in Douglas; in Minnesota at St. Leo in Hibbing and Freelance Ministry, Inc., in Winona; in Elroy, Wis., at St. Patrick; in Huntingdon, Tenn., at Carroll County Catholic Mission; and in Rosedale, Miss., at Sacred Heart and Delta Dominican Ministries.
"Jeroma shared her vocational calling during Catholic Sisters Week celebrations in 2017. She became very emotional when she talked about 'coming back home' to Mount Carmel in 2015.  She loved living in the Motherhouse and being pastorally present to the residents.  Her exuberance for ministering to the elderly, homebound, sick and dying is undeniable." (Eulogy, Marian Hall Chapel, March 28, 2019)
She was preceded in death by her parents and brothers John, Jerome, Robert, and Bernard. She is survived by a sister Margaret Schmidt, Lake Elmo, Minn.; a brother Richard (Pam), Stillwater, Minn.; a sister-in-law Joan Day, St. Paul, Minn.; nieces and nephews; and the Sisters of Charity, BVM, with whom she shared life for 62 years.
Memorials may be given to Sisters of Charity, BVM Support Fund, 1100 Carmel Drive, Dubuque, IA 52003 or make an online gift.
Download Eulogy