Jean Dolores Schmidt receives award for 'extraordinary character' in St. Louis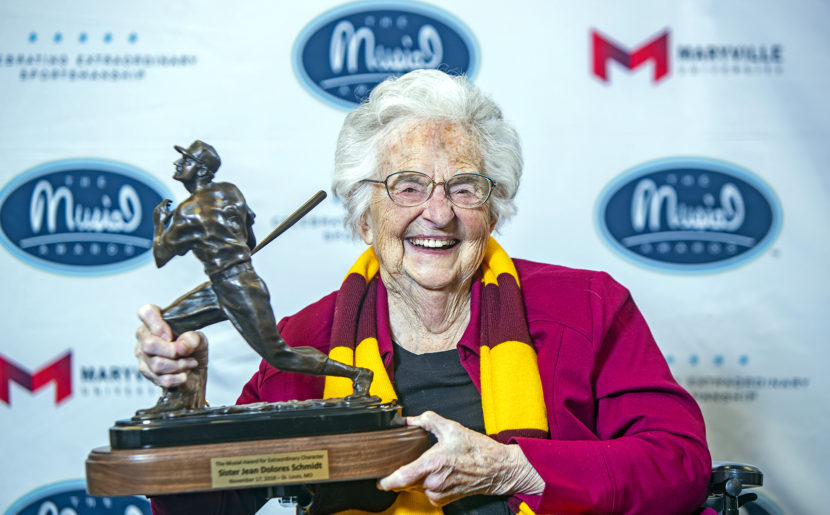 Jean Dolores Schmidt, BVM "Sister Jean" was a recent recipient of the Musial Award for Extraordinary Character from Maryville University in St. Louis.
As Loyola Basketball Chaplain, Sister Jean was launched into the national spotlight last year during her Ramblers' rise to the NCAA Final Four. Worldwide, the 99-year-old sister with wit and wisdom came to define what it meant to be a good sport.
The Musial Awards recognizes those who embody the same spirit of sportsmanship as the late St. Louis Cardinal Hall-of-Famer Stan Musial.
In her speech, Sister Jean thanked the many people in her life saying, "Such an award is not earned by one person alone. In my case, my support is my own family, my BVM congregation, my Jesuit community, my Loyola community, and our students, and I express my gratitude to my whole team and any team I've had at Loyola."
Many of her fellow BVM Sisters like Eileen Fuchs, BVM joined Sister Jean in St. Louis wearing her trademark gold and red scarves.
"I wanted her to know that even though a lot of us are far away, we're with her and we're behind her and we're so proud of her," says Eileen to the Loyola Phoenix. "As soon as we put that scarf on we were immediately identified with Sister Jean."
Read more about the Musial Awards.