'Carefree Little Birds': The Set of 1948 Celebrates Diamond Jubilee
Seventeen Sisters of Charity of the Blessed Virgin Mary Celebrated 70 years in religious life on September 9, 2018, during a Mass at Mount Carmel, in Dubuque, Iowa.
In her welcome at the liturgy, BVM President Teri Hadro shares ". . . thank you for your lives; thank you for your faithfulness; thank you for your amazing responses to God's call. We know where your hearts are, and you are treasures for us. We love you; we bless you, and we are proud to be your sisters."
Meeting the Diamonds
At Mount Carmel, I am surrounded by physicists, artists, historians, teachers, and advocates for peace. Here I am surrounded by love and "carefree little birds."
"Oh, we are carefree little birds. Just listen to us sing. Our hands are always in the clouds. Our hearts are in the wings. You too can be trouble-free and throw away your grief. If you just join the other birds, forgetting you're the chief . . ."The group sings these words proudly. It's a part of a song they sang in their early days.
"We had to learn to fly and go out and spread the word of God through our wings," says Catherine (Michael Ann) Dominick, BVM. ". . . we were carefree little birds just learning to fly."
"For me, birds fly all over and return home," adds Eileen (Rose Francis) Anglim, BVM. "We were sent all over and returned home to Mount Carmel."
Answering the Call
Seventy years ago, in 1948, this group, or set of women, entered through the doors of the Motherhouse for the first and—as the resident historian Kathryn (John Laurian) Lawlor, BVM would tell you—"only time." Many left behind relationships that could have been, families, friends, pets, and childhood homes to answer the call to serve.
Some like Dolores M. (Jeanne Michele) Kramer, BVM experienced what she described as a spiritual call to serve. "I went to the chapel and suddenly imperceptibly I was overwhelmed by God's presence."
Others like Ernestina Molinari, BVM in the third grade shared with her bewildered mother she was going to be a BVM. Ernestina later went on to work as a nurse aid, but when the head nurse tried to teach her how to administer shots, "that cured me of that." She was reminded of the BVMs, quit nursing, and started her journey into the sisterhood.
Others were inspired by a BVM, a teacher, a priest, or God. And still others like Vivian Wilson, BVM described a father who was so over-protective, "it's no wonder I joined the convent."
Every one of them came from different places and backgrounds but ask any if they ever doubted their role as a BVM and they will proudly tell you, "Never once." It's something they're proud of.
'Dear Carmel Home'
As a set, they admit they never formed a close bond. In those early days of the congregation, silence was often required so the group cherished the songs and skits they performed during their time as postulants and novices. Many spoke of ties to Mount Carmel: the place where their journey began; the place where they were all sent out to serve as teachers and to plant seeds of hope, inspiring the young minds of tomorrow.
"We're very tied to Mount Carmel," says Bernadette Marie (David Ann) Schvach, BVM, the self-proclaimed archivist of the group. "I save everything," she adds with a smile, pulling out song after song from a three-ring binder sitting on her lap. Reading the titles, I understand what she means, "'That's Where Mount Carmel Is,' 'Dear Carmel Home,' 'Mary's Valley,' 'Virgin Mary of Mount Carmel,' and 'St. Joseph's Old Home.'"
"Ernestina had a song to the tune of 'MacNamara's Band'," adds Bernadette. "My name is O'Molinari and I cleaned the second-floor dorm. I never opened the windows, so my sisters will keep warm. I pick up all the bobby pins I find upon the floor. The postulants are careless. They don't need them anymore.' Different kinds of songs that relate to what happens during our early years."
"We loved to sing," says Vivian. "That was part of who we were."
Advice for Tomorrow's Generation
They each continue to share stories about their experiences and share advice for the next generation.
Catherine (Michael Ann) Dominick, BVM starts, "Wherever the Spirit is leading you . . . go wherever it seems that you should be."
Norma (Adelaide) Evans, BVM adds a call to be mindful of the environment, "It does you good to go out. Walk."
"As teachers, we say do your homework," says Martha (Briant) Ryder, BVM. "It's the best way to prepare for what's coming next."
A Legacy of Love
2018 marks 185 years for the BVM congregation. For 70 years, this set has been a part of a "Legacy of Love." When there was a disaster they went out and helped, or when children needed an education they moved forward. Because, as Vivian explains, "That's what we do . . .we were always more interested in others than ourselves."
It's a legacy that goes back to BVM Foundress Mary Frances Clarke who in many of her letters kept saying, "Give my love."
"I think that can be traced through our leadership," says Kathryn. "All of our presidents and mother generals made sure that love was always some part of what we were inheriting. You were cared for. You were loved and that's why we can say we have a 'Legacy of Love.' We're still loved, and we still love."
Just a Pinch: Sister Stories
Want more from the set of 1948? Read their bios, listen to their stories, or send them a congratulatory message at bvmsisters.org/2018jubilarians.
About the author: Jon Aguilar is communications specialist for the Sisters of Charity, BVM in Dubuque, Iowa.
---
This story was featured in: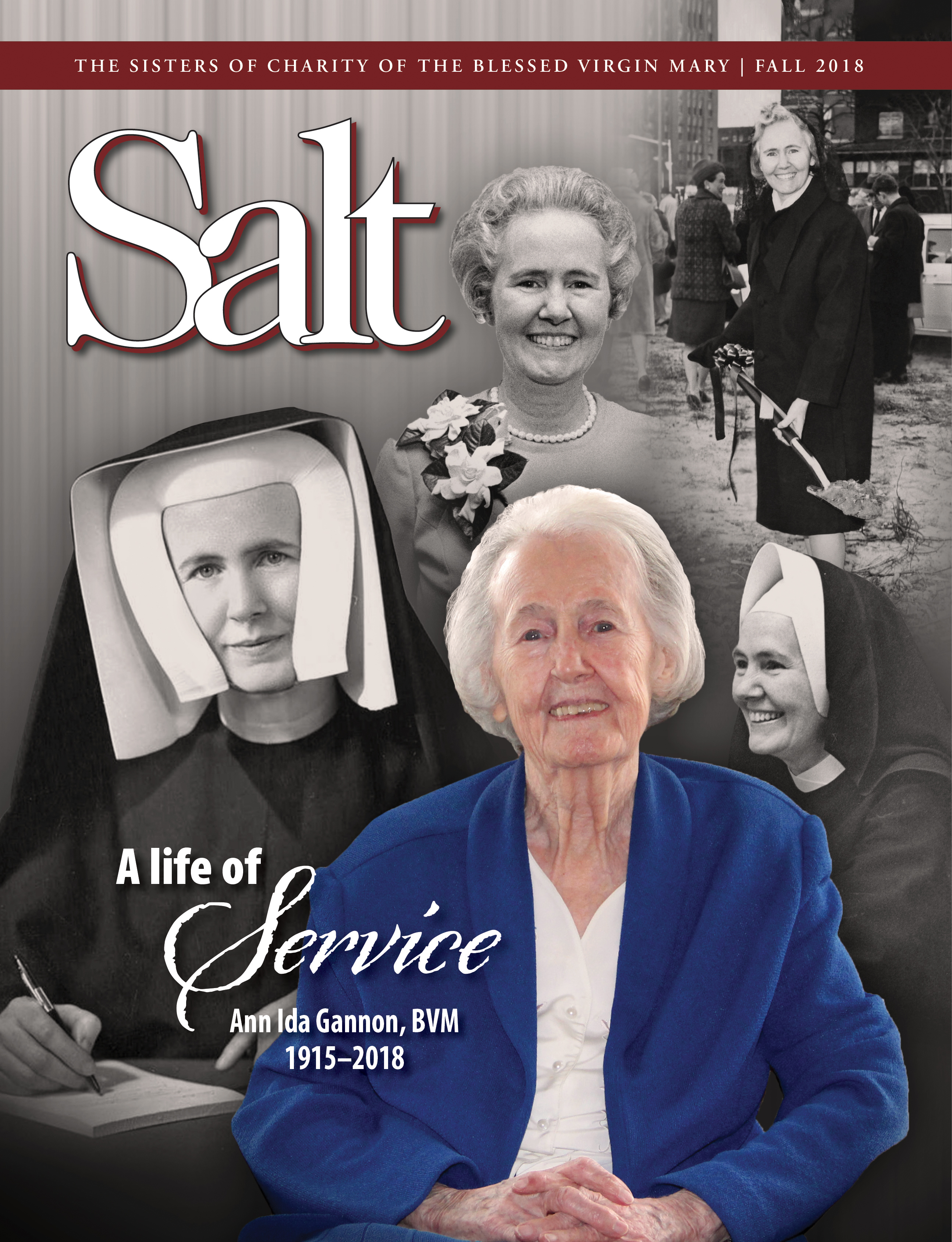 Fall Salt 2018: A Life of Service
Even at the age of 103, Ann Ida Gannon, BVM never forgot the importance of a warm smile, standing up for what was right, or "doing the hard work." Her life, spirit, and love is remembered in this issue by the mission and ministries of her BVM sisters who truly live lives of service. Read more about Ann Ida and the BVM "Legacy of Love."
If you would like to receive Salt, contact the Office of Development for a complimentary subscription at development@bvmcong.org or 563-585-2864.