From the Archives: Marching to Selma, and into History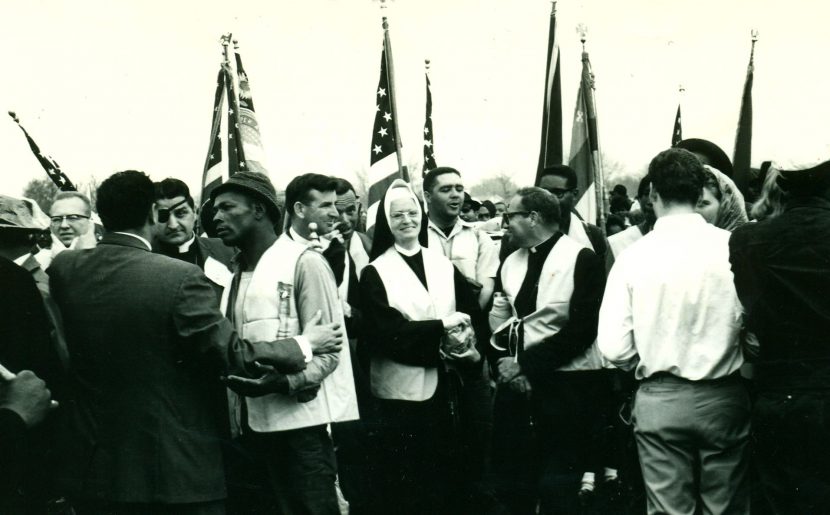 BVM Leoline Sommer (center) was the only woman religious to march the entire way from Selma to Montgomery in 1965.
BVM Center News, March 2015
By Archivist Jennifer Head
As the United States commemorates the 50th anniversary of the Selma to Montgomery March, the involvement of Leoline Sommer, BVM has become more well known.
As the files in the Mount Carmel Archives demonstrate, her connection with the march did not end when she reached Montgomery.
Even as a child, Leoline fought discrimination: she stood up to a movie theater owner in California who wanted her to move to the "white" side of the theater while leaving her "colored" friend behind.
Through her work with the Catholic Interracial Council while principal at Christ the King School in Kansas City, Mo., Leoline became aware of the situation brewing in Selma and eventually received permission from Mother Consolatrice to travel there.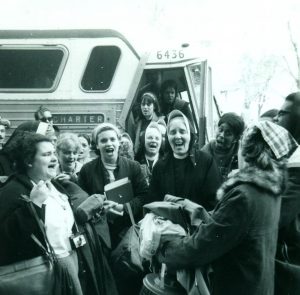 Leoline envisioned herself as part of the support group—making sandwiches or caring for the children of marchers. Instead, she was asked to march as a companion for a sister from another congregation; Martin Luther King Jr. personally approved her participation. However, that sister returned to California at the end of the first day after becoming shaken by the local news coverage.
This made Leoline the only woman religious—and one of only 300 people—to walk the entire 54 miles.
As the marchers entered Montgomery, they were joined by thousands of people, including six BVMs and a "busload" of students from Mundelein College in Chicago.
In the weeks following her return to Kansas City, Leoline received numerous letters regarding her participation in the march. Many supported her actions, while some condemned her. Happily, the "cheers" file is thicker than the "jeers" file.