Donor Profile: Marian Wolters, A BVM Girl at Heart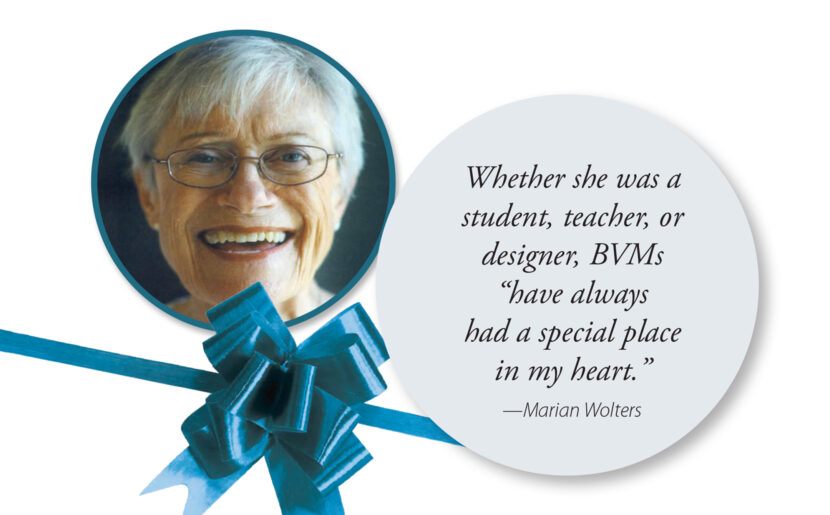 Marian Wolters met the Sisters of Charity of the Blessed Virgin Mary as an eighth grader in 1951 when Our Lady of Peace High School (OLP) opened in St. Paul, Minn. The school for girls was very  successful, and Marian found herself one of a 1,000 young women empowered by these "well-educated, forward-thinking women." She was significantly influenced by their passion, maturity, and discipline. While a junior at OLP, she took her first art class that changed the trajectory of her life.
That art class unlocked a passion and revealed an artistic gift. With the help of the BVMs, Marian was accepted to the art program at Clarke University in Dubuque, Iowa. There, Marian continued to be under the tutelage of BVMs. She made many friends at Clarke, including a classmate, Pat Nolan, who later went on to become a BVM.
Marian enjoyed her time at Clarke and was able to spend a semester in Vienna, Austria, as part of the Institute of European Studies (IES). Later, she and classmate Judy Conway applied to Hallmark,  where Marian began work as an artist. After a year, Marian decided to return to school and received her B.S. degree in Art Education.
After graduation, Marian was reunited with former classmate and dear friend Pat at Columbus Catholic High School (CCHS) in Waterloo, Iowa. Marian taught with four different orders of sisters at  CCHS but always thought of herself as a "BVM girl." She felt the BVMs were "so human, so real." She enjoyed their time as coworkers and friends.
One of her favorite memories was watching a group of sisters getting out of the big white car in which they carpooled each day. She could not "believe how many nuns could fit into a car." Marian also formed a strong friendship with Joan Newhart, BVM, who used Marian's classroom every day to teach religion class.
After three years of teaching, Marian moved on and used her artistic talents in a new way. Becoming a "Gift Wrap Specialist" was not initially in her plans. But after joining the 3M corporation in St. Paul, Marian was part of the team that developed a special "flat" bow—a bow that lays flat until you pull the inside ribbons that become the banding and the bow (photo, l.). This famous invention was perhaps only secondary to her teammate Art Fry's invention of the Post-it Note.
In 1996, Marian retired from 3M after 30 years of service. Whether she was a student, teacher, or designer, BVMs "have always had a special place in my heart." Marian reminisces about the many  blessings she has had through their friendship, counsel, and leadership . . . dating back to when she was a young girl. She fondly remembers BVMs Mary Annelle, who was her homeroom teacher for  three years, and Mary Jean Joseph, who taught Office Practice at OLP.
In 1986,  Marian and Mary Jean returned to Marian's alma mater for the dedication of the new chapel at Clarke University. Marian celebrated her 85th birthday in January with one more BVM memory . . . being included in the Salt Donor Profile.
Thank you, Marian, for your continued support over the years. We cherish you . . . you truly are a "BVM girl."
---
WINTER 2022: CELEBRATING THE GIFTS WE HAVE BEEN GIVEN
In this issue of Salt, the Sisters of Charity of the Blessed Virgin Mary adapt and thrive during the pandemic, use their gifts in ministry in ways that carry out the BVM core values, express gratitude to supporters and donors, and take strides to preserve BVM history.
If you would like to receive Salt, contact the Office of Development for a complimentary subscription at development@bvmsisters.org or 563-585-2864.