'Dantastick' Volunteer Shares Laughter, Caring, and Love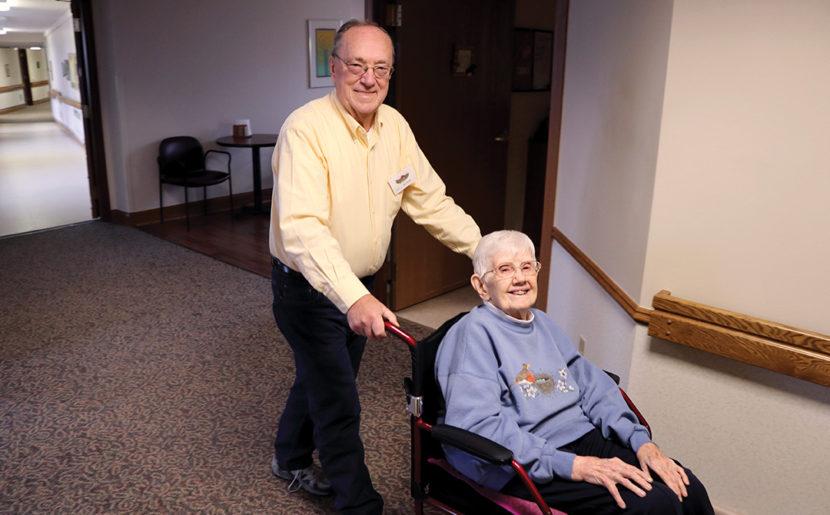 "I heard it was your 185th birthday," says Dan Brune to a smiling sister in the halls of Mount Carmel in Dubuque, Iowa. "You don't look a day over 65."
"Bless you," she laughs.
These interactions are common for Dan. He's been volunteering—walking sisters to physical therapy—at Mount Carmel for more than eight years, and it's something he looks forward to. He loves it.
"I enjoy being with the sisters," he smiles saying this. "I think I get most of the nuns laughing. I try and have a good time with it. I keep telling them 'have a "Dan" good time and a "Dantastick" day.' I guess I'm one of the people who realizes how much they have done for all of society because they've given their whole life and got very little back."
A Dubuque native, Dan grew up being educated by sisters at Nativity Grade School. His mother taught several BVM sisters when they were in school. So for Dan, volunteering just made sense.
Have a 'Dan' good day!"—Dan Brune
"I always have a saying, 'It's better to wear out than to rust out,'" he says. "For me to give of my time, that's really the least I can do."
"Dan has been a major asset to the fitness center staff and we could not do our jobs without him," says Wellness Manager Rachael Stieber-Smith. "His smile is contagious and catches on like wildfire among the sisters and staff alike. . . . You can tell that Dan really enjoys being here and the sisters enjoy his company as well."
When not volunteering, he also works with Leonard Funeral Home in Dubuque and has assisted with the funerals of many of the same sisters he's come to love.
"It's something I don't like to do," he says. "But you know, I enjoy it. I'm probably one of the only people who work for the funeral homes who can say the majority of the nuns know me."
Despite those struggles, Dan plans to continue to give the sisters at Mount Carmel laughter, support, and a steady hand down the hallways "as long as I can" with some 'Danomite' smiles.
"I try my 'Dandest,'" he laughs. "I know a lot of guys probably wouldn't want to do this. It's just a fun, fun time."
Featured image:  For eight years, volunteer Dan Brune has been bringing smiles to BVMs like Paulina Sullivan. 
---
Related Stories:
---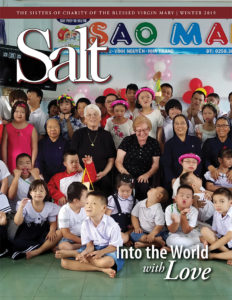 This story was featured in:
Winter SALT 2019: Into the World with Love
When BVMs Teri Hadro and Kate Hendel visited the Sisters of the Immaculate Heart of Mary in Vietnam, they brought with them 185 years of rich BVM heritage and a message of friendship that echoed the words of BVM Foundress Mary Frances Clarke, "Where one BVM is, all BVMs are." In this issue, discover ways the BVM Legacy of Love continues to grow throughout the world.
If you would like to receive Salt, contact the Office of Development for a complimentary subscription at development@bvmcong.org or 563-585-2864.