BVM Sisters in Conversation with Senior Living Community Developer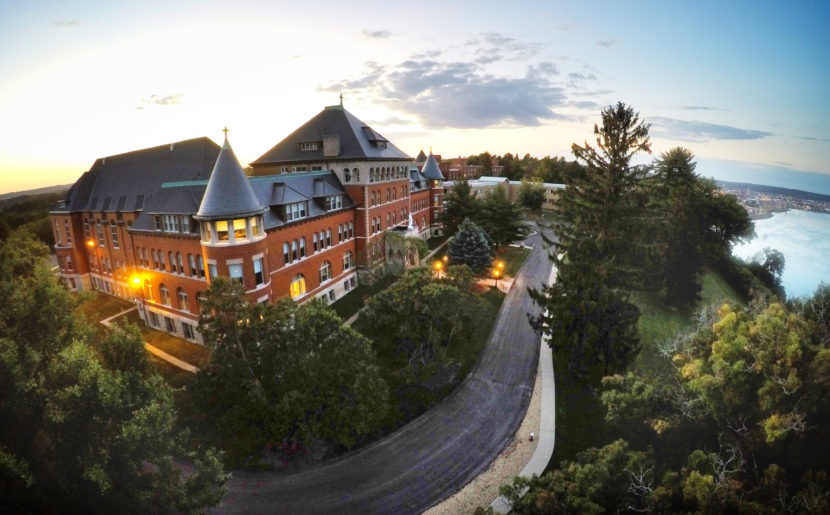 The Sisters of Charity of the Blessed Virgin Mary (BVMs), and Presbyterian Homes & Services, Inc. of St. Paul, Minn., are developing plans for a senior living community on the Mount Carmel campus. In 2015, 28 acres of the campus were rezoned by the City of Dubuque to a Planned Unit Development (PUD) for senior living.
"As the number of our Sisters diminishes, we wish to open our campus for residence by women and men from the greater Dubuque area," said BVM President Sister Teri Hadro. "Our collaboration with Presbyterian Homes, one of the Midwest's largest providers of housing and care for older adults, creates an opportunity to continue our care for our Sisters, share our beautiful campus with views along the bluffs of the Mississippi River, and provide quality senior residential and healthcare services."
The plan proposes a senior living community that will offer a range of housing options, allowing the BVMs to remain within their home campus while providing senior living options to others in the Dubuque area as their health and living needs change. "We are excited and honored to work with the Sisters of Charity of the Blessed Virgin Mary to ensure that their vision for senior housing and care options becomes a reality," said Dan Lindh, CEO and President of Presbyterian Homes & Services.
A conceptual plan for Phase I of the project was unveiled at a meeting with Mount Carmel neighbors on June 19, 2018. Plans include 60 new long term care center suites, 42 assisted living apartments and 20 memory care apartments. BVMs will continue to live in existing housing until construction is complete. Phase II of the project will include the addition of 112 senior living apartments.
A small amendment to the 2015 PUD will be brought to the Dubuque City Council later this summer to accommodate the proposed site plans. In the fall, a certificate of need for licensed nursing care beds will be sought from the state of Iowa.
The four-story BVM Motherhouse, erected in 1892, will become a "town center" for the campus. Dining venues, a wellness center with swimming pool, and other amenities are projected. The Roberta Kuhn Center, which provides education and leisure opportunities for nearly 600 seniors from the greater Dubuque area, will continue.
The Motherhouse at Mount Carmel currently houses 150 BVM sisters providing independent living, assisted living, memory care, and non-hospital 24-hr nursing care, with more than 250 employees.
"We're excited about the possibilities the collaboration with Presbyterian Homes opens up," Sister Teri commented.  "As we searched for an organization to share in this venture, we looked for a group whose philosophy and values were similar to ours. We are convinced our organizations are a good fit." Sister Teri continued, "It's all about serving others in a community setting, creating opportunities for sharing values, providing quality care and meeting needs of people in Dubuque."
Presbyterian Homes & Services is a non-profit, faith-based organization providing a broad array of high quality housing choices, care and service options for older adults. 6,400 employees serve more than 25,000 older adults through 46 PHS-affiliated senior living communities in Minnesota, Wisconsin and Iowa and through Optage®, the home and community services division of PHS. Established in 1955, PHS has earned a reputation as an innovative leader concerned with promoting independence, vitality and well-being for those we serve.
The BVM congregation has been in Dubuque for 175 years, and on the South Grandview site for 120 years. When the Sisters first purchased the land in 1889 and completed the Motherhouse in 1893, it was located outside City of Dubuque boundaries.  Over the years, the Sisters have made substantial changes to the campus buildings, situated on 108 acres on a bluff high above the Mississippi River.