BVM Sisters and Associates Resolve to Work for Justice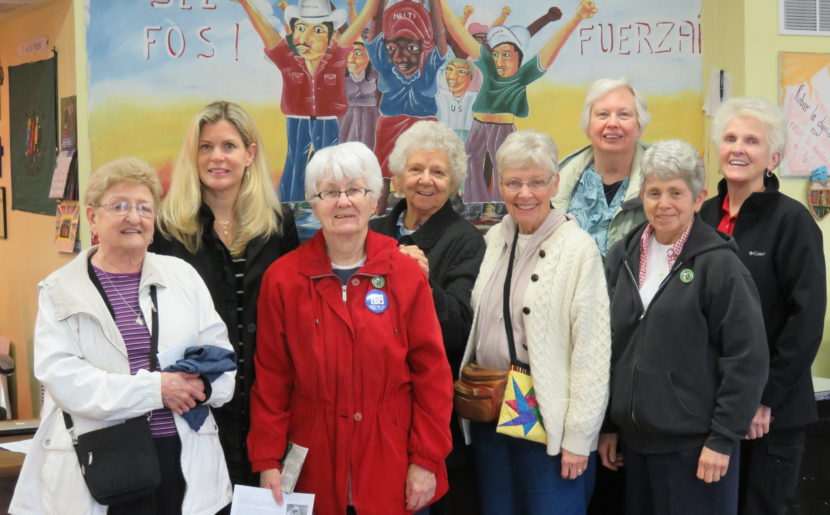 Immersion trip participants are (l. to r.) Associates Virginia Piecuch and Kimberly Emery, Carol Cook, Joyce Rohlik, Colleen McGinnity, Sharon Rezmer, Ann DeNicolo, and Associate Nancy McCarville.
The Sisters of Charity, BVM can trace their support of farmworkers to 1970s' California, where Carol Frances Jegen, BVM was active with the farm workers and became a personal friend to Cesar Chavez. For 40 years, BVMs have been a member organization of the National Farm Worker Ministry (NFWM). Since 2011, BVM Mary Martens (Loras) has represented the BVMs in NFWM and advocated for farmworker issues.
Ann DeNicolo, BVM (Ann Thomas), currently serving the farmworker community of Arcadia, Fla., invited associates and sisters to spend several days learning about her ministry. From Jan. 13–17, Associates Virginia Piecuch, Kimberly Emery and Nancy McCarville joined BVMs Colleen McGinnity (Rose Maureen), Sharon Rezmer, Joyce Rohlik and Carol Cook (Conrad Ann), who has longstanding ties to the Coalition of Immokalee Workers (CIW). The group looked forward to "A renewed understanding of the work of the farmworkers and the advocacy of CIW for fair food."
At the CIW headquarters, coalition staff shared a story of unfair wages and horrific working conditions for migrant workers until 1993, when a group of six organized and protested. Goals were to eliminate abuse, guarantee better wages, and improve conditions in the fields.
Remarkable success has been realized as 14 major corporations (including McDonald's, Taco Bell and WalMart) have come to the table to negotiate, leaving two holdouts: Publix supermarkets and Wendy's. Workers are now guaranteed the minimum wage, rest breaks, toilet facilities, and no tolerance for sexual abuse of women at work. A major victory was achieved as corporations agreed to pay an extra penny per pound for tomatoes. CIW hopes to win the same concession for strawberries.
A visit was arranged to the Casa Santa Maria soup kitchen and to the Guadalupe Church where the initial group of six first met to plan their protest strategy.
The DeSoto Cares Drop-in Center for the Homeless was developed and staffed by volunteers with a budget under $9,000. The Center provides hot showers, laundry and mailboxes—with computers and job training slated for the future.
At the Arcadia Center for the Needy, "James" welcomed the group with his wide smile and vivacious personality. Formerly living in the woods and eating from dumpsters, this volunteer has taken charge of the facility, rising each day to prepare a hot breakfast for the homeless who line up at 4:15 a.m.
The state-of-the-art housing community, Casa San Juan Bosco, built by Catholic Charities, offers affordable living to families who paid excessive rents for substandard trailers. Amenities include gardens, a play park, community center, after-school programs, and mothers' groups.
The day's outing continued to Arcadia's Catholic Charities Office, where Edith, the daughter of migrant workers, explained Links2Success, an educational opportunity program for youth. She serves as an ambassador for the program, which provided her with the resources and guidance to attend college. Formerly shy and marginalized, this young woman has found her voice and offers a helping hand to those coming up behind her.
Also at Catholic Charities was a glimpse into Ann's ministry, answering the needs of her clients with resources including food, clothes, and financial assistance. Advocating for Arcadian farmworkers for 15 years, Ann has gained the trust and love of this community.
Participants approached this trip focused on "better understanding of" and "increased sensitivity toward" the cause of the farmworkers. As they departed, questions challenged them: how to pass on new learnings and resolve to promote justice for farmworkers.
Carol reflected, "Time in Immokalee brought back memories of work with CIW when I served as BVM representative to the National Farm Worker Ministry (NFWM). My first contact was one winter day when workers arrived in Chicago to lobby Taco Bell to increase wages to tomato pickers by a penny. This turned into a boycott which lasted three years. Next came the campaign with McDonalds. I, also, observed the development of leadership skills by the workers, watching a young man who hung back at the demonstration and who in a year or two was out front organizing the others."
Colleen admired the deep commitment of people making life better for workers in Immokalee and Arcadia, including Ann. Joyce valued the impact one person can have, saying, "Each speaker was powerful and touched my heart."
With new insight, Virginia admitted, "I hoped to meet more migrant workers, but instead I came to know them through those who assist them. Long time volunteers and local people, who were once helped by others, are completing the circle and forming community with each other."
Encouraged to take action and willing to write letters in support of the Fair Food Program, participants share their positive experience at Immokalee and encourage others to take advantage when another opportunity is offered.
—Associate Co-coordinator Nancy McCarville