BVM Roots Run Deep at Carmel Catholic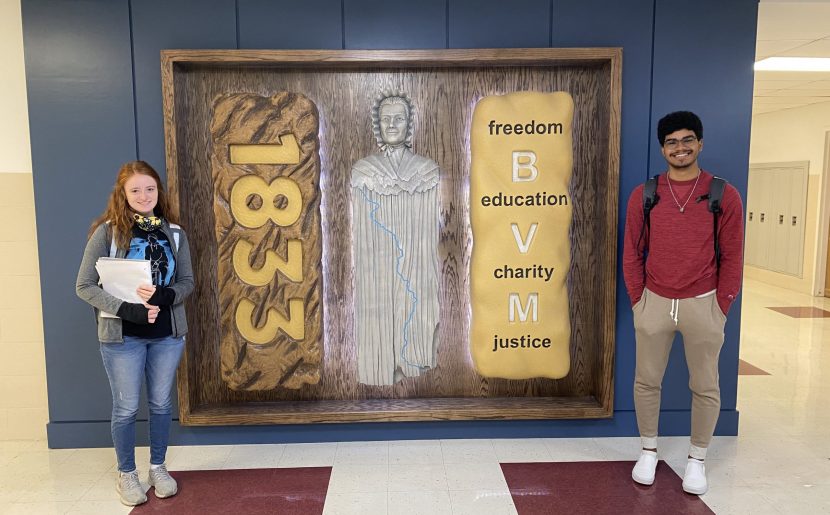 Seniors Maura Green (l.) and Angel Tejada and all Carmel Catholic High School students have a new reminder of BVM Foundress Mary Frances Clarke and BVM core values thanks to a sculpture.
Carmel Catholic High School students see BVM Foundress Mary Frances Clarke every day.
A new handcrafted sculpture "expresses her wisdom and strength," according to officials at the Mundelein, Ill., school.
The sculpture is "in the south 'crossroads,' one of the places where many hallways come together," says Kammie French, director of mission effectiveness at the school. "The south end of the building was chosen because it is the original 'Carmel for Girls' that the BVM sisters opened in 1963. We are also going to install a digital interactive screen that will contain BVM history, current events, images, and a list of all of the BVMs who have served at Carmel Catholic."
Carmelites co-founded the school. Neither BVMs or Carmelites teach there now, but the school highlights the charisms of both founders.
Kammie says the school keeps the spirit of founders alive through curriculum, activities, and spiritual life. They wanted to include tangible physical symbols such as the sculpture as well.
"Students learn about Mary Frances Clarke and the BVM history and legacy in their theology classes and we also celebrate her name day with Mass on Oct. 4. During non-COVID times we always visit Mount Carmel each year . . . we look forward to when we can do this again," Kammie says.
In the meantime, students and sisters have connected via Zoom, where sisters talked about the four core values, listed alongside the Mary Frances Clarke sculpture.
Through the school's Christian Service program, students live out the BVM core values and explore how they guide their decisions.
Jeff Ptacek, theology department chair, says students reflect on the effect BVMs had on Catholic education and faith formation in the United States, and compare the BVM Constitutions to the Beatitudes.
"The BVM legacy and spirit is essentially woven into all of our classes in our prayerness and our commitment to teaching the students how to act justly and to love mercy and to walk humbly with your God (Micah 6:8)," he says.
---