BVM Motherhouse Turns 126
We've been known for taking the road less traveled. This is the road to the new Mount Carmel Motherhouse, which the BVM Sisters first occupied Nov. 11, 1893.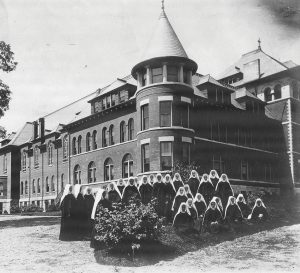 On Nov. 11, 1893, the first BVM Sisters moved into the unfinished Motherhouse overlooking the Mississippi River in Dubuque, Iowa.
The move to a larger space was a response of Mother Mary Gertrude Regan to the growing size of the congregation. The original Motherhouse, "St. Joseph on the Prairie," located on a small farm south of Dubuque, could no longer hold the increased numbers.
Mother Mary Gertrude purchased 97 acres along the bluffs of the Mississippi River from Henry Stout and an additional 19 adjacent acres from the Congregation of the Mission (Vincentians).
J. Egan, an architect from Chicago, designed the three-story Motherhouse that was built under the supervision of local contractor John Keenan. The brick, U-shaped building included 15-inch walls and pipes for running water, steam heat, and gas lighting.
The first Mass was celebrated on Dec. 1, 1893, although the construction on the chapel did not start until 1901. Archbishop John J. Keane dedicated the completed chapel on Dec. 12, 1901.
The property was named Mount Carmel in 1894; the Motherhouse was named St. Joseph Convent.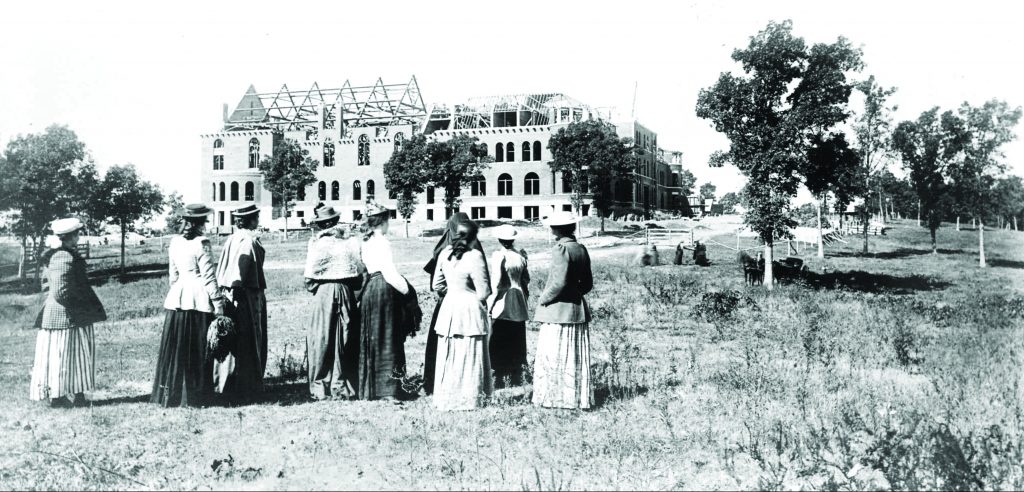 Sister Mary Benedicta Prendergast and Mount St. Joseph Academy (Clarke University) students observe construction progress for the new BVM Motherhouse, circa 1892.