Ann Ida Gannon, BVM: 'A Champion for All'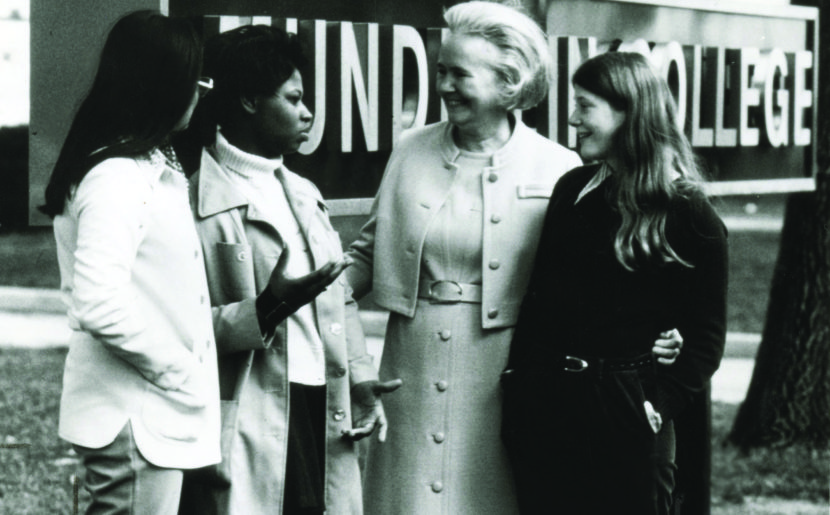 April 2, 1915–June 3, 2018
Ann Ida Gannon, BVM always felt called to serve. "I always knew I wanted to be a sister," she said. At a young age, she turned down a scholarship at Mundelein College to join the Sisters of Charity of the Blessed Virgin Mary to become a teacher.
It was a dedication she carried her entire life. She died on June 3, 2018, at Mount Carmel in Dubuque, Iowa, in the presence of her sisters with whom she shared life for 85 years.
A gracious woman who celebrated her 103 birthday in April, Ann Ida is remembered as a leader, a teacher, a philosopher, and a friend. Many of her former students from St. Ferdinand, St. Mary High School, or Mundelein College remained connected to Ann Ida.
"She was well liked because she was honest and cared about everyone," says Carolyn (Lester) Farrell, BVM. "I think it was a gift she had. Everyone appreciated her and felt her as a friend."
Carolyn met Ann Ida during the BVM Senate in 1972. In her wake story, she reflected on their time together. "Sister Ann Ida insisted that for the future Senate . . . 'We need a young sister for the keynote.' That was her theme for young women . . . In desperation, I said, "Well, I know one, and I will ask her."
That "one," was the late Helen Maher (Robert Joseph) Garvey, who went on to be the youngest leader of the BVM congregation since Mary Frances Clarke from 1984–1992.
'. . . Ahead of Her Time'
By many, Ann Ida was regarded as someone who was forward thinking.
"[Ann Ida] was a champion of all people, and of all races and religious factions," says Janet Sisler, former director of the Gannon Center for Women and Leadership at Loyola University. "She was very much ahead of her time."
In 1957, Ann Ida was appointed as president of Mundelein College, where she would serve until 1975 bearing witness to some of the greatest periods of change in the church and the country. She was a strong supporter of the Civil Rights Movement, sending BVMs and professors from the college—including both the oldest and youngest BVMs on her staff—to Selma to march with Dr. Martin Luther King Jr.
That same year, she acted as one of the proponents of Chicago's Catholic Interracial Council and became a mentor for many BVMs who also began welcoming African Americans into their parish classrooms.
Throughout Ann Ida's career, she served on many boards related to higher education, civic committees, accrediting teams, women's programs, and lectures to countless groups and interfaith communities—often as the first woman to do so.
"I didn't mind being the first [woman] on the board just so that I wasn't the only one by the time I went off," said Ann Ida.
A Life of Service
Ann Ida led a life of contribution to the well-being of the world. Throughout her career, she received 26 honorary degrees and more than 28 prestigious awards for service as an outstanding woman, including the University of Notre Dame's Laetare Medal and Who's Who in America.
Janet reflects that throughout Ann Ida's life, she only shared two regrets, "that she had not insisted Sister Jean Dolores attain a Ph.D. and that the Equal Rights Amendment was not ratified by the State of Illinois."
Jean Dolores Schmidt, BVM earned an Honoris Causa Ph.D. in 2016 and the Illinois Equal Rights Amendment passed earlier this year. In Janet's words, "One can only imagine that Sister Ann Ida could begin the next chapter of her eternal life with no regrets on this end."
A Living Legacy
Since the Gannon Center for Women and Leadership opened 25 years ago, more than 180 Gannon Scholars have continued Ann Ida's legacy of leadership. The center was formed as a means to keep the legacy of Mundelein College alive after merging with Loyola University in 1991. The center carries Ann Ida's name as a tribute to her time as president of Mundelein College and her role as a pioneer in women's education and leadership throughout the college's most culturally challenging times.
"She invested so much time in women leaders, not only at Loyola and Mundelein but also in Chicago and the Midwest and the U.S.—everywhere," says Gannon Scholar Megan Keeler. "I'm extraordinarily proud to be a scholar. We're taking the lessons we learned and using them as a springboard to do what we're called to do."
Megan credits Ann Ida and other female leaders in her life with "planting the seed" that put her on the "right path." A current student of the Jane Addams College of Social Work, Megan volunteers with her local YWCA to provide advocacy services for victims of sexual assault and serves on a community advisory board for the Chicago Children's Advocacy Center.
"[Ann Ida] embodied the ideal of doing the work because it has to be done and doing the hard work that nobody wants to do," adds Megan. When she heard news of Ann Ida's death, she knew she had to be there to say "thank you."
'This Sweet Prayer Up to Thee'
She wasn't alone. On June 3, 2018, the Marian Hall Chapel at Mount Carmel was filled with BVMs and friends—all impacted by the life of a woman who never forgot the importance of a warm smile, caring for others equally, standing up for what was right, or "doing the hard work."
"The good that she did through her years, especially in education . . . cannot be exaggerated," shares Dennis Keller, co-founder of DeVry, Inc. The school started with only seven students and has now expanded to 200,000 worldwide. "Ann Ida was instrumental in so many ways in helping us and the students and the faculty do that."
Countless others shared stories of a woman who was "forward-looking, loving, and kind." A woman who wasn't afraid of getting black marks on her face to help a fellow BVM clean out her late father's house. A woman who had a gift of making others feel special. A woman who pursued a Ph.D. in philosophy despite the disapproval of her male colleagues. A woman who always wanted to present herself as a leader for a photo. A woman who truly made "a real and lasting difference in the world."
But no other words summarize her legacy more than the words shared in her eulogy that day:
"In the Parable of the Sower, Ann Ida is the rich soil in which God planted the seeds of faith, vocation, and the BVM values of freedom, education, charity, and justice," reads BVM President Teri Hadro. ". . . However, Ann Ida did not build bins to store the harvest. Instead, she took the seeds and sowed them in the soil of others."
As Ann Ida exited Marian Hall for the last time, BVMs opened their hearts and sang ". . . this sweet prayer up to thee."
"They were sending off a sister," recalls Megan. "Their sister."
About the author: Jon Aguilar is communications specialist for the Sisters of Charity, BVM in Dubuque, Iowa.
Featured photo: Ann Ida Gannon, BVM with students, 1973. Photo Courtesy of the Women & Leadership Archives of Loyola University Chicago.
---
This story was featured in: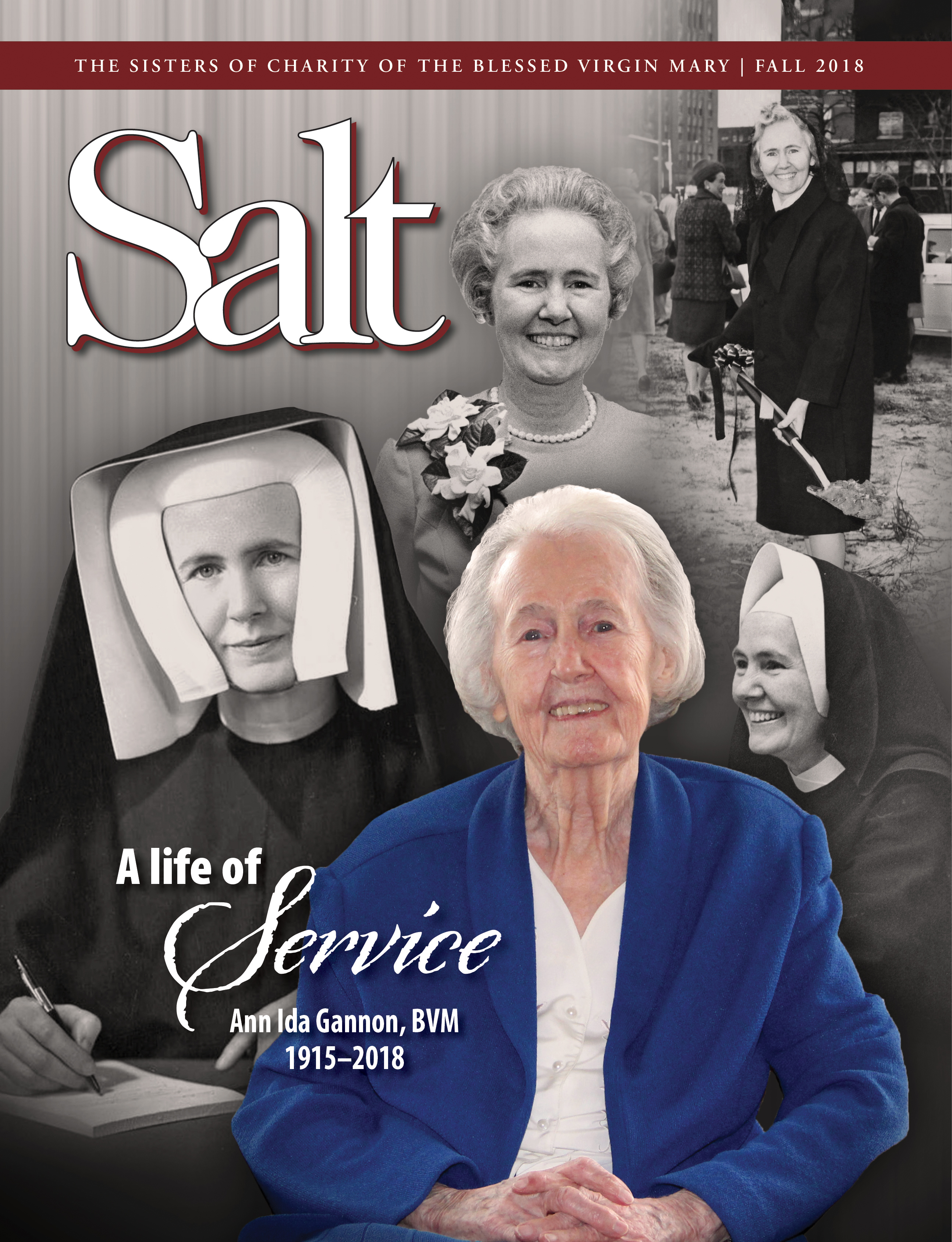 Fall Salt 2018: A Life of Service
Even at the age of 103, Ann Ida Gannon, BVM never forgot the importance of a warm smile, standing up for what was right, or "doing the hard work." Her life, spirit, and love is remembered in this issue by the mission and ministries of her BVM sisters who truly live lives of service. Read more about Ann Ida and the BVM "Legacy of Love."
If you would like to receive Salt, contact the Office of Development for a complimentary subscription at development@bvmcong.org or 563-585-2864.