DIAMOND JUBILARIANS
The following Diamond Jubilarians are celebrating 70 years in religious life with the Sisters of Charity of the Blessed Virgin Mary.
They entered the BVM congregation Feb. 2, 1951. They professed first vows Aug. 15, 1953, and and final vows on Aug. 15, 1958.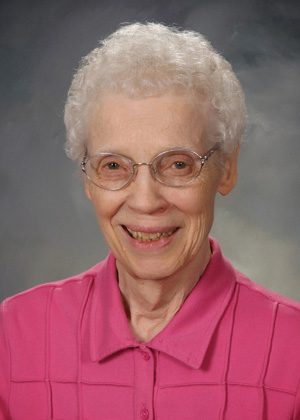 Sister Helen (Clare Ann) Emerson, BVM
Read Her Biography
Helen (Clare Ann) Emerson, BVM's desire to be a sister began when she was in second grade.
"We were shown films of missionaries working with the sick and poor. I felt sorry for the people. I wanted to be a missionary.
"As time went by, I still wanted to be a sister but couldn't decide what order. My aunt, Sister Claudius, was a BVM and I went to St. Mary High School, where BVMs taught. My aunt would visit us once and year and we would go see her on visiting Sundays. I met sisters, toured the convents and schools, and decided to be a BVM."
That was 70 years ago, and her life as a BVM took her to classrooms in Illinois, Iowa, and Tennessee, and then to churches in Georgia.
"I enjoyed my assignment in teaching elementary school children. It was exciting to see them advance," Helen says. "They were a different group than when they first started the grade.
"It is hard to say which grade I liked best. I loved the first graders' excitement when we'd read a new story or get a new book. Everything was new to them. I loved the fifth graders' creative writing. The more I liked what they wrote, the more outlandish their writings would get. The other grades were also filled with ups and sometimes downs.
"After several years of teaching, I wanted to see what I could do on my own. After a year of religious studies, I went to the rural mountains of Georgia in the little town of Dahlonega and its mission of Dawsonville."
The staff consisted of the pastor, Helen, and the secretary. Helen coordinated the religious education program for both missions, including Vacation Bible School in her parish and also with other denominations to have a Bible vacation school for all the kids in town.
"On Sundays, I would take my turn having a prayer service at the nursing home. There was only one Catholic in the home, and we enjoyed visiting with each other," she says.
Helen prepared adults for the Rite of Christian Initiation, with the small group sitting around the rectory dining room table.
"Religion classes for the children were also in the rectory and in Dawsonville, a small room in an insurance office was used. In Dahlonega, there was a Catholic Church but in Dawsonville, Mass was in the Methodist Church," she remembers.
The pastor was chaplain at the Army base and once when he was sick, Helen had a Communion service for the soldiers who had just come back from maneuvers. "I knew they were tired after 10 days in the mountains, and I admired their faith in coming to the chapel and the reverence with which they received Communion. Interestingly, at one time I wanted to be a missionary and never thought this would happen in Georgia," Helen says.
After her ministry in the South, she returned to teaching, but with new skills and confidence.
"It really helped me come out of myself, because I had to. There was no one else to depend on," Helen says. "It was hard for me. I was alone. But I did it."
After teaching, "I also spent a year in ministry at Marian Hall," where retired BVMs lived. "I came to know many sisters as they shared their stories, pain, and their great faith with me."
She is grateful for all her experiences.
"Choosing the BVM community was right for me," Helen says. "I am thankful for all those who have gone before me, passing down their courage to keep going even in hard times. I am grateful for our leadership, who are facing the difficulties of today with courage and strength and wisdom. I am grateful for our freedom to grow and to know that the Holy Spirit has been leading us all the way. For all of this, I give thanks!"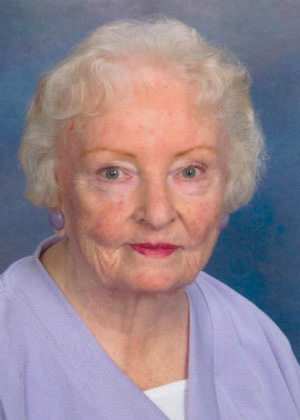 Sister Josette Kelly, BVM
Read Her Biography
St. Augustine said when you sing, you pray twice.
So how many times are prayers multiplied if you teach music and piano for decades?
That's what Josette Kelly, BVM did.
"Thanks to my family's financial sacrifices and the congregation's furthering of my music education, music became my ministry and my life. I can't imagine a more joyful life's work. I'm grateful beyond words," Josette says.
She entered the Sisters of Charity of the Blessed Virgin Mother congregation Feb. 2, 1951. She chose the winter date rather than September, the other entrance day offered.
"Thirteen of us—Helen (Clare Ann) Emerson, Helen (St. George) Thompson, and others—entered in February while the big set, Marilyn [Assumption] May, Catherina [Walsh], Rosemunda [Besch], Audrey [Raymond Ann Juergens], and others were still in the postulate," Josette remembers. "We had happy times sledding, hiking to the cemetery and to Julien's [Dubuque] grave, singing, and playing. We formed lifelong friendships then that we are enjoying now."
But it was hard work, too. "In general, the novitiate was difficult. If I hadn't experienced and survived homesickness by going away to college, it would have been worse."
Her sister, Mary J. (Hortense) Kelly, BVM had joined the BVMs when Josette was just a toddler.
"Because I was two years old when she entered, she has said that I was the biggest impediment to her vocation. That fondness was a great support throughout my religious life," Josette says. "My sister and I attribute the roots of our BVM vocation to a devout Irish home. A fond memory of my parents is seeing them kneel down beside the bed side by side to say their night prayers. Mother was faithful to night adoration and Dad made an annual retreat at the Trappist Monastery. Eight children shared the daily rosary."
As a BVM, Josette taught music to elementary school and college students and was an accompanist at churches.
"While earning a master's degree in music history and literature during summer sessions at the University of Minnesota, I taught classroom music and gave piano and organ lessons in Chicago and Des Moines, Iowa," Josette says.
While studying for a doctorate in music theory and composition at the University of Iowa in Iowa City, Iowa, she taught music at Mundelein College in Chicago and Clarke University in Dubuque, Iowa, where she was awarded tenure.
"The decision to leave Clarke to teach in parish schools again may be hard to defend. It was the lifestyle of academia that I was uneasy with, and the memory of the parish schools in Chicago and Des Moines that was attractive," she says.
At St. Columba in Durango, Colo., she taught classroom music, English, and religion to all the grades, and her setmate Marilyn was principal.
"That transition was one of the surprises of my years of ministry. Parish schools offer a whole-person involvement with families that I had missed for almost 20 years. The delight in Durango was that so many of the families were Navajo. Fund-raisers involved fry-bread sales. Friendships involved moving a family's peyote in the back of Sister Marilyn's and my Chevy station wagon. The older Navajo students in my homeroom showed extraordinary leadership qualities, as though they knew when they were young that society would challenge them."
Then it was on to St. Joseph School in Ogden, Utah, again with Marilyn May. "There we faced quite wonderful challenges because of the high academic standards of the Mormon public schools. The family camaraderie continued, to our surprise."
Her missions continued and expanded to pastoral ministry.
"I applied to Sacred Heart of Jesus School in Boulder, Colo., founded by the BVMs in 1890 and still thriving. I was hired to teach religion and music, so far the last BVM on the faculty! In addition I became Father Tom Woerth's pastoral associate, concentrating on recruitment of the parishioners to liturgical ministries. I directed parish music, keeping the cantors' and instrumentalists' payroll, and accompanying weekend masses."
Faith and music intertwined throughout the 70 years.
"Being a BVM meant the privilege of higher education, the opportunity to use it for young persons' benefit, and wise leadership whose focus is on Gospel values as they encourage our growth and facilitate our practice of those values," Josette says.
The following Diamond Jubilarians are celebrating 70 years in religious life with the Sisters of Charity of the Blessed Virgin Mary.
They entered the BVM congregation on Sept. 8, 1951. They professed first vows on March 19, 1954, and final vows July 16, 1959.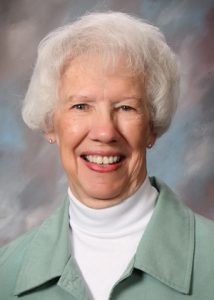 Sister Jean Marie Brady, BVM
Read Her Biography
As a student, teacher, and principal Jean Marie Brady, BVM's life is immersed in education by and with the Sisters of Charity of the Blessed Virgin Mary.
BVMs taught Jean Marie from kindergarten through high school, and she had cousins who were members, so it was not a surprise when she joined the congregation.
"I thought I would like it," Jean Marie says. "I did and I do."
After the novitiate, she taught in Illinois and Iowa for 13 years.
And then she went to Iowa City, where she was principal at St. Mary. She supervised the merger of St. Mary and St. Patrick to form the Iowa City Catholic Grade School, and the move of seventh and eighth graders to Regina High School to ease overcrowding.
"I also taught religious education on weekends. That always seemed to be part of the job," she says.
She remained principal at the now-named Regina Elementary School, where she instituted morning kindergarten, extended kindergarten enrichment in the afternoon, and started free before and after school daycare. She pioneered these progressive programs at a time before any became standard.
Jean Marie appreciated the supportive working relationships she found.
In 1985, Jean Marie was awarded the Presidential Award from the National Catholic Education Association, and in 1998, the Educational Partner Award from the Grant Wood Area Education Agency.
In 1990, she joined the regional Office of Educational Services for the Archdiocese of Dubuque in Cedar Rapids, where she continued for 19 years. Jean Marie was honored with an Archdiocesan Distinguished Service Award.
But the greatest reward was helping children learn amid the support of her congregation.
"I belong to a community which I am very happy with," she says. "I am happy that I did what I wanted to do."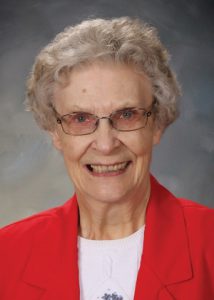 Sister Lydia Buntemeyer, BVM
Read Her Biography
"My heart was called. I feel very privileged to be called to have a vocation to be a sister, and to be a BVM," says Lydia Buntemeyer, BVM, who is celebrating her diamond jubilee.
The BVMs who taught Lydia at Our Lady of Angels Academy in Clinton, Iowa, exemplified dedication and service, she says.
During senior year, they took a trip to Mount Carmel. "I was very impressed. I was very attracted to Mount Carmel," she says. "The sisters were all so friendly."
She was ready to enter the convent, but her father thought she should wait a while. So she took teacher training at Mount St. Clare Junior College in Clinton for two years, and then joined the BVMs.
Her set was a young, energetic group of 64 women who got along well, she remembers.
Portland, Ore., was her first assignment, then Berwyn, Ill., Chicago; Cedar Falls and Clinton, Iowa; Rock Island and East Moline, Ill.
Lydia taught math and religion, mostly to junior high students, for 46 years.
"I was well-respected," she says. "The children were very nice. I guess I must have been an imposing figure, because I never had any discipline problems."
She taught 20 years at Clinton, Iowa, Catholic Schools. At St. Mary, the annual Christmas mosaics that eighth graders designed and created are great memories for Lydia and students alike. She taped paper across the full length of the back blackboard, and students glued tiny squares of colored paper to make a beautiful scene of the birth of Jesus in Bethlehem.
Religious life is a commitment to prayer and meditation, she says, as well as service.
Now she has returned home to Mount Carmel, where her call to religious life first beckoned.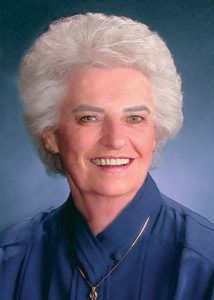 Sister Marie (David Therese) Greaney, BVM
Read Her Biography
Marie (David Therese) Greaney, BVM helped people on the beginning of their life journey, and at its end.
Those missions gave her own life meaning, love, and freedom.
She taught preschoolers for one year, first graders for 12 years, and second graders for 13 years, helping them in the beginning of their education.
Then for another 26 years as a hospital chaplain, she guided patients and families as life ended.
In her early missions, she loved talking to and caring for older sisters, learning about the BVM Community and seeing them as grandmothers, in a sense.
"I became close to, and loved these sisters, and loved hearing their stories, especially about the community. I probably told my own stories, too," Marie says. Later she served as infirmarian. "When I asked to leave teaching and go into pastoral care, it was this huge gift and my desire to work with the sick and dying became a reality. I was encouraged to follow my dream, and a dream it was for 26 years."
The respect and trust of the community, along with encouragement to take a risk, lead to happiness at work and the ability to help others, including her own family.
"I surprised myself by being able to minister with love and prayer to many patients and their families on their journey to receive their eternal reward, while supporting everyone involved during these difficult days. I also was able to be present for the hospital staff after a hard day—or after a loss—or just 'being there' for them. It was a gift to be there at the time, these patients changed their address and be welcomed into heaven," Marie says.
"I surprised myself by being able to help care for my mother when she was very ill, my sister Kathleen, her two sons, especially Paul Jr. for six months, and my sister Peg through two and a half years of struggles in her life. I consider being there for each of them a gift," she says.
A Chicago native whose parents were both born in Ireland, she met BVMs as her teachers in eighth grade at St. Ferdinand.
"My dad was taught by the BVMs at St. Agatha when he arrived from Ireland, and was thrilled to move his family to a BVM parish, St. Ferdinand. Guess I should say I became acquainted with the BVMs when my twin brothers were in kindergarten. I went over to St. Ferdinand after high school to help Sister Mary Denita and Sister Mary Verita or any of the sisters that needed help."
Her family supported her decision to become a BVM. "They were happy, but not pushy about my decision. Friends also were supportive, but not so true of the young man I was dating, who joined the Jesuits. Sadly, he just died recently, but we always remained friends."
She remembers that the initial days at Mount Carmel "were very challenging. I missed my family tremendously and cried myself to sleep many nights. The novices in the dorm tried to help me, and so did Sister Mary Catherine Ann, the postulant mistress. I thought I was going to be sent home, I cried so much, and here I am 70 years later ready to celebrate!"
It's been a wonderful life.
"Religious life opened up for me, and I decided I would try to be the best BVM I could be. Through prayer, with love and trust after all these years, I continue on my journey discovering myself and the goodness of others along the way."
Her spiritual life continues to deepen.
"As I continue to grow old, I realize how important kindness is, and sharing gifts of love, caring, and taking time to pray each day. I realize the value of compassion, empathy, and sympathy. All of these values are gifts we are given to share with others," she says, especially now.
"My life changed March of 2020, as did many other lives. It was a time to be aware of other people's struggles, being cut off from family and friends, although I had the liberty within limits of being out and about, not shutting down, because I was not going to work each day, but being able to help others, if just sharing a smile, a kind word, or a small act of kindness."
As the diamond jubiliarian celebration approaches, "Being a BVM means I am in awe to have been gifted with 70 years of health, happiness, and being respected by others, realizing how blessed I am to be a member of the BVM Community for these 70 years," Marie says.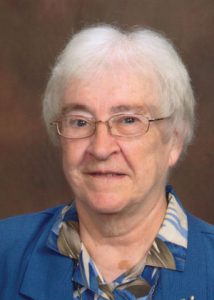 Sister Patricia (St. Julianna) Kerz, BVM
Read Her Biography
Patricia (St. Julianna) Kerz, BVM was so eager to start school that she went to first grade at age 5.
That meant she was 17 when she graduated from the Immaculata High School in Chicago, her hometown.
Patricia wanted to enter the Sisters of Charity of the Blessed Virgin Mary congregation right after high school. But her mother asked her to wait, because she was too young. So Patricia worked for a year at Chicago Title and Trust Company.
And then she joined the BVMs, whom she had met at Immaculata. Sister Flavia, one of her teachers, helped her prepare to go to Mount Carmel in Dubuque, Iowa.
"The BVM sisters who taught were friendly, caring, and good teachers," Patricia says. "My four years of high school were very happy."
The novitiate was a happy time, too, learning and sharing with the other young novices.
"We were kept busy, learning about spiritual and community life, doing work, and recreating," she remembers.
First she thought of being a missionary sister, but then decided she would go wherever God needed her.
"I wanted to give my life to serve God in whatever way I could, and deepen my own spiritual life by living in community with other BVMs," Patricia says.
Her first mission was to teach second graders, and prepare them for First Communion.
For 33 more years, she taught first, second, and fifth graders, and religious education (including preparation for Confirmation), along with many other duties. "I loved it all. I was really busy."
In Omaha, she coached the seventh and eighth grade girls' volleyball team, which won a city championship.
"I was teaching kids to think of other people besides themselves who didn't have all the things they did," Patricia says. To raise money for missions, students did a talent show and other projects.
Even though busy, "our staff used to go out bowling every Wednesday after school," she says.
Patricia earned a master's degree in religious studies in 1984, and "I changed my ministry to become a pastoral associate. After a few years, I worked in an inner city parish with four other BVMs in Chicago. It was a chance to work with the really poor, getting them jobs, food, clothing, and housing.
"I grew to love this ministry and the people involved in it," she says. "I am still working part-time now, helping where I can, at the same place."
In 2013, she was awarded the Christifideles award from the Chicago Archdiocese for her extraordinary service to St. Agatha Parish Neighborhood Ministry.
"I thank God for all those years. I was grateful for the strength and trust and support in my work. I knew I couldn't do it all by myself. I was able to do things I never thought I could do, like start a grief support group. But I did them well. They were all successful," with God's help, she says.
"I'm very happy to be a BVM, with a loving community of sisters to share life with. I thank God every day for all my blessings, for giving me strength and grace and carrying me through all those years," Patricia says.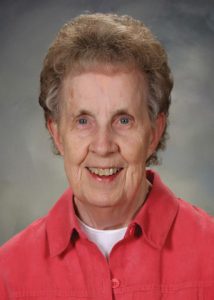 Sister Joanna Rettenmeier, BVM
Read Her Biography
"We used to say 'Join the BVMs and see the world,''' says Joanna Rettenmeier, BVM, who joined the BVMs 70 years ago. "I haven't seen the world but I have seen places I never would have had I not been a BVM. It has been a wonderful experience."
Joanna, a Dubuque, Iowa, native, did not have to travel far to join the BVMs, just up the hill to Mount Carmel.
In some ways, it was difficult to be so close because her brothers rode their bicycles around the property. But when altar boys were needed for services at Mount Carmel, the priest at the Cathedral saw to it that her brothers would be chosen. "That was special," Joanna says.
BVMs were her teachers at St. Raphael Cathedral Elementary School and St. Joseph Academy in Dubuque.
"I was impressed with my teachers because they seemed to be so happy, dedicated, and caring," Joanna says. "That was probably one of my reasons that I decided to join the BVMs."
After leaving the novitiate, she began teaching in Cedar Falls, Iowa. She loved teaching and her students so much that she missed them on weekends on holidays.
After teaching third through eighth grade in Iowa, Chicago, Memphis, and Seattle, Joanna came back to Mount Carmel. Maureen (Mary Maurina) Whalen, BVM asked her to be an assistant to the Secretary of the Congregation, a mission Joanna continued for 15 years.
Then a new opportunity presented itself.
"The Leadership Conference of Women Religious (LCWR) was looking for sisters to go to southern Iowa to be there as a presence," Joanna says. "LCWR envisioned a creative working together, sisters and laity, in an area where there were few women religious.
"We hoped to journey with the people, learn from them, and respond to some of their critical needs, especially women and children," Joanna says. "In the weeks following our arrival, we met many people, got to know the area, and found a variety of ways to minister. We could be found in the county extension office, neighborhood centers, senior citizen centers, parishes, nursing homes, hospitals, and private homes. We made ourselves available."
She ministered with BVM Nan (John William) Ross, Marian Klosterman, OSF, and Sheila Geraghty, RSM.
"For me, one of the highlights of the 14 years was going to Lenox, where there were a large number of Hispanics. Marian and I went to their homes and taught them English and helped them prepare for citizenship. How proud they were when they became citizens!"
The ministry attracted media attention.
"Did you ever hear of the TV program Living in Iowa? We got a phone call asking if we would be willing to be part of the program. After much debate, we decided to say yes.
"Well, for two days, a crew followed us around with video camera and microphone in hand, telling us to, 'Act natural.' They taped us at the Ringgold County Fairgrounds, neighborhood center, nursing homes, homes of the Hispanics, Mount Ayr Grade School, and right there in Maloy, digging potatoes, at prayer, playing cards, playing soccer, and attending Mass. This great production aired on Iowa Public Television," Joanna remembers.
When the bishop decided 14 years later to close the Maloy church and put it up for sale, she decided it was time to move back to Mount Carmel, completing the circle.
"It doesn't seem possible that it was 70 years ago that I [first] came to Mount Carmel," Joanna says. "I don't feel that old. I'm grateful for my good health and for my life as a BVM."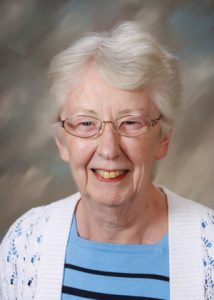 Sister Jacquelyn (Vianney) Rice, BVM
Read Her Biography
Jacquelyn "Jackie" (Vianney) Rice, BVM wanted to teach little children about God and his kingdom.
She did that, and much more.
Throughout her 70 years as a Sister of Charity of the Blessed Virgin Mary, Jackie not only taught most elementary grades, she guided children through preparation for the sacraments. And she helped those most in need.
She taught elementary school for 25 years in Iowa and Illinois. She served as director of religious education and pastoral associate at St. Clement in Chicago.
Jackie arrived at St. Clement in 1979. During her tenure, the Sunday school grew from eight teachers and 60 children to 29 teachers and 150 students from 28 public and private schools.
"It's hard to leave, but I'm moving on with really good feelings," she said in 1989. "The 10 years at St. Clement have taught me a lot. The experience of the church here comes the closest to what I believe church should be, with everyone working together. The people here have strengthened my faith."
The National Catholic Education Association presented an award to the St. Clement Parent Religious Education Board in recognition of its success.
But her ministry reached far beyond children and classrooms.
Jackie also helped a Phoenix group for separated and divorced Catholics evolve. In 1987, she received the Father Jim Young CSP Phoenix Award for "her outstanding pastoral leadership and compassionate understanding in the ministry for separated, divorced, and remarried Catholics."
She helped guide the board of the Westside Employment Education Center in Chicago for 11 years, including the time when the difficult decision to close was made. The center worked with economically and educationally disadvantaged adults of Chicago's west side to improve the quality of their lives and the life of the community.
Jackie taught English as a Second Language classes. She described the center as "an enriching and life-giving ministry for all involved."
Jackie worked for Public Action to Deliver Shelter in Chicago, which works to prevent homelessness by providing immediate assistance. The goal is to feed the hungry, help the poor, and educate and advocate for basic dignity of all people.
She served on the BVM Hunger Fund Committee, which awards grants to organizations that work toward relief or systemic change around basic human needs for food and water in countries other than the United States.
The choice she made 70 years ago has been immensely rewarding through her service but also by the sisterhood she feels with her fellow BVMs.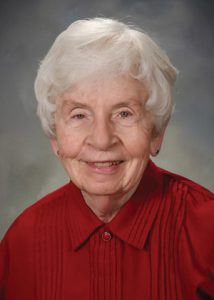 Sister Mary Ellen (Ellenmae) Zimmermann, BVM
Read Her Biography
When Mary Ellen (Ellenmae) Zimmermann, BVM visited her older sister Margaret (Jamesella) Zimmermann, BVM at Mount Carmel, in Dubuque, Iowa, the sisters were generous and gracious.
They were a wonderful example for a teenager from a deeply religious family. She could see the sisters were happy and enjoying life.
So Mary Ellen decided to become a Sister of Charity of the Blessed Virgin Mary just as her sister Margaret had four years earlier.
Both sisters met BVMs at Holy Angels Academy in Milwaukee, Wis., their hometown.
Mary Ellen taught elementary school in California, Illinois, and Missouri. She then served as a parish secretary in Chicago, and in parish ministry in Palm Springs, Calif.
During seven years as assistant and associate director of religious education at St. Mary of Vernon in Mundelein, Ill., parishioners came to know her as a "peaceful, calming presence, truly a gift," said the Parish Post newspaper as she prepared to leave.
"Even though she is a 'stay-in-the-background' person, she has had a strong influence on our religious education program," the parish priest said.
And he said Mary Ellen was devoted to her BVM community, which she served directly as associate administrator at Marian Hall for three years.
She and her sister Margaret are at home together again at Mount Carmel Bluffs in Dubuque, Iowa.
A Eucharistic Liturgy was held Sunday, September 12, 2021.
Send an email congratulatory message to a sister on her jubilee
Contact Us
For more information contact:
Angie Connolly, Director of Communications
aconnolly@bvmsisters.org
563.588.2351 x5536
Past Jubilarians