December 3, 2019
BVM Endowed Scholarships
Growing the Next Generation in Faith
In 2016 the Sisters of Charity, BVM established endowed scholarships to honor the lifelong service of the hundreds of BVMs who staffed our schools since 1833. These scholarships are a way to continue the BVM legacy of education when few BVMs have the energy to minister in classrooms. Through your generosity we have awarded endowed scholarships to 14 dioceses in which our sisters served with only 22 more dioceses to go.
Your gift on #GivingTuesday will help us achieve our goal
to provide scholarships to all the dioceses where BVMs taught.
Thank you for being a part of the BVM legacy of education.
You may also make a gift by calling 563-585-2854, or mail your gift to:
#GivingTuesday
Sisters of Charity, BVM
1100 Carmel Drive
Dubuque, Iowa 52003-7991
development@bvmsisters.org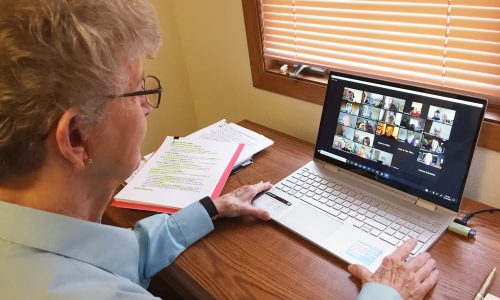 BVM Joan (Ramone Mary) Lingen teaches a virtual class on rediscovered landmarks of ancient peoples through the Roberta Kuhn Center. What's essential might be invisible…